No superstar, no problem for Knights cross country teams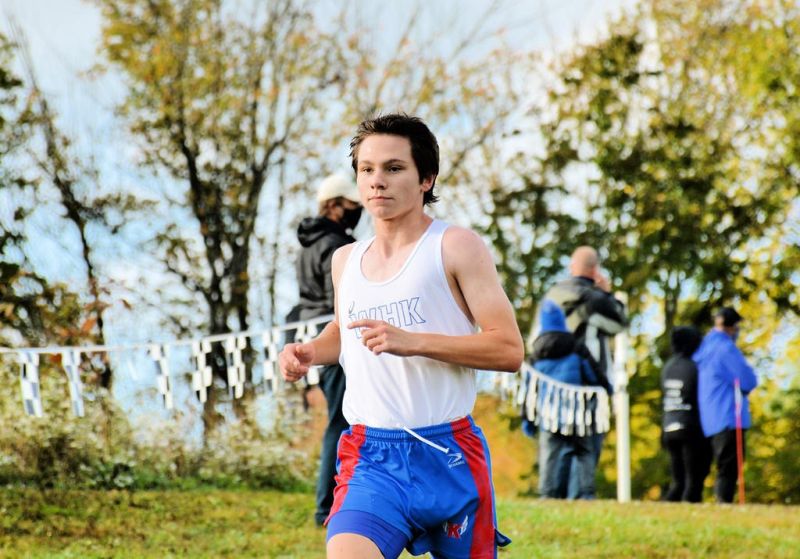 This year's West Holmes Knights cross country team might not boast a single individual who jumps off the page and screams "superstar."
However, this year's crop of runners has head coach Kevin Beachy very excited because what he has seen instead of one or two talented runners carrying the team is a core group of competitors who aren't running for themselves but instead are running for each other.
After another successful effort at the Meadowbrook Colt Invite on Saturday, Sept. 19 that saw the boys finish fourth and the girls place seventh against a quality field of 18 teams, Beachy was gushing about his kids, and it wasn't even for their performance for the Colt invitational.
"I thought we ran really well at Meadowbrook. We had great times and did great as a team, but this group has better in them, and they continue to work toward getting better every day," Beachy said.
No, Beachy was more excited about the week of practice prior to the weekend's invite, a week that he and assistant coach Michael Ewing said they had not seen the likes of for a long, long time.
"Coach Ewing and I were talking about last week, and we both felt that we were probably coming off the best week of practice we could ever remember," Beachy said.
He believes there are several underlying factors in this group's ongoing success story. First and foremost, he said this group runs not for themselves individually, but for their teammates.
"It's probably the most selfless group I've ever had," Beachy said. "I think that after everything we've been through this year, they are just happy to have a team and compete."
The second reason is the group seems to want to work toward success as the ultimate goal.
Beachy said their week of practice included a day of hill repeats. Usually, they tell the kids how many they are running, but Beachy said the group took to the task at hand and pushed well beyond what the coaches expected, noting some kids ran 5 miles worth of hills. Another day they did thousands, a number that normally falls around five sets. The Knights got to five, and Beachy got to that point and asked the kids if they were done.
"They were like, 'Do you want us to keep going?'" Beachy said, adding, "Can you do another one?"
He said they replied sure, so back they went, and went and went. Even the middle school runners were running what the varsity team usually runs, so the spirit being shown has trickled down to the middle school team.
Beachy said that work ethic has never shown brighter than this past week. "Our kids are leading by example, and they are having a blast. They work hard. They have bought into what we are trying to have them do in practice, and they want it bad enough to work their tails off to get what they want. Cade, Zeke, Kaden, all of them are working every day to get better."
Then there is the leadership aspect the team maintains. With a dozen seniors, it is a veteran group that shares responsibility. Beachy used senior Brogan Steimel as a prime example. He said at any given moment Steimel will hang out with any number of different team members.
"She's hanging out with Brenna, then she is running with Emily, then she is taking the whole team out to eat," Beachy said of Steimel. "She is with everyone, and she isn't alone in leading."
Beachy said all of those different reasons have put them in position to achieve some lofty goals. Beachy said he feels like each member could still carve 40 seconds off of their PRs.
With all of the success has come more confidence, and without that one standout to carry the load, the team has relied on one another to get the job done. Because of that mind-set, the expectations grow greater daily, but Beachy keeps reminding his kids that with COVID-19 they shouldn't take any day for granted, so he is asking them to run for today, something they have done very successfully.