Red Riders back on the track, making every step count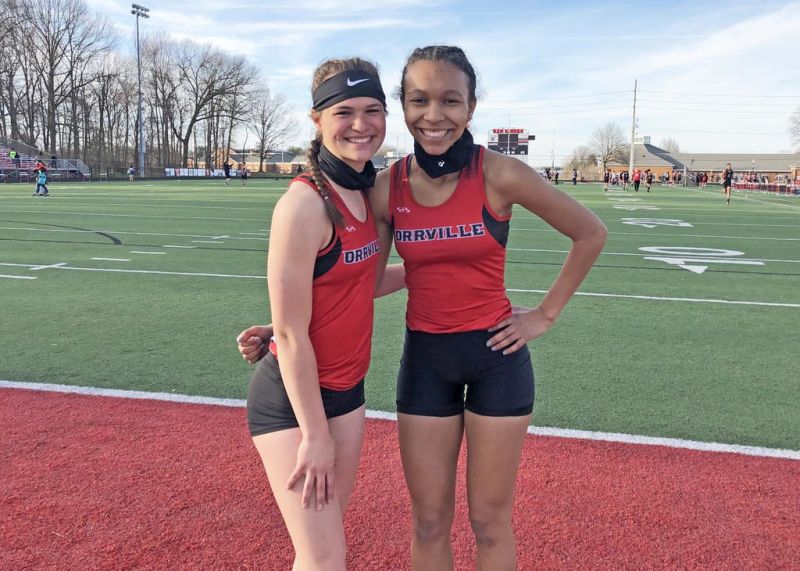 Orrville senior Daysia Hargrave sported a megawatt smile after winning the 300-meter hurdles in the host Red Riders' season-opening track meet against Manchester and CVCA on March 30.
Hargrave had lots of reasons to smile. She had just won the race, of course, but also the sun was shining and she was happy to be with her teammates to start a season filled with lots of potential.
Most importantly, Hargrave was overjoyed just to have the chance to compete again after having the 2020 season canceled due to the COVID-19 pandemic.
Running the hurdles is like riding a bike for Hargrave, who clearly hadn't forgotten how to get up and over the sticks. However, she said she still needs some fine-tuning to regain the form that saw her place eighth in the 100 and 300 hurdles in the 2019 Div. II state meet.
"It's like a rusty bike, but I had to get back on," Hargrave said. "I'm so happy that we are able to come out here and run again. After losing last year, every practice, every step matters a lot more because it's my senior year."
Orrville girls coach Jason Ayers and boys coach Tyrone Mosely are both in their 16th year as head coaches for the Riders. Like the rest of their coaching peers, there's a mix of optimism and uncertainty as to what to expect after losing an entire season.
The Riders boys and girls both swept the tri-meet against their Principals Athletic Conference rivals.
"We're very young and inexperienced, but the good thing is our numbers are up," Ayers said. "We have 42 girls out for the team, which is the most I've had in 15 years. We have lots of girls to work with, and we're finding out what we can do."
Hargrave is without question the Riders' leader. She won the 300 hurdles (50.4), 100 hurdles (15.6) and 200 (28.3).
"Daysia went to state her first two years, and she's a veteran," Ayers said. "We'll definitely be counting on her for leadership and points."
Hargrave said her goals this season are to be a great team leader, place high at the state meet and break the school record in the 300 hurdles.
"My best time is just a couple tenths of a second behind Jessica Eby's school record," Hargrave said.
Other returning letterwinners for the Orrville girls are seniors Isabel Cartagena and Tamara Turner and juniors Ainsley Hamsher, Lacey Caskey, Kendra Nofsinger and Caitlyn Race.
Hamsher qualified for the regionals as a freshman after learning from then-senior vaulter Karlie Lax (2019 state runner-up) and is hoping to reach the state meet this year.
"Karlie was a great teammate and really helped me learn to get through meets and helped me keep calm," said Hamsher, the youngest of three sisters who have been standout Orrville athletes. "She came back this year to help as an assistant coach, and it has been amazing to have her and (assistant) coach (Dave) Mackey coaching me. They both have great pole vault brains, and it's amazing to have their different viewpoints for all my jumps."
Hamsher also will run the 100-meter hurdles and the 4-by-100 relay.
Mosley's boys team had Calvin Speicher win the high jump (6-0) and 300 hurdles (46.4) in the opening meet while placing second in the 100 hurdles.
"I'm glad for the kids that they are able to compete in this meet," Mosley said during the tri-meet. "It's a nice, sunny day, a little breezy, but I'm getting the chance to see some sophomores perform who didn't get the chance as freshmen. I'm really impressed with the youth that I have, and they're gonna come a long way real quick."
The Orrville boys have 45 athletes out for their team, which is close to past numbers. Seniors Caleb Orosz and Trevor Jones were both on a regional 4-by-800 relay as sophomores and will help the Riders in several events.
Also returning as letterwinners are Steven Sinley, Cole Gravatt, Haiden Luangraj, Domanick Jonas and Domanic Goodard.
This year the Riders are honoring former coach Mike Burkholder, who passed away at age 57 in 2020. The track was renamed Mike Burkholder Track, and the Red Riders Relays have been renamed the Green Hat Relays in honor of coach Burk, who was known for always wearing a fluorescent green hat at meets. The relays will rotate every other year between Orrville and Northwestern, where his son, Jeff Burkholder, is the coach.
"Having had 'Burk' as a coach, teacher, friend and mentor for many years, it's very special to be able to honor him in these ways," Ayers said.
"I was a senior when coach Burk started coaching, and then I was his assistant coach for the boys team," Mosley said. "There was a stretch when we had 106 wins and only four losses. I know what track and field meant to him, and I take a lot of pride in it too. We miss Mike Burkholder a lot, but the legacy he left is still going."
Aaron Dorksen can be emailed at aarondorksen24@gmail.com. Follow him on Twitter at @AaronDorksen.