One for the road — 6-0 Knights roll past Generals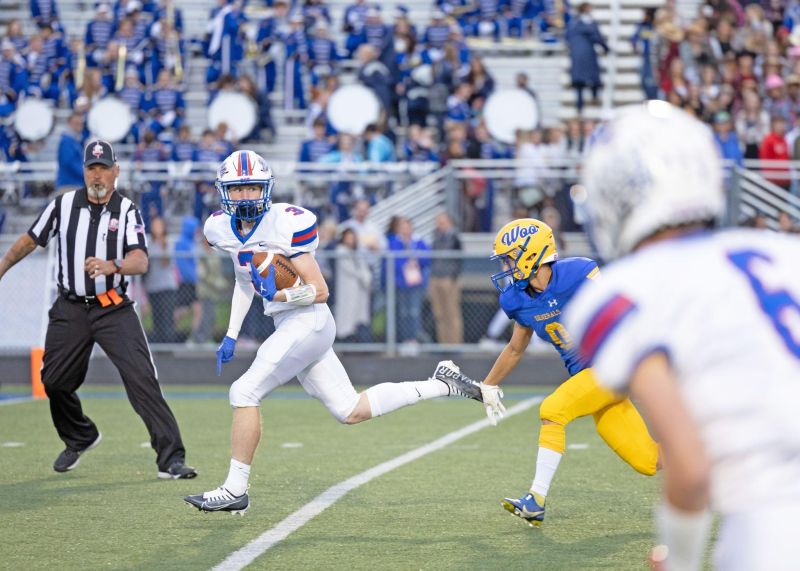 When asked if he knew the last time West Holmes won a football game at Wooster, Knights quarterback Mason Wolfe quickly replied, "2007."
The senior and his teammates were well aware of the recent history between the two teams heading into their matchup at Follis Field on Sept. 23.
West Holmes coach Zach Gardner made sure of that in the days leading up to the game.
"Any good program understands the history of their program," he said. "We challenged our kids. We want to keep setting the bar and raising the bar around here."
With recent history on their minds, the Knights went out and made a statement — a loud one at that – in a 48-6 Ohio Cardinal Conference victory over the Generals.
The win carried a little more significance for West Holmes (6-0, 3-0) than just ending a six-game losing streak at Follis Field. It also marked the first time the Knights beat Wooster (3-3, 2-2) in consecutive seasons since 2006-07 after winning last year's meeting 41-37.
"We knew how big of a game this was, not just for us but our whole community," Wolfe said. "Last year was a really tight game. We knew they were going to come out, and we came out and executed."
Not much went wrong for the Knights in the first half – or, really, the entire game. They scored on all six of their first-half possessions to build a 41-0 halftime lead.
Wolfe tossed a touchdown pass to four different receivers – Logan Zollars (33 yards), Kyle Maltarich (21), Nate Fair (41) and Zevin Proper (4) – in the opening 24 minutes. Running back Sam Williams-Dixon added touchdown runs of 3 and 10 yards as the West Holmes offense was clicking in all facets.
"My receivers were running great routes and the line was giving me time," Wolfe said. "We were just clicking really well."
After the Knights defense forced a turnover on downs on its own 4-yard line midway through the third quarter, Wolfe hooked up with Zollars for a 97-yard touchdown pass to make the score 48-0.
He finished 14-of-20 passing for 341 yards and five scores. Zollars caught six balls for a game-high 199 yards receiving, while Fair (57), Proper (36) and Maltarich (27) all caught two passes.
Williams-Dixon finished with a game-high 113 yards rushing on 15 carries.
The West Holmes defense was equally impressive, nearly pitching a shutout for the second consecutive week. Wooster scored its only points on a Luke Snowbarger 1-yard touchdown pass to Michael Howman-Williams midway through the fourth quarter.
Other than that, the Knights defense was dominant. Elisha Baldridge, Gus Warner and Maltarich all had an interception, and the unit also forced two turnovers on downs.
Keeping the Generals out of the end zone on their third-quarter drive that went deep into West Holmes territory was a standout moment in the game, even if they led by 41 points at the time.
"We need to play four quarters as a team to go where we want to go," Gardner said. "I was very proud of our kids for digging deep against a quality Wooster team and getting stops in big situations."