Glass near full for young Triway softball team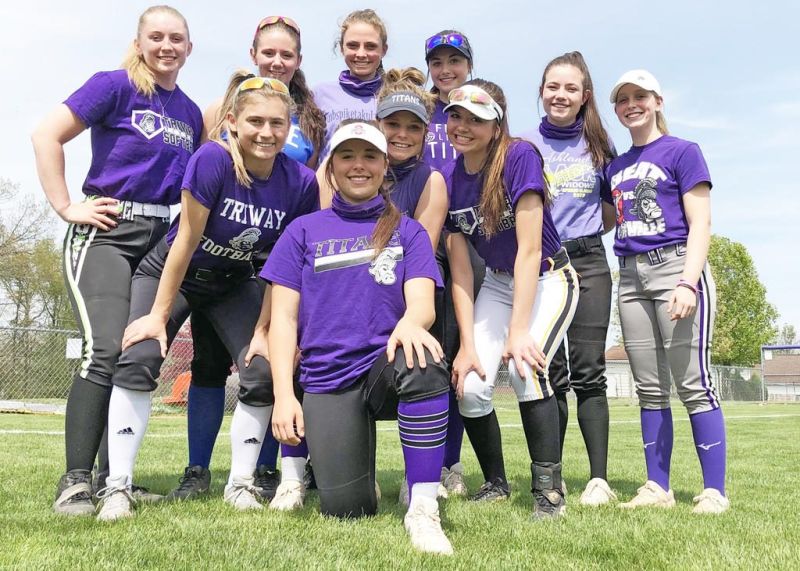 The Triway softball team wrote its team goals on the outside of a big glass jar before the season.
Inside the jar are pieces of paper on which the players jotted down their personal goals.
"It was a pretty cool thing for them to do," 10th-year Titans coach Ron Rock said. "After the season, we'll empty the jar and see how many of the goals they met."
The Titans are well on their way to accomplishing most of their objectives, powering their way to a 17-1 start to the 2021 season that may eventually go down as the best in school history.
Perhaps the most amazing part about the Titans is there's not a single senior on the team.
"We started this quite a few years ago with this group of girls," Rock said. "We put together a travel team when a bunch of them were 12, and it really sparked their interest. It was something that we were trying to build toward, and I knew they'd be successful, but I didn't know they'd be this good. All of us together as a team try and put things together to make it work."
Rock has dedicated a huge amount of time to coaching at Triway since retiring from Frito Lay, and his team has become a big, extended family. They actually have two sets of sisters: junior shortstop Hailey Massaro and freshman left fielder Hanna Massaro, along with junior second baseman Clowie Flinner and sophomore right fielder Emma Flinner.
Freshman Carter Wachtel has pitched like a senior, working in perfect harmony with junior catcher Maddie Fatzinger.
Juniors Emma Hudson (first base) and Haylee Pruitt (third base) anchor the corners of the infield, with classmates Emily Yacapraro (center field) and designated player Katie Hoffa completing the lineup.
Hailey Massaro leads the offense in batting average (.587), home runs (8) and RBIs (51). Standing just 5-foot-4, she already has the school's career record for home runs with 16 and counting.
"That's the beautiful thing about softball: Size doesn't matter in this game," Rock said of his Ohio State commit. "Hailey is a kid who wants to hit in the winter or at any time. Sometimes I have to tell her, 'I'm done. I can't go no more,' and I've gotta send her home. I've come by here many times, and she's out hitting with her sister, mom and dad. It's paid off big dividends for them."
Massaro enjoys spending every minute she can with her teammates. If they're not at the ball field, chances are they're eating together, bowling or just hanging out.
"It's kind of crazy how well we're doing, but we really prepared for the season," said Massaro, who garnered Ohio State's offer after attending the Buckeyes' camp for many years and also playing elite travel softball. "All these girls worked their butt off every single day of practice, and I could just see their growth. Most importantly, we're all best friends so that's awesome."
The Titans are batting .453 as a team with 20 home runs, making it hard for teams to pitch around Massaro. Also batting over .400 are Wachtel (.565, team-high 12 doubles, 3 HRs), Yacapraro (.507, team-high 37 runs), Hanna Massaro (.485, 3 HR), Clowie Flinner (.431), Hudson (.421) and Emma Flinner (.418, 3 HR).
The name of the game in softball is pitching, though, and the Titans have moved up to a tough Div. II district. So how good is Wachtel?
The 5-8 freshman is 12-1 on the mound with a 1.51 ERA. She has 96 strikeouts and just 17 walks in 83 innings pitched. Yacapraro also has helped in the circle, going 5-0 with a 3.37 ERA.
"Carter has been through it all," said Rock, who's assisted by Gary Basinger and Jennie Bishko. "Jennie will tell you she's better than she ever was. (Carter) throws hard and has a good assortment of pitches. She just works and doesn't get rattled."
Wachtel said her teammates always have her back. "They give me so much confidence behind me," she said. "My goal is to get every girl out, and I know my defense is gonna help me out."
The Titans have used a "one game at a time approach," but Hailey Massaro smiled when asked about the specific team goals. "We listed teams that we wanted to beat: Tuslaw, Hillsdale and Clear Fork," she said. "Obviously, we want to win the (Principals Athletic Conference), sectional and district too."
Triway, which went 17-8 in 2019, has defeated those rivals and is close to wrapping up the PAC title. The Titans lost their only game against Jackson, 2-1, but salvaged a doubleheader split with a 12-3 win on April 24.
The Titans have never had a softball team reach the regionals, according to Rock, but these girls are dreaming big and with good reason.
"We also wrote down 'win state,'" Hailey Massaro said. "I think we can do it."