Tournament loss won't define Lady Hawks' best season ever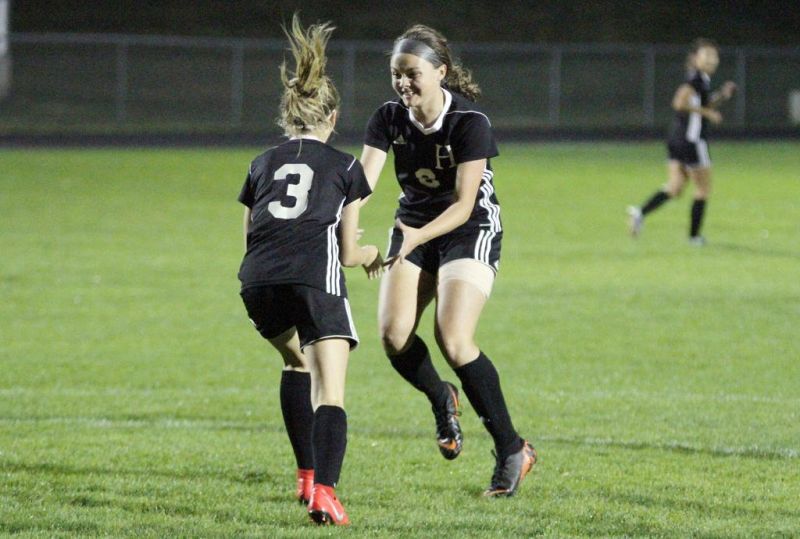 Great seasons don't always end the way a team would like, and for the Hiland Lady Hawks soccer team, that was the case this season.
Hiland fell to Zanesville Rosecrans 1-0 in a district tilt that was fought evenly throughout but didn't go Hiland's way in the end.
The Lady Hawks had beaten Rosecrans earlier in the season, but they knew it would not be easy to beat a team a second time that was seeking its sixth straight district crown.
The top-two seeds in the district battled evenly for the majority of the game, but Rosecrans notched the game's only goal to advance to regional play, leaving the Lady Hawks longing for their first regional berth in school history.
"That was rough," head coach Conner Lee said. "We had been talking about this game since last December, and we knew it wouldn't be easy to beat them again. The first time we played them, they had a pretty high line, and we were able to get behind them, but they made some nice adjustments and were a little more organized this time. They are a very good team, and they outplayed us, unfortunately."
Following the somber defeat, Lee talked to his team about not allowing this loss to define their season. It was a season of many records including a 15-3-1 record.
In addition Hiland allowed just 10 goals, allowing more than one goal in a game just once in their victory over Rosecrans in the regular season. The 13 regular-season wins and 15 total wins are both high-water marks in the program. They also recorded 10 shutouts, coming on the heels of last year's 13 shutouts, a season in which all 13 of Hiland's wins came via holding the opponent scoreless.
Mia Gertz set the school record for individual goals in a season and assists in a season with 13 and 11, respectively.
"We had so many girls who scored five-plus goals this season and a handful with three or four goals. It was a very balanced offensive attack," Lee said.
Lee, who completed his second season as Hiland's head coach, said the success during his tenure, which has seen the team go 13-6 and 15-3-1, has been due to the positive atmosphere surrounding the program.
Lee and assistant coaches Chris Gertz and Ashley Zickefoose have done well to make the game enjoyable while also pushing the players to work hard at their trade.
"Kids have to realize they can make mistakes and it's not the end of the world if they can learn from those mistakes," Lee said. "The only thing we would ever really get on is a lack of effort, and that wasn't a problem with this group. They really worked hard and stayed focused all season."
The other part to success, according to Lee, was simple. He said these girls have great skills in the game, and he praised former head coach Jeremy Kauffman for instilling those skills.
"Jeremy was right there, so I feel like we were able to put everything together that he started," Lee said. "He was so good with the technical part of things, and I feel like we were bearing the fruits of his labor."
Considering three years ago this Hiland team lost its tournament game with Rosecrans 7-0, Lee said it shows how far the program has come. He said while the tight loss still stings, he told his players that good programs lose that kind of game and not a blowout.
"We've made strides as a program," Lee said. "But you can't win 100 percent of your games all the time; you have to learn to lose. It's part of the process, and I felt like we took a nice step forward with the program this year. If we continue to improve, next year maybe this turns into a win."
While graduating nine talented players, seven of whom started, there are a number of roles that need filled, but a talented freshman class and plenty of experienced players will return.
With the pain of this kind of loss in a huge game lingering, it should provide plenty of inspiration as the team looks forward to next season.