Garaway defeats East Canton in crazy football opener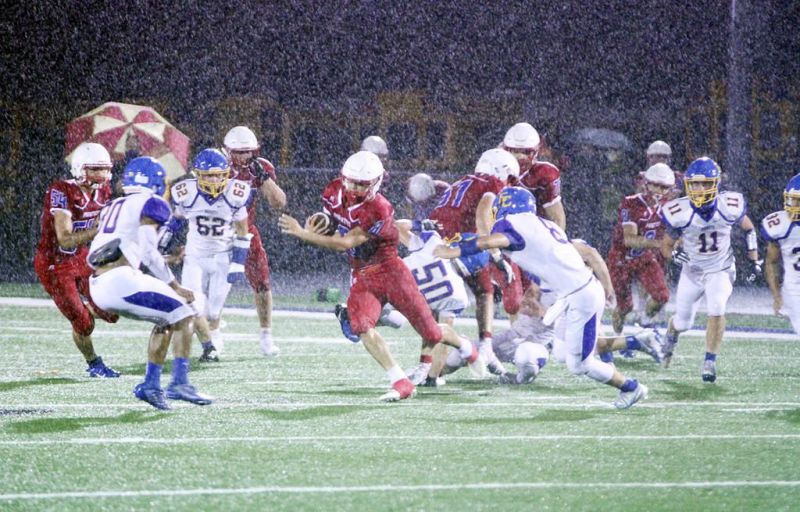 There are rainstorms and then there are whatever the Garaway Pirates and East Canton Hornets tried to play through on the opening night of OHSAA football on Friday, Aug. 28 on The Hill at Garaway High School.
In driving rain that was coming down in sheets sideways, visibility was often difficult on the field, and while weather eventually put an end to the initial effort to play through the deluge and the two teams met again the next day, little changed in Garaway's dominant 35-0 win.
One thing that never wavered, whether it was in the rainstorm or the nearly perfect weather the next day, was the performance of Garaway quarterback Garrett Newsome.
The lanky junior did it with his feet and his arm, putting on a grand performance in front of the home crowd.
Newsome got the Pirates a lead they would not relinquish on a 74-yard scamper on the Pirates' first possession of the game. The score stayed that way until Newsome found room on the right sideline to start the second quarter and rolled 50 yards to make it 14-0.
If the storm, which included a half-hour delay at the beginning of the game and another with just under one minute to play in the half, was bad early on, it was nearly unbearable until officials postponed the game to Saturday as lightning struck near the half.
East Canton could not find any more success in the sun than it could in the rain. Garaway's stingy defense, led by the ferocious hitting of Garrett Hershberger, never allowed East Canton to get rolling.
Newsome just kept coming at the Hornets, now through the air. He found Jaydon Miller for a 20-yard scoring strike in the third period, then located him again in the fourth quarter on a 33-yard touchdown connection for a 28-0 lead. The Pirates tucked this one into the win column for good when Newsome hooked up with Zach Bickford on a 38-yard TD pass, with kicker David Best finishing the scoring with a perfect fifth of five extra points.
The numbers fleshed out exactly how badly Garaway dominated this one. East Canton managed just 52 total yards from scrimmage compared to the Pirates' 445 yards. Newsome was 19-of-27 passing for 255 yards and racked up 174 rushing yards on just 10 carries. Andrew Bunn added 16 rushing yards while Ethan Miller tacked on 11, and Jaydon Miller amassed 104 receiving yards on five catches for the winners. Bickford added seven catches for 84 yards, Ethan Miller recorded three catches for 35 yards and JD Young had three catches for 27 yards.
Hershberger racked up eight tackles, each seeming harder than the last, while Brady Starner added five tackles and 1.5 sacks and Ethan Miller added four solo tackles for the Pirates.