Pirates football moves to 3-0 with blanking of West Muskingum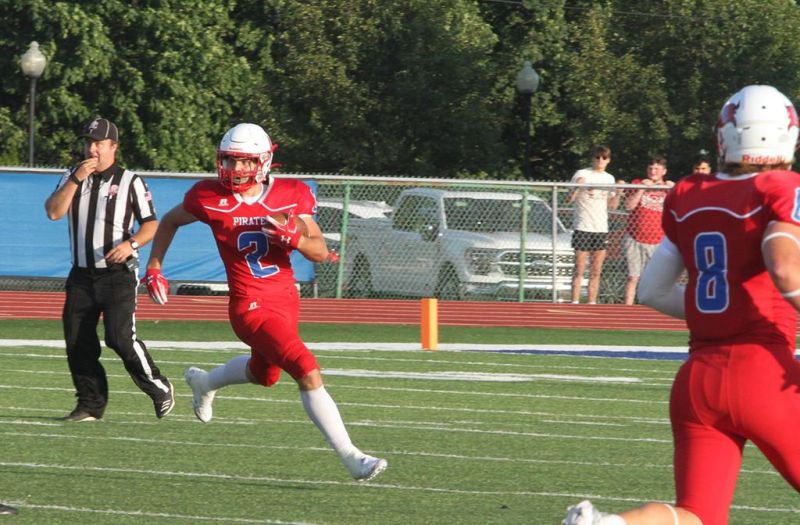 The Garaway football team improved to 3-0 with a 28-0 nonleague win over West Muskingum on Sept. 1.
Brady Geibel completed 17 of 24 passes for 244 yards and tossed touchdown passes to Gabe Amicone (three catches, 87 yards) and Jenson Garber (five for 64).
Dillon Soehnlen led the rushing attack with 101 yards and a score on 18 carries.
Wyatt Wallick and Payton Keller (sack) had six tackles each to lead the Pirates defense, which forced three turnovers. Jackson Reifenschneider recovered a fumble and returned it 7 yards for a touchdown while Amicone had an interception.
Boys cross country
Garaway finished first in the Small Schools Division at the East Canton/Lee Sternberg Invitational on Aug. 30.
Nathan Money finished as the individual champion, crossing the finish line in 17:22.60. Nic Palmer placed fourth (17:39.40), Seth Zimmerman 10th (18:45.70), Carter Travis 14th (19:02.50) and Jase Miller 23rd (20:05.60) to round out Garaway's scoring.
Girls cross country
Garaway competed in the Small Schools Division at the East Canton/Lee Sternberg Invitational on Aug. 30.
Mya Wengerd placed 11th in 22:30.70 to lead the Lady Pirates. Natalia Flores-Flores (30th, 25:52.90) and Lydia Raber (34th, 26:15.90) also competed for Garaway.
Volleyball
Garaway pulled out a 29-31, 26-24, 25-20, 22-25, 15-13 win over Sandy Valley in IVC play on Sept. 5.
Morgan Schlabach (29 kills, 23 digs, four aces), Jordyn Keim (29 digs), Charlee Yoder (28 assists), Maya Gross (19 assists), Cora Head (two blocks) and Morgan Ryan (two blocks) led the Lady Pirates.
Garaway picked up a win over Minerva on Sept. 2.
Schlabach (15 kills, 19 digs), Yoder (19 assists), Jazzy Miller (three aces) and Kaitlyn Mast (13 digs) paced the Lady Pirates.
Claymont earned a 25-22, 25-11, 25-17 win over Garaway in IVC play on Aug. 31.
Schlabach (12 kills, 12 digs), Yoder (11 assists) and Ryan (three blocks) led the way for the Lady Pirates.
Girls golf
Garaway freshman Kylie Miller shot a personal-best 32, tying the school record, in a 146-218 win over Ridgewood in IVC action on Aug. 30. She finished with five birdies, three pars and a bogie during her record-tying round.
Sydni Prysi and Brooklyn Numbers added 37s and Sammi Miller a 40 for the Lady Pirates.
Boys golf
Trace Gibson and Carter Miller both shot a 2-under-par 34 to lead Garaway past Newcomerstown 143-237 in IVC action on Sept. 5.
Austin Tedrick added a 37 and AJ Miller a 38 for the Pirates.
Gibson shot a 74 to earn medalist honors and lead Garaway to a fourth-place finish at the Dover Invitational on Sept. 2.
Carter Miller added an 83, Keshawn Miller an 84 and Nick Maust a 91 for the Pirates.