Pirates get big XC performances at Pickerington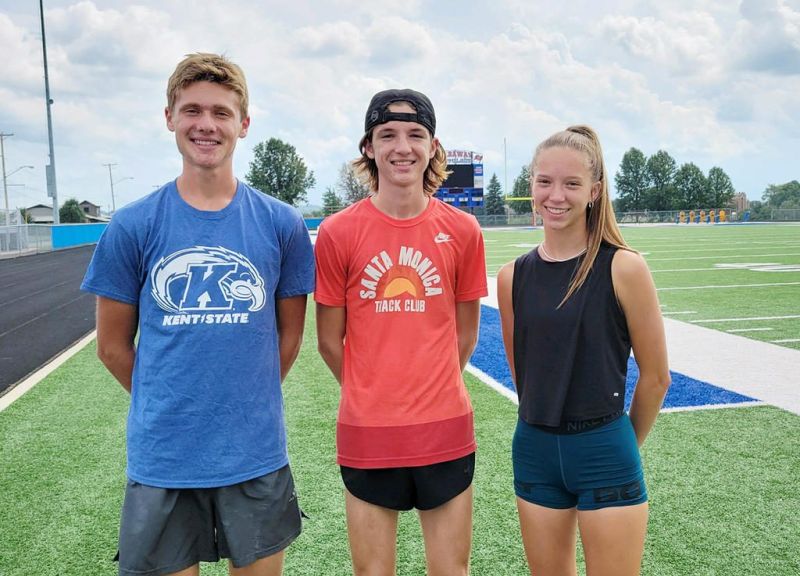 The Garaway Pirates saw a trio of runners make an impact in one of their larger meets of the season.
At the Pickerington XC Classic on Saturday, Aug. 28, the Garaway boys team had a strong showing in the small school division, placing fourth in the 24-team field. Individually, leading the way near the front of the pack of 373 runners was Quinten Schwartz and Bobby Palmer, who respectively ran second and fourth in times of 17:06.4 and 17:22.1. Mitch Green of Waverly won in 16:52.8. Placing for the Pirates were Parker Graf (30th/18:33.4), Heinrich Asbury (42nd/18:50.2) and Brendan Chapman (170th/21:39.4). Also competing for the Pirates were Nathan Money (180th/21:51.6) and Jase Miller (222nd/22:51).
Leading a solid effort by the Lady Pirates in the field of 304 runners was Meghan Schwartz, who finished 17th overall in 21:40.0. Mya Wengerd placed 29th in 22:17.4. Scoring points for the Lady P's were Briana Rider (81st/24:31.4), Jessie Johnson (97th/24:50.7) and Arin Frey (104th/25:03.4). Other Garaway competitors included Emily Rider (157th/26:43.5) and Natalia Flores (197th/28:04.7).
At the Claymont Early Bird Invitational on Saturday, Aug. 28 in the small school girls meet in a field of 93 runners, Hiland freshman Allie Hershberger ran well, placing 19th overall in 23:44.47, competing as the lone Hiland participant. On the boys side, Hiland's lone competitor George Malicky ran a 21:18.96, good for 55th in a field of 124 runners.
The West Holmes girls cross country team finished second at the Sharon Kline Invite on Wednesday, Aug. 25 at Northwestern. The team had three top-10 finishers with Noelle Smith finishing in sixth, Lexy Starner running seventh and Zora Starner taking eighth. Emily Truax finished 11th, and Brenna Myers rounded out the scoring in 20th. Carolyn Miller and Olivia Sampsel rounded out the varsity team for the Lady Knights.
The West Holmes boys cross country team finished eighth at the Sharon Kline Invite. Junior Zeke Galbraith led the way with a fourth-place finish. Mac Miller finished 48th. Jacob Miller finished 54th, and also scoring for the Knights were Braydyn Lemon and Slade Turney. Nathan Young and Hunter Uptain rounded out the varsity team.
The Knights boys cross country team finished fifth at the Gideon's Run/Waynedale Invite on Saturday, Aug. 28. Galbraith ran to a second-place finish in 18:00. Mac Miller and Jacob Miller finished 22nd and 23rd. Young and Turney also scored while AAJ Roberts and Uptain rounded out the varsity effort.
At the same venue, the Lady Knights cross country team placed third. Smith finish fifth overall in 22:17, followed by Lexy Starner and Zora Starner in sixth and seventh. Myers finished 15th, and Carolyn Miller rounded out the scoring in 22nd. Autumn Conner and Sampsel finished 30th and 31st to round out the varsity squad.