Pirates get 'picky' in D-V football playoff win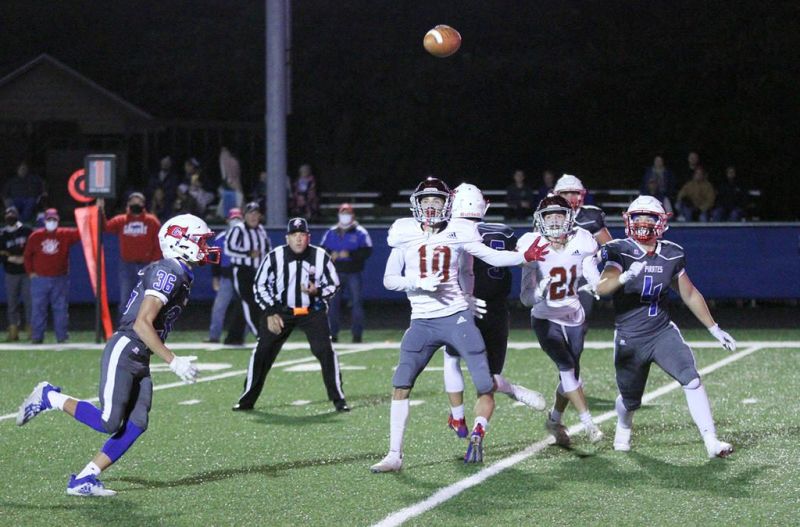 In one sense, it felt as though the Crestwood Red Devils should have been knocking on the door to victory in facing the Garaway Pirates in a Div. V state playoff game that took place Saturday, Oct. 17 in Sugarcreek, with the Red Devils moving the ball up and down the field.
On the other hand, it seemed as though the Pirates should have posted a 60-point win, creating seven turnovers as the defense's bend-but-don't-break theme played itself out to the extreme as they seemed to come up with a turnover every time Crestwood approached the goal line.
In the end it fell somewhere in between, the Pirates eventually settling in to an easy yet at times sloppy 48-14 win.
"We're definitely not satisfied," Garaway head coach Jason Wallick said following the win. "We'll watch the film and get ready for Bellaire. We have a long way to go. We didn't execute offensively, but our defense played lights out."
The Pirates wasted little time in setting the stage for the game, with Jadon Miller piling in from 4 yards out, the David Best extra point making it 7-0. Once the Pirates got their hands on the ball again a minute later, it took all of nine seconds for them to score quickly, this time on quarterback Garrett Newsome's 10-yard run.
Brady Roden would begin the interception parade by making a nice pick in the first quarter, and that would become the theme for the night as Garaway would produce seven turnovers.
Midway through the second quarter, Crestwood was marching methodically down the field, but once inside the 10-yard line, a terrible trend began for Crestwood. Garaway's Caleb Miller located a tipped pass and made a huge diving interception to thwart the drive. What's more, the Pirates quickly moved down the field with a couple of catches from Miller and a 24-yard catch by J.D. Young. Newsome then found Young across the middle for a 10-yard touchdown, and Best's kick made it 21-0.
Crestwood again threatened, and Mason Daniels looked like he would score on a lengthy pass play when he beat Garaway's defense up the middle after making a catch on the slant. However, a terrific hustle play by Alexander Roden, who came out of nowhere, saw him drag down Daniels at the Garaway 8.
That turned out to be a huge play because Pirate cornerback Logan Yoder picked off a pass in the end zone on third-and-goal and returned it to the 35. While Garaway didn't score on the ensuing drive, the big play did not allow Crestwood to gain any momentum heading into the half.
Crestwood got the ball to start the third quarter, and Sam Page quickly added his name to the growing list of thieves, picking off quarterback Evan Daniels' offering at midfield. Garaway turned it over on downs, but Young came up with a huge sack, the Pirates got the ball back and Jadon Miller scored on a 36-yard catch and run where he simply was not going to be denied the end zone, making it 27-0.
"He's a really good player," Wallick said of Miller. "He is going to give credit to his offensive line, and he'll give credit to Garrett for getting him the ball, but he makes a lot happen once he gets it."
Once again Crestwood moved downfield, with ease, until it got inside the 10. Then another turnover reared its ugly head on a fumble, which was recovered by Garaway's Luke Miller.
After getting a stop, Crestwood finally found success. Because it couldn't seem to get anything going from near the goal line, where they had been much of the evening, Evan Daniels ripped a pass to a streaking Trent Jakacki, who weaved his way for a score from 66 yards out to make it 27-7.
Any momentum Crestwood had was gone when Best returned the ensuing kick to Crestwood's 35. After an offside call, Newsome reeled off a 15-yard run to the 25. Then Jeffery Fehr, who was having himself a huge night, hauled in a Newsome offering at the 7, and Miller earned a TD hat trick, running it in from the 7 for a 34-7 lead.
On the ensuing possession, Ethan Miller made an acrobatic interception in which he soared to tip the pass and then dove to haul it in inches before it hit the ground. The Pirates wasted little time in delivering a dagger, Newsome finding Fehr on the first play of the drive on a 31-yard touchdown pass and a 41-7 edge.
Jakacki would score his second touchdown, this time passing for a 32-yard score to Austin Jackson, but after Garaway was stopped, Jarett Wallick rounded up the sixth interception, leading to a Newsome-to-Miller 23-yard TD connection that rounded out the scoring.
"I didn't know it was that many, but every time I turned around it seemed like we were intercepting the ball," Wallick said of the six picks.
As for the overall feel and flow of the game, Wallick said, "It was a weird game, but we did what we had to do, especially in creating all of the turnovers. I thought we were a little out of timing offensively and never got into a rhythm. We didn't execute. Maybe we were trying to do too much, but once we got up early, we didn't want to show a lot of things to Bellaire."
Regardless of a lack of rhythm or any other minor flaws that may have existed, it was a home win in the playoffs, setting the stage for the Pirates to host another home game against Bellaire, and that is always a good feeling.