Pirates' run ends in loss to defending state champ Kirtland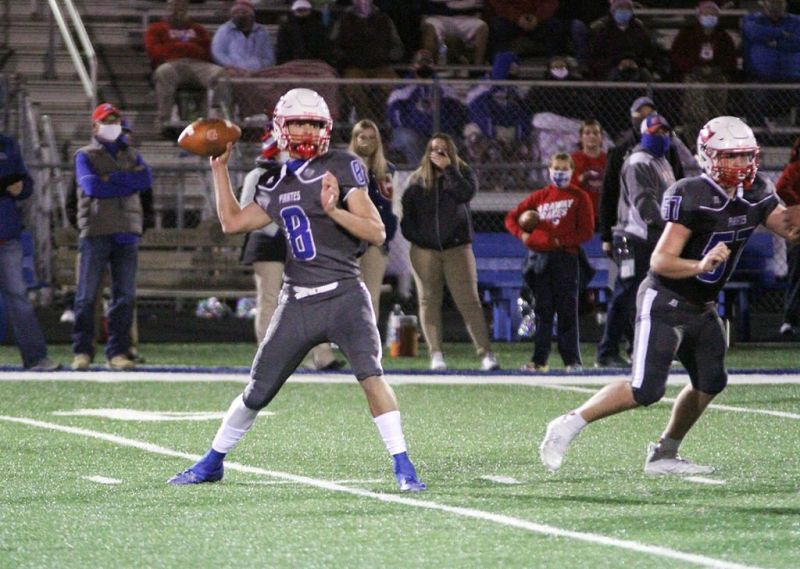 For a brief moment, the Garaway Pirates looked poised to give two-time defending Div. V state champion Kirtland everything it wanted in their regional semifinal game in Mentor on Saturday, Oct. 31.
Then, as it has done too many times before, Kirtland settled in and did what it does best in hammering out a 43-6 victory over the Pirates, ending a sensational season for the Pirates at 7-2.
Garaway came out on its first drive doing a remarkable imitation of their opponent by systematically moving the ball down the field. Quarterback Garrett Newsome found 12 yards on a run on third-and-11. On third-and-9 he found Jaydon Miller for a first down. After a sack set up a fourth-and-6, Kirtland jumped offside, and rather than punt, head coach Jason Wallick decided to go for it, and Miller converted for a first down.
The Pirates drove right down to the 25-yard line of Kirtland, eating up nearly eight minutes of clock, but on fourth-and-2, a mishandled snap turned the ball over to Kirtland.
Down the field Kirtland drove, but when Alexander Roden stepped in the passing lane for an interception at Garaway's 25-yard line, the Pirates were back in business.
"That game started almost as well as we could have hoped," Wallick said. "To run a 21-play, nine-minute drive to open the game against a two-time defending state champion and keep the ball out of their hands was exactly what we wanted to do. Then Alex Roden gets that pick, and we were in good shape."
Only things didn't go well after that against a team that is vying to make its ninth state championship appearance in the past 10 years.
Kirtland made a quick stop and then let All-Ohio tailback Mason Sullivan take control of the game. Kirtland would score on its next-three possession including Sullivan touchdown romps of 13, 10 and 5 yards.
However, the Pirates showed some fight when trailing 14-0. Newsome found JD Young on a quick slant, and Young turned it into a scintillating 51-yard touchdown catch and run to trim the deficit to 14-6.
"I thought our offensive line did a terrific job all night," Wallick said. "Garrett had plenty of time to throw and was never pressured all night. Unfortunately, the team across the line is a pretty strong football team. We made some mistakes that got us in trouble, and you can't make those types of blunders against a team like that, but we did fight back and got it to a one-score game."
The second half saw Kirtland do what Kirtland does best, taking control of possession and squeezing the will out of its opponent.
A score to open the second half made it 28-6, and despite a kick return to midfield by Logan Yoder, the Pirates were forced to punt again. Sullivan added one more highlight to his highlight reel, taking a toss and then firing a long pass to his brother Gabe Sullivan, who grabbed it at the 5 and hurtled into the end zone. The two-point conversion made it 36-6 and set the running clock in motion.
From there it was the Pirates working hard to get back into the game and at east slow down the clock, but Kirtland continued to show why it is the odds-on-favorite to rack up another title for one of the state's most impressive programs.
This marks the third time in nine years that the Pirates have had their season ended by Kirtland.
While the loss stung, the Pirates were quite elated in their previous playoff win, a 61-0 blowout victory over a rugged Bellaire game.
"We played a flawless football game in all three phases of the game," Wallick said. "They are a hard-nosed, physical football team, but our speed and athleticism was something they just couldn't keep up with. We were surprised at how quickly that game got out of hand. We played phenomenal football, and we never expected things to go like that. They are a strong, powerful team, but our kids weren't going to be denied, and when we started rolling, we played 48 minutes of high-energy, high-intensity football. We did that against Kirtland too, but that is just a different beast altogether."
Despite the loss, the weird 2020 season was one full of big plays, huge wins and awesome memories for the Pirates. Wallick said his young team grew up in a lot of ways, with many key contributors getting valuable experience.
"We can look back on this season and be very proud of everything we accomplished," Wallick said. "We are so fortunate to have gotten to play nine games. The kids we thought would play well, played well, while the kids we needed to develop, grow and mature did exactly that. The fact that the two teams we got beat by are still playing says a lot."
For Wallick, seeing his team step up in many different ways to both lead and play was exciting. He praised his senior leaders and was encouraged by the way the team grew throughout the season.
Perhaps his favorite takeaway from the year was his two losses, which came to Ridgewood in the regular season and Kirtland.
"Our two losses were to what is two of the best teams in Div. V," Wallick said. "We were fortunate to get to play nine games, and it was a fun year. We were successful, but we had some younger kids who really gained a lot of valuable experience. Those kids surpassed all of my expectations this year, and it will pay off next season in big ways."