Pirates XC boys win districts, girls off to regionals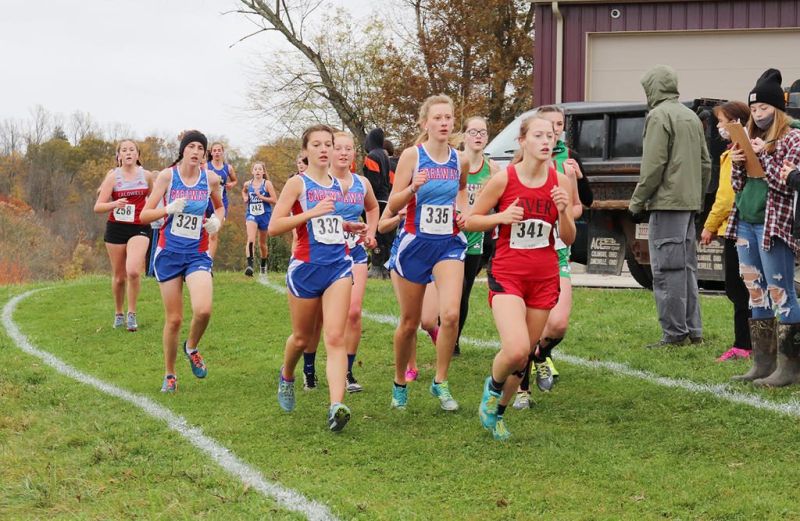 The tradition continues for the Garaway Pirates boys and girls cross country teams. 2020 might be a weird year, but one thing remained the same as both Garaway cross country teams sailed on to regionals.
The boys team roared to victory while the girls placed fourth to claim their spot in the Div. III regional field.
Quinten Schwartz flew to a third-place finish to lead the boys to victory. His time of 17:05 trailed only champion Jacob Defibaugh and TCC's Jackson Triplett, who ran 16:52 and 16:59, respectively.
Schwartz got plenty of help in the lead pack from Bobby Palmer, who ran sixth in 17:50, and Parker Graf, who placed seventh in 17:55. The Pirates got additional quality performances from Brendan Chapman (14th/18:31), Heinrich Asbury (30th/19:26) and Nathan Money (35th/19:41) out of the 82 runners.
Garaway's 55 points was more than enough to give the Pirates a comfortable cushion over runner-up Caldwell's team score of 65.
The Lady Pirates were paced by Meghan Schwartz, whose time of 20:59 was her best of the season and good for a fifth-place finish overall. The rest of the Garaway team wasn't near the front but ran together in the middle of the pack well enough to garner a fourth-place team finish that led them to regionals.
Melea Wicker (29th/23:20), Natalie Money (30th/23:35), Brianna Rider (33rd/23:43), Lauren Goehring (39th/24:02), Arin Frey (41st/24:06) and Emily Rider (49th/25:05) gave Garaway more than enough depth to secure a spot at regionals.
Shenandoah scored 57 points to earn the girls crown, followed by runner-up Barnesville's 84. Buckeye Trail was third at 96, followed by Garaway with 112, which was just good enough to sneak past Martin's Ferry with 117 points.