Rhinos wheel into Wayne College for annual fundraiser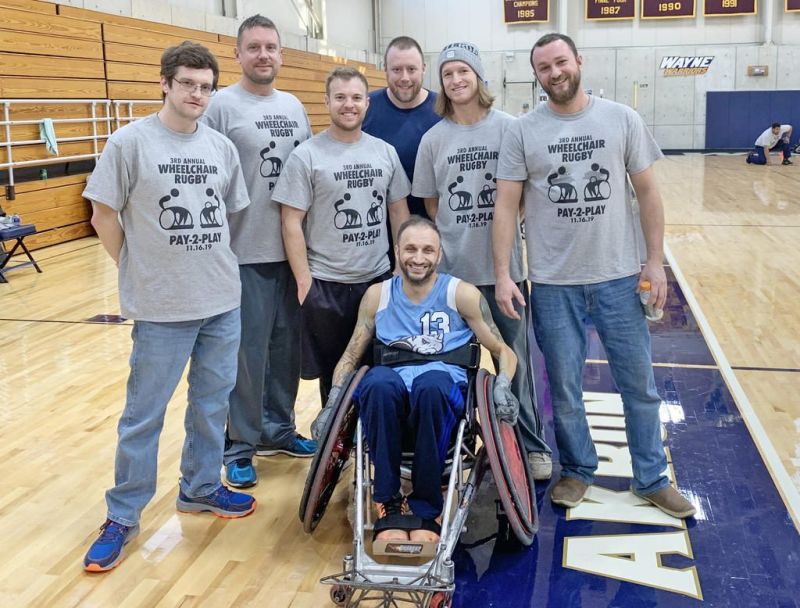 Just because a person lives life in a wheelchair with a disability doesn't mean he or she cannot participate in competitive sports. That was the message around the University of Akron Wayne College gymnasium on Nov. 16 as the Akron Rhinos' wheelchair rugby team visited the campus for its annual fundraiser at the local school.
"I showed up in jeans and didn't expect this," said Josh Labonte, who competed on a team that battled — and lost — to the Rhinos. "We really didn't know what we were doing, and they were running plays."
Labonte was one of a handful of friends who attended the fundraiser to support their friend, Yianni Thallas, who plays for the Rhinos.
"We came out to support [Yianni]," said Kevin Huffman, who has been friends with Thallas for more than 25 years since their high school days. "[Wheelchair rugby] is more physically arduous than people think."
"I did it the last two years, and I'm exhausted after the half hour is done," said Jarrod Tudor, dean of Wayne College.
Huffman owns On the Rocks Climbing Gym in Amherst. Thallas' friends said they were not going to miss the event in order to support him. Huffman said the challenges they faced during their match with the Rhinos were much different than rock climbing.
Thallas was grateful for the support from friends at his matches but also for the chance to compete in a sport he loves.
"Being competitive, just competing and just the sport itself," he said when asked his favorite aspect of playing wheelchair rugby. "I'm a pretty competitive person."
The Nov. 16 fundraiser was held in order to support the Adaptive Sports Program of Ohio. Its mission, according to Brooke Keber, program manager for ASPO, is to provide sports opportunities for people with physical disabilities across the state.
A lot of times, Keber said, people with disabilities are excluded from sports, and this program gives them a chance to show off their skills to the outside world. Plus they get to compete in the sports they love.
Wheelchair rugby is similar in nature to the original sport. Teams must carry the ball across the goal line on opposite ends of the gymnasium. The team with the most points wins, and the ball must be bounced or passed every 10 seconds.
During the Wayne College fundraiser, the Rhinos played 16 teams in a row (with small breaks in between) in 30-minute, running-clock matches. The Rhinos proved too much for all of their opponents once again. The Rhinos ran the gym from 9 a.m. to 5 p.m.
Their coach, Dilshani Madawala, explained this is their main fundraiser each year. Through this the team is able to cover travel expenses, tournament entry fees and other costs related to traveling for their games.
Madawala said the team plays tournaments once a month throughout the Great Lakes region from September to February each year. Their final tournament this season will be held in Dalton.
"This is something I want to do every year," Tudor said.
Tudor said the ASPO/Rhinos fundraiser gives students in the college's exercise science program practical experience while helping raise money for a good cause.
"You become very grateful to play against these athletes," Tudor said. "They're so talented."
Dr. John Roncone, an associate professor of sports science and wellness at Wayne College, said the fundraiser has expanded over the three years the college has hosted it. Last year they managed to raise $4,000 for ASPO and the Rhinos. Next year they are looking at adding teams to keep growing the event.
"It's just a great community event," Roncone said. "It's a good time, and it's great to celebrate physical activity and physical activity for all."