Scots start fast with help from their 'Titan Tandem'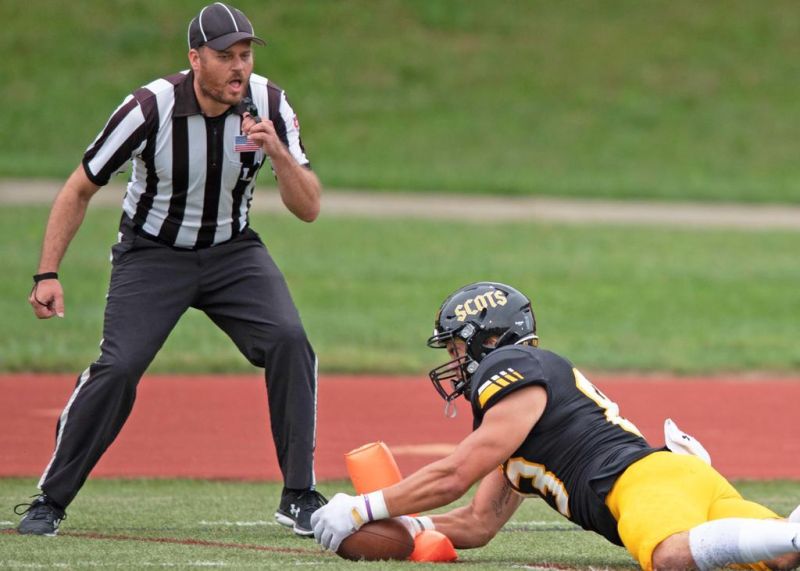 In this day and age, even a Div. III college football coach must cast his line to every corner of the pond if there's a chance to reel in a trophy catch for the team.
On the other hand, sometimes a net on a long pole will do the trick. There might be a prize recruit lurking beneath the dock itself.
For Frank Colaprete, head coach at The College of Wooster, landing a couple of keepers was as simple as one-two-Triway.
Senior tight end Cole Hissong and sophomore left tackle Zach Hershberger are the Fighting Scots' "Titan Tandem." Both grew up only a few miles from John P. Papp Stadium, and when on the field, they are only a few feet apart. Though their game assignments are different, they are always in sync.
After many months of uncertainty and insecurity brought about by the coronavirus outbreak, the two former Triway High standouts finally are back in earnest, playing the game they love for the team they love. With victories over Geneva College and Kenyon College in back-to-back 2021 home appearances, the 2-0 Scots are at Ohio Wesleyan this Saturday for a 1 p.m. conference tussle.
"I had a rough year last year. My future was kind of in question. I really didn't know what I was going to do," said Hissong, the 6-foot-2 and 220-pound two-time D3football.com Preseason All-American. "But I talked to coach C, and I decided to stay. I love this team. There's nobody else I'd rather play for than coach Colaprete, and these guys are my brothers. I'm going to be here to the end with the Black and Gold."
The younger Hershberger, at 6-4 and 315 pounds, didn't feel the same degree of urgency as Hissong, but there was more than enough anxiety to go around for everyone in the huddle. There were a lot of hoops to jump through just to get back to where the Scots finally could open the season under the lights in front of more than 3,000 fans on Sept. 4.
At last, an off-season of on again, off again workouts and a pair of spring exhibition games were in the rear-view mirror.
"The whole COVID thing just got you into kind of a funk, and you're like, 'Oh man, I don't really want to practice.' But when you drive through it and you realize you're becoming successful as an entire team, it just really helps you get through it and get better," Hershberger said.
Putting on the pads again for a real game was an overdue picker-upper.
"I was just locked in. I was ready to go," Hershberger said. "I was ready to go out there and do my job so that my team could win."
Through the first two games of the season, Hissong has caught seven passes for 101 yards and one touchdown, which was Wooster's first touchdown of the 2021 season. It was just a 3-yard TD play, but it was a fitting way to get the rebirth of Scots football rolling. He's averaging 14.4 yards per grab, and his longest gain of the campaign thus far is a 39-yarder in a 49-7 manhandling of Kenyon.
One third-and-9 reception in particular midway through the fourth quarter of the shootout against Geneva helped keep a Scots drive alive. The pass from Mateo Renteria was good for 18 yards. On the next snap, Wooster's Troy Baughman burst through for a 56-yard TD sprint that put the Scots up 42-28 with 7:05 left in the game.
Baughman's romp was critical in the outcome. Geneva scored again with 5:17 on the clock, tightening the tally to 42-35, which ended up being the final score.
Hissong, an education and history major, said his mind-set this year revolves around being a team leader and just having fun playing football his senior season.
"It's my last year with the Black and Gold, and I just want to come out here and cherish every moment," said Hissong, who played for coach Tony Lee at Triway.
Hissong earned All-State honors as a senior and was an All-District and All-League pick that year. He lettered twice in basketball, three times in baseball and three times in football.
Of note, Hissong in 2019 turned seven receptions into a career-high 194 yards and two touchdowns against DePauw University, the feat marking the sixth-most yards in single-game program history.
Hissong was a first-team D3football.com Preseason All-American in 2020. This past summer he was named to College Football America Yearbook's NCAA Div. III Preseason Starting Lineup.
Hershberger, who played under coach Eric Brenner at Triway, earned honorable mention All-Northeast Inland and first-team All-Conference honors as a senior. He also was a state qualifier in wrestling as a senior. The three-year letter-winner in football also garnered a pair of letters in track and field and wrestling.
Hissong and Hershberger, often lost in OL anonymity, relish a loyal following of hometown fans. The Hissong family turns out in full force for both pregame tailgating and the day's contest itself. It takes a fully decorated, enclosed trailer just to carry all the goods.
"I just want to be the best teammate as a captain of my team," Hissong said. "As far as individual goals go, it's cliché to say, but I don't care about 'em. I just want to come out of this season with a conference championship."