Seven Pirates named All-Ohio in football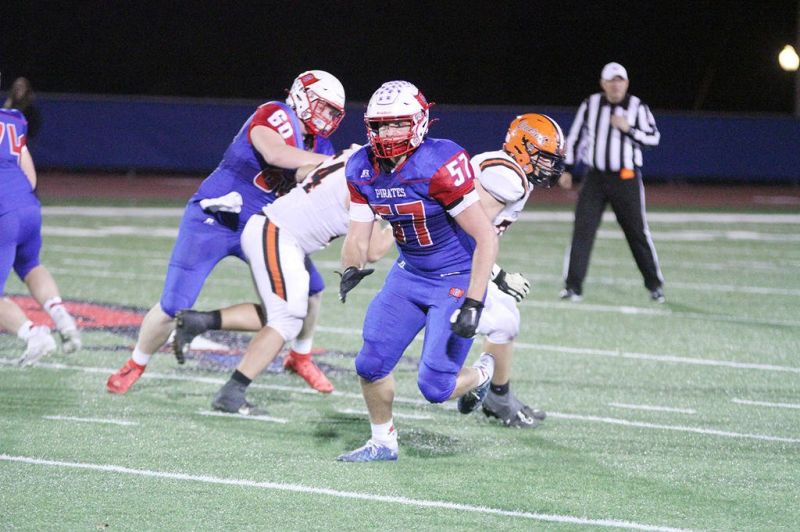 Oftentimes, statistics only tell a part of the story from a season.
When the OHSAA passed along the Ohio Prep Sportswriters Association All-Ohio Div. V football honors from this past season, Garaway boasted seven players who were listed among those honored. However, Garaway head coach Jason Wallick said that while the accolades were well deserved for his players, the way the state selects its players makes it difficult to get a true picture on players who are deserving of being honored.
"You've got a bunch of people selecting these honors who haven't seen the majority of these players play the game, and they go so much by statistics that it doesn't give a true picture of who gets honored and who doesn't," Wallick said. "Our kids who earned All-Ohio honors were so deserving, but we had other kids who probably were deserving who didn't get selected."
First-team honors went to senior defensive lineman Jarrett Wallick. second-team awards were handed out to senior quarterback Logan Yoder and third-team honors were issued to senior linebacker Caleb Miller. Earning Honorable Mention were senior defensive backs Alex Roden and Brady Roden, senior running back Ethan Miller and junior defensive lineman Wyatt Wallick.
Wallick said they tell their players that while the accolades are nice, they shouldn't put too much emphasis on year-end state honors because of those reasons.
He said another thing that hurt his team this season from a statistical standpoint was that for the most part his starters were playing a half of football every Friday night. The Pirates were on constant running clock time in almost every game, and Wallick was quick to put his second and third-string teams in to get them varsity experience, at the cost of valuable minutes for his starters that would have made their statistics more impressive.
"You know, when you've got kids playing half a football game every Friday night, it is going to cut way back on their statistics, and that is what all these voters go by," Wallick said. "Again, I don't want to take away anything from the players who were selected from around the state, but our kids sat a lot because we were ahead by a lot in all our games. In the end that is going to hurt their stats."
Wallick went on to say that any season-ending awards are always a feather in the cap of players who work hard to earn them, but the team accomplishments will always override any individual honors.
Garaway found plenty of success this season to celebrate on the field.
The Pirates produced a record-setting defensive effort that saw them set the school mark for points given up in a season. The first-team unit didn't allow a touchdown over an 11-game stretch following the season opener.
"Defensively, we have a number of kids who were deserving, but that's the way it is," Wallick said. "How many voters saw us play? That's why we tell our guys not to put too much stock in the selections."
Wallick said this group of 10 seniors were all starters this season, and he ranks this group alongside the senior class from 2016 as among the top classes during his lengthy tenure at Garaway.
"All awards aside, this was an incredibly talented group of seniors, and they were so much fun to coach," Wallick said. "It's an elite group of young men who played with class."