Injured Hawks exhibited a different style of leadership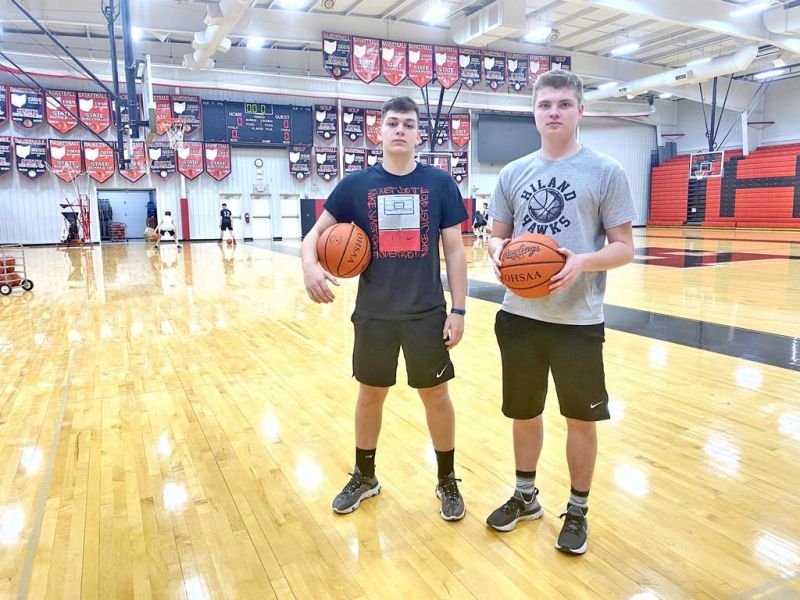 Hiland senior Hunter Sommers and junior Chris Shetler were looking forward to adding to a long-standing run of success for the Hiland boys basketball team.
Then disaster struck. First, Sommers was playing in open gym in September and knew immediately he was in trouble when he tore his ACL and his meniscus. Then Shetler broke his fibia and tibia and tore ligaments in his foot in the end of October.
In less than one month, head coach Mark Schlabach had lost two of his three key returning players.
Things may have looked grim, but led by his senior son Will Schlabach, coach Schlabach watched as new players stepped up and filled roles, and the Hawks produced a season that took them all the way to the Div. IV regional finals, where they fell in a tight contest to New Boston Glenwood by five points.
All along the way, the two injured Hawks never left their teammates hanging, attending practices and games.
It turned out they were providing inspiration and encouragement to their teammates.
"These are guys we've grown up with, who we have worked with forever," Shetler said. "No way were we going to let that go."
"Seeing the guys pick up the slack and giving it their all and winning was awesome to watch," Sommers said. "I think that kept Chris and I focused and wanting to be a part of it."
Both players were preparing for key roles when their accidents sidelined them, and as two of the top Hawks players, the news they received was devastating.
"This was really tough because I'd been looking forward to my senior year all my life, watching Seger Bonifant, Dylan Kaufman, Jason Miller get to state and win," Sommers said. "I've wanted that my whole life. To see it taken away, it hurts, but you can't dwell on it forever. You have to look for ways that you can help your team."
Shetler agreed, noting that watching his teammates step up and deliver another big year was very gratifying.
"You want to be out there on the floor so bad, but you know you can't, and it hurts," Shetler said. "But seeing the way our guys responded and stepped up was such a great feeling."
Rather than sulk, the two players have been there every step of the way, practicing and rehabilitating on the sidelines, cheering on their teammates and becoming part of the coaching staff in a small way.
Sommers said while watching games and practices, he will watch his teammates and notice some mistakes or areas where they could improve their game, and he offers suggestions.
Shetler said communicating and bringing energy to practices and games is now high on their to-do list. When someone makes a mistake, they are there to encourage their teammates and pick them up.
"There's more to being a leader than just playing," Sommers said. "It's showing up and being there for your teammates. That means a lot to them and to us. Even with us not playing, we're still a team, and we want to see each other succeed, and both Chris and I have learned a lot from this experience, not that we would ever want to go through it."
Sommers' career may be over, the injury taking place over his senior year the cruelest of cuts, but Shetler will return next year and is already looking forward to the chance to step on the floor and contribute.
"It's going to be sweet," Shetler said. "It is hard to sit and watch because you want to play so badly. But you can't change anything and try to make the most of it."
Coach Schlabach said seeing the way these two responded to their respective injuries speaks volumes.
"They handled the situation a lot better than I would have when I was 18," Schlabach said. He understands it all too well, having watched his son Will go through it his freshman season with an ACL injury.
Schlabach said he learned a great deal watching Luke Burch go through a similar injury to Sommers in 2012. He said kids can be a negative, a neutral or a positive, and like Burch did, these two have found a way to be true positives.
"They haven't been just rah-rah guys," Schlabach said. "They are on the sideline working and giving guys advice, and I appreciate that. They haven't tried to turn into coaches. They have just remained teammates, and I appreciate that because it is tough to do. It has been inspiring. When our kids look at everything they've been through, they don't have any excuse not to work hard and be a good teammate. That's a big part of our success this year."
While it has been difficult on the two players, the lessons they learned and the growth they have experienced will go a long way in helping them become better leaders and harder workers in everything they do.