Steve Smith WQKT Classic set to return Jan. 9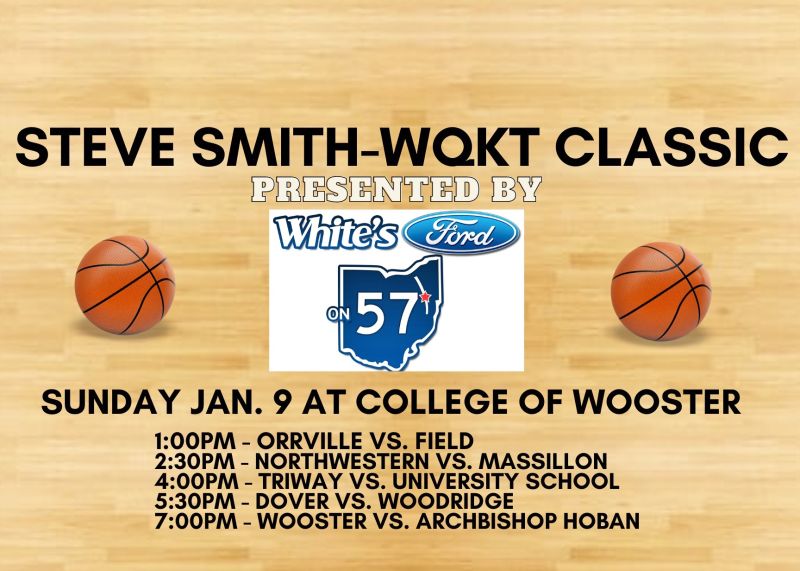 The name has changed a little, but not much else has with the Steve Smith-WQKT Classic.
On Sunday, Jan. 9 at The College of Wooster, the 17th one-day event — back after missing a year due to the pandemic and sponsored by White's Ford in Orrville — will return to Timken Gym for a full day of boys high school basketball. Tickets at $8 for adults and $5 for students are available at the radio station in Wooster and the participating schools, with one ticket good for all five games.
Named in honor of the late Steve Smith, the Hall of Fame coach who led Orrville High to three state championships in the 1990s, the Classic will tip off at 1 p.m. with Smith's former team, the Red Riders, taking on Field.
The rest of the slate includes Northwestern vs. Massillon at 2:30 p.m., followed by Triway-University School at 4 p.m., Dover-Woodridge at 5:30 p.m. and Wooster taking on Hoban to close the event at 7 p.m.
As for the match-ups, "Those just sort of develop," said Mike Breckenridge, the longtime sports director at WQKT-WKVX, who started the event in 2004. "You see who wants to come, then try to match them up by the level they're at. Nobody wants blowouts. Teams want to be challenged, and it's better for the fans too."
For 16 editions, the event was held prior to Christmas, but with the Scots' basketball team out in California to play two games last week, the facility wasn't available, requiring the switch to Jan. 9.
"It's the norm now," Breckenridge said. "When we first started, there weren't that many of these events, but now teams do stuff all over and at all times of the year — before Christmas, after Christmas, Presidents Day, Martin Luther King Day. So this year, due to The College of Wooster's schedule, we're doing it on Jan. 9. We'd like to be back to December, but we really haven't gotten that far yet."
Globally, of course, that's had to be the mind-set of most event planners for nearly two years. The latest COVID variant, Omicron, has spread rapidly around the United States and wreaked havoc with many sports schedules.
"There's really nothing you can do about the situation," Breckenridge said. "You just hope everything goes according to plan. As we've seen, you have to adapt on the fly. It's unfortunate, but you have to deal with it."
Breckenridge said the Classic would like to put the "holiday" back in its name and return to a pre-Christmas date, but planning that far in advance is impossible when riding the wave of the pandemic.
"Events come and go," he said, "and I'm not sure where we'll be a year from now. We'll just get ready for this year, enjoy that and see what transpires."