Titans prove to be a true team in winning state title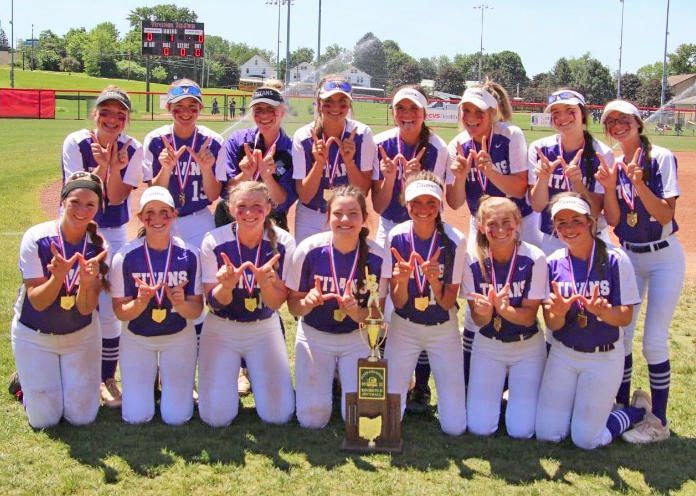 After a team competes in a state title contest, an OHSAA media relations representative typically asks the coach to pick three or four standouts to attend a post-game press conference.
That was not going to work for the Triway softball team after it held on for a thrilling 2-1 win over Jonathan Alder to win the Div. II state championship at Akron Firestone Stadium on the morning of June 4.
How could Titans coach Ron Rock pick just a couple players to represent the team? That would be impossible.
It's been a total team effort for the last two years, with the same 10 girls who came up just short in the 2021 title game in the starting lineup again this season.
So all 10 Triway starters made their way into the small media room inside Firestone Stadium, with four sitting at a table and the other six standing behind them. They all deservedly shared in the fun of answering questions about their championship run.
"We can't bring three in here," assistant coach Jennie Bishko said. "There's no way because every kid here has contributed game in and game out. Today, we can collectively say we got it done."
The Titans became just the second school in Wayne County history to win a state softball title, joining Dalton (2006, 2007). They joined this year's girls bowling squad as the school's only state team champs.
"This is better than Christmas morning," senior first baseman Emma Hudson said, drawing a big laugh from everyone in the room.
For only being a 2-1 final score, it was an action-packed championship game. Top-ranked Triway finished the season 30-2 while No. 2 Alder was 26-2.
Rock upped the schedule as much as possible to prepare the Titans for the post-season, and every bit of practice and game experience was needed to reach the pinnacle.
"I expected six losses this season, just to get us prepared for this moment," said Rock, whose team was 7-0 against fellow state final four teams in the four divisions. "Look at (the schedule), right? It's just unbelievable.
"The preparation didn't change. We didn't do anything different than who we are. One pitch at a time, win the inning, that's us. They did exactly what we needed to do."
Sophomore sensation Carter Wachtel went the distance in the title game for the Titans, striking out 10, walking one and allowing just two hits. She also drew two walks from her lead-off spot.
That came on the heels of a 3-0 semifinal win over Heath in which Wachtel fired a two-hitter with 15 strikeouts and was 2-for-3 at the plate with a triple and two RBI.
"Staying under control was our key, and we did that," Wachtel said when asked about handling the stress of pitching in the title game.
Senior centerfielder Emily Yacapraro lined a base hit through the hole between shortstop and third base to score Hanna Massaro with what turned out to be the game-winning run in the bottom of the fifth inning.
Massaro had reached on a single to right field, stole second with an outstanding head-first slide and advanced to third after a groundout by Hudson.
With two outs Alder opted to intentionally walk Wachtel and set up a first-and-third situation for Yacapraro, who delivered the biggest hit of her career and arguably Triway history.
"It felt especially good because I played travel ball with a lot of those girls," Yacapraro said.
Triway was holding onto that 2-1 lead in the top of the seventh when the Pioneers brought their No. 3-5 hitters to the plate. Unlike last year's title game when Keystone scored five runs in the seventh to win 7-3, the Titans slammed the door with great defense.
Senior Ohio State signee Hailey Massaro made a great play on a spinning dribbler hit by Marlee Jacobs to shortstop, going down to her knees to grab the ball before throwing a strike to first.
Hudson made a diving, back-handed catch to snare the laser and somehow still kept her foot on the base for the all-important first out.
"I don't know if I'm supposed to dive for it or just let it go," Massaro said. "I had to be fast with it because it was gonna spin weird."
Hudson said, "Hailey's throws have massive power, so I just literally laid my entire body out and prayed that I got it. I looked at my glove, and I was like, 'Oh my.'"
Wachtel then induced a fly out to Yacapraro in center and, finally, a pop out to Hanna Massaro in left field to set off a celebration like no other in Triway softball history.
Haylee Pruitt lined a double into the right-center field gap to score pinch runner Emma Yoder from first to give the Titans a 1-0 lead in the bottom of the first. Yoder entered the game after Wachtel walked to lead things off.
Alder knotted things up at 1-all in the top of the fifth after a heads-up base-running play by Jaden Phelps, who tagged up and raced home after Hailey Massaro made an outstanding over the shoulder catch on what wound up being a sacrifice fly off the bat of Lizzie Lombardi.
Triway's seven seniors — Hailey Massaro, Yacapraro, Hudson, second baseman Clowie Flinner, Pruitt, designated player Katie Hoffa (2-for-3 in title game) and catcher Maddie Fatzinger — will always be linked together as part of the state title team and runner-up squad. They led a 59-4 run over two years.
"The bonds of these seniors are something that's going to last forever," Pruitt said.
Returning to lead the Titans next year will be junior Emma Flinner, along with sophomores Wachtel and Hanna Massaro.
"We'll be good again next year," Rock said. "We have some really good girls who will be coming up to the varsity, and there were lots of youth players at our games. These girls have really created a tradition. This team was our best marketing tool."
Aaron Dorksen can be emailed at AaronDorksen24@gmail.com.