Title for Woods at Firestone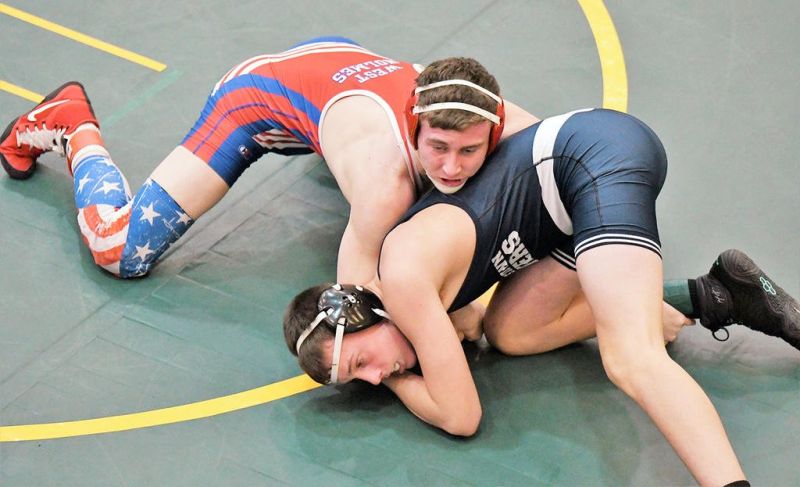 The West Holmes High School varsity wrestling team had a banner showing as team runner-up at the 33rd Bill Dies Memorial Tournament held Friday and Saturday, Jan. 17 and 18 at Firestone High School.
Senior three-time All-Ohioan Cael Woods received a championship title at 113 pounds, and six other Knights garnered top-eight podium finishes: runner-up for senior Walker Uhl at 160 pounds, third place for Cruz Alexander at 170, fifth place for Kendel Weber at 126, eighth place for Hunter Bowling at 145, fourth place for sophomore Tucker Kaufman at 132 and fifth place for junior Jack Welsh at 106.
The Knights earned 161.5 points, far back from tournament champion Brecksville-Broadview Heights, who won with 239.5. Brunswick and Olentangy Liberty tied for third with 131.5 points. Avon placed next at 120.5 and rounded out the top five in the 36-team tournament.
"I was very happy with the way we wrestled this weekend," Knights wrestling head coach Scott Vaughn said after the tournament. "As always there are things that we can improve on, but this was a good weekend. Taking second in a tournament like this shows how hard these kids have worked. Brecksville was the one team that beat us in the standings, and they are ranked as the number-10 high school team in the country."
Woods (5-0) was simply dominant on his way to the championship, racking up two fall wins and two major-decision wins to reach the gold-medal match, where he posted a 7-1 decision victory over Kaden Jett of Brecksville-Broadview Heights.
"Cael was our lone champ, and for that he is dubbed the West Holmes Varsity Wrestling Knight of the Week award winner," Vaughn said of his three-time state placer. "Cael put together a great tournament, all while cutting down to 113 for the first time this season."
Uhl's runner-up finish was a gut-wrenching match that ended in a 2-1 ultimate tiebreaker decision win by Jordan Barnett from Thornville Sheridan. Uhl (4-1) scored two fall victories and a pair of decision wins to reach the title match.
After dropping his championship semifinal bout, Alexander (4-1, one fall) went on a tear, ripping off two tech fall wins in the consolation bracket including a 19-2 pounding of Connor Hrubik of Garfield Heights at the 3:58 mark in the bronze-medal match. Alexander had earlier knocked off Hrubik in the championship quarterfinals by a 15-0 tech fall win at 4:00.
Kaufman (5-2, five falls) fell into the consolation round on Friday but came back Saturday, nailing down three-straight fall wins to reach the third-place match. But Kaufman would suffer an injury at the 1:29 mark and default to Mico Miloradovic of Brunswick.
Weber (4-2, two falls) scored three wins on Friday to advance to Saturday's championship semifinals, where he was knocked into the consolation bracket. Suffering another defeat in the consolation semifinal, Weber rebounded with a 13-2 major-decision win over Blake Kaminisk of Stow-Munroe Falls for the fifth-place medal.
Fifth-place finisher Welsh (4-2, one fall) chalked up two wins in Saturday's wrestle-backs to get to the consolation semifinal, where he dropped a heart-breaking sudden-victory decision. Welsh came back in the fifth-place match with a 5-1 decision victory over Bryce Edwards from Rootstown.
Bowling (3-3, one fall) fell into the consolation bracket on Friday and kept himself alive in the fourth round of wrestle-backs with an 8-1 decision win on Saturday morning. Bowling would drop his consolation quarterfinal match, placing him in the seventh-place match against Andrew Philion of Grafton Midview. Bowling took the eighth spot after suffering an 8-1 decision loss to Philion.
Of his placers, Vaughn said, "Walker put together a great tournament, losing in the ultimate ride out in the finals. Cruz also put together a really nice tournament, finishing in third place. Tucker had a disappointing finish, having to medically default out of his third-place match. Jack improved nicely, taking fifth after coming back from injury two weeks ago. Kendel slid into the lineup at 126 after Tyler [Masters] and Cael [Woods] dropped down in weight. He didn't miss a beat, taking fifth in one of the toughest tournaments in the state, and Hunter had a little bit of a breakthrough tournament this weekend, placing eighth. That will be a nice confidence-booster moving along this season."
Also competing for the Knights were Tyler Masters (senior, 120, 2-2, one fall), Conner Varnes (sophomore, 138, 3-2, two falls), Gavin Greer (junior, 152, 3-2), Skylar Anderson (junior, 220, 0-2) and Collin Gardner (freshman, 285, 1-2, one fall).