Triway golfers looking to build on last season's success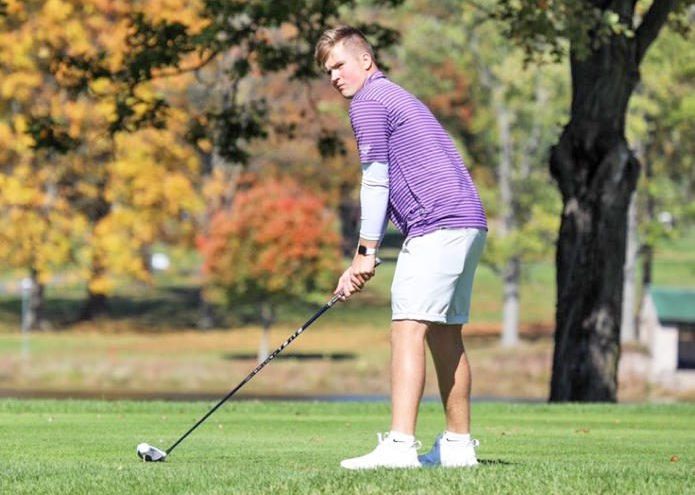 With four of five spots filled with experienced golfers, Triway High coach Brian Kiper won't have many problems figuring out his lineup this season.
The real question is what will the Titans do for an encore?
A year ago after posting a school-record 17-2 record and finishing second to CVCA in the Principals Athletic Conference tournament, the Titan golfers got on a postseason roll. They eked out a third-place finish at sectionals, then went to the Windmill Lakes District and earned a runner-up trophy and the first berth to the state tournament in school history. In Columbus, Triway placed 11th at the Div. II state tourney.
"Obviously, it was just a remarkable season to be a part of," said Kiper, whose team lost its leader, Colton Snyder, to graduation but brings back a strong group of seniors — Griffin Braun, Gavin Stutz, Carter Schmid and Brock Tisko.
"Probably the most important aspect of that team was the ability of any player one through six to be the low man on any given night," Kiper said. "We beat CVCA for the first time in school history. We set a Wooster Country Club school record, shooting a 146, which included Griffin Braun shooting a 3-under 33, and we shot 306 to win the State Farm Invite at Riceland, which included Carter Schmid, our fifth man, shooting an even-par 71."
Sophomore Tyler Snyder, the team's sixth golfer last year as a freshman, will round out the starters, but while the lineup is set, the order isn't. Last year it was the team's fifth score that allowed the Titans to advance out of sectionals and propelled the run to state.
"Instead of placing players into spots one to five and keeping them there, I fill my lineup out based on the order of scores from the previous match," Kiper said. "So even when we are playing a team that is not on our level, we are competing with each other to see who will be medalist and earn the No. 1 spot for the next match."
Braun and Stutz are the Titans with the most experience — both are multi-year letterwinners — while Tisko and Schmid were first-year golfers as juniors.
"Griffin and Gavin were consistently our top-two golfers last year and played in many NOPGA tournaments this summer. We will lean on those two to set the pace for us and shoot low scores night in and night out," Kiper said. "Carter and Brock were newcomers last year to golf, and it showed early on as their scores really fluctuated. We will look for big years out of those two with the first go-round of high school golf under their belts.
"Tyler was our sixth man most of the year last year and was the odd man out when the postseason started. I feel he could have easily played for the postseason team last year, and we would have still advanced to the state tournament," Kiper said of the Titans' lone underclassman. "He has had a good summer playing in the Galen Swartzentruber League and other junior tournaments, and we look for him to step into the spot vacated by his cousin, Colton."
While the lineup won't change much, the schedule has. Kiper is challenging his team with a challenging slate.
"We have really stepped up our scheduling this year," he said. "On Aug. 10 we have been invited to compete in the Warrior Classic at Northstar Golf Course in Sunbury, the site of the 2021 Div. II State Tournament, and it will include the top Div. II and III teams in the state. Two nights later we will travel to Fire Ridge to play a tri-match with Hiland and Garaway.
"At last year's state tournament, I felt we were in awe of the competition and the atmosphere and did not play day one with much confidence. If we are fortunate to make it back this year, I feel this second week in August will prepare us to compete at a high level the next go-around."
Perennial PAC powerhouse CVCA will have to replace three seniors, making Triway the preseason favorites to knock off the Royals for the conference crown. Last year the teams split their regular-season matches.
"Although on paper we look like the team to beat this year, we have to go out and prove it each and every league match to put ourselves into position to win the PAC Championship at the PAC Tournament," Kiper said.
After that, the Titans will try to make a repeat run.
"Goal No. 1 is to win the PAC Tournament," Kiper said. "And the second goal is to advance to the state tournament once again and improve on our 11th-place finish."