Unselfish Wooster volleyball team ready for tourney run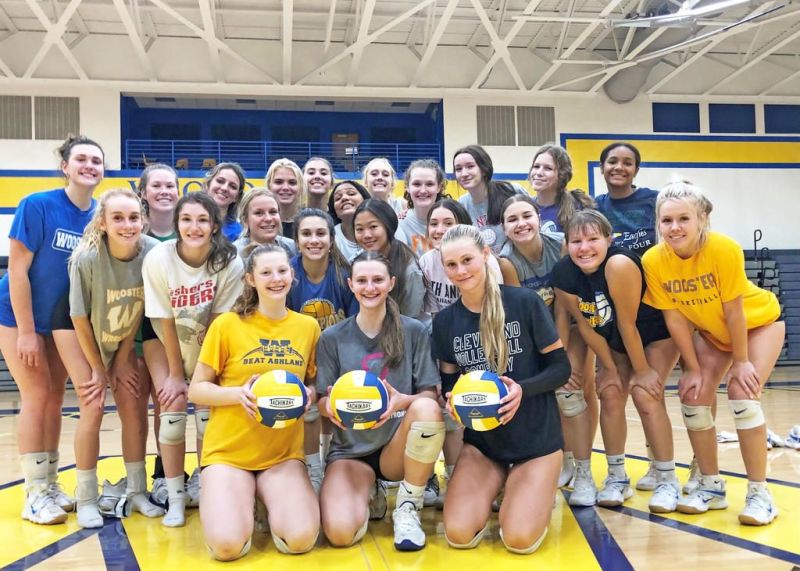 Wooster volleyball coach Jen Snowbarger loves leading the volleyball team at her alma mater.
That's why she's still at it in year 19 coaching the Generals. Snowbarger tried to leave coaching once — after the 2008 season shortly after she had her daughter Sara — but came back three weeks later.
"I pulled a Favre," Snowbarger said, referencing the three times NFL Hall of Famer Brett Favre came out of retirement before officially hanging up the pads. "If he did it, we all can do it.
"When I got hired here, it was a dream job. To be able to give back to the community, teaching at that point, and to be able to coach, it was really special. I followed my coach (Anita Jorney-Gifford), and I would have never predicted then that I'd still be here now, but I'm still enjoying it."
While Snowbarger cherishes every year she's been able to lead Wooster, this 2021 season is extra special.
The Generals (17-1, 12-0) wrapped up a third-straight Ohio Cardinal Conference championship after beating Ashland at home on Tuesday.
Wooster, ranked 17th in the Ohio High School Volleyball Coaches Association Div. I poll, didn't lose a set all season in the OCC. The Generals' only loss was a five-set, nonconference decision against No. 13 Amherst Steele on Oct. 5.
Beyond just the wins, what makes Snowbarger extra happy this season is the way her team unselfishly works together.
"A lot of these girls compete all year round in volleyball," said Snowbarger, a former Kent State volleyball star and Wayne County Sports Hall of Famer whose husband, Michael, is the varsity boys basketball coach. "I can't speak highly enough of the club teams and the training that they put in on their own.
"Then when they come together for the high school team, we get what we're dealt. We don't go out and pick two outside hitters, two middle hitters, et cetera, like on club teams. We try to just form the best we can, and with that, sometimes it creates a little animosity within our team. This year we just have none of that. These girls are just building each other up and go on with it."
Leading the Generals are tri-captains Emmaleigh Allen, Ravin Morgan and Marin Dixon.
Allen, a 5-foot-10 senior outside hitter, is always around the action as a key hitter and defender. Despite missing several games this year, the Div. II Lenoir-Rhyne University commit leads the team with 12.1 kills per match.
"Something that's really stood out compared to in the past is our leadership," Allen said. "Everybody wants to be here, and everybody who shows up and puts in the effort is finding their way onto the court, and that's why we're having success. Our coaches have really allowed us captains to kind of take the reins more this year and really set a good example for the underclassmen."
Morgan, a 6-0 senior middle-hitter, has been a dominant force in the middle. The Div. II Walsh University signee has slammed home 8.5 kills per match and been a strong blocker.
"Our teamwork is really great," Morgan said. "We all come in and work hard and cheer each other on every day. It's made a difference compared to the previous years of us all trusting each other. There's no competition between the teammates. It's all very encouraging."
Dixon, a 5-9 junior setter, has averaged 27.9 assists and 7.2 service points per match and runs the offense with efficiency.
"This year more than other years, the feedback loop I get from my teammates is just phenomenal," Dixon said. "It's exactly what I need to hear as a setter to get them the right ball. Hearing things like 'tighter, off the net more, a little bit pushed outside,' that's really what I need to make sure the hitters can be as effective as possible."
Also making big contributions have been senior libero Olivia Frantz (14.9 digs per match), sophomore outside hitter Megan Lantis and junior right-side hitter Michelle Stern, who will graduate early.
Wooster is seeded seventh out of 37 teams in the Div. I Northeast Ohio Super District. The Generals received a first-round bye and will then host the Normandy vs. North Olmsted winner on Oct. 23. Wooster is the second-highest seeded team on its side of the bracket behind No. 2 overall seed Magnificat, which is ranked sixth in the state.
"Even though we lost against Steele, it was good because we were challenged," said Snowbarger, who's assisted by longtime coaches Erika Mihoci (JV) and Amanda Terakedis (freshmen). "We were up, we were relaxed and we learned from it.
"I think they are realizing that being unselfish and just having fun is way more rewarding than you think high school would be. When you just enjoy the game, it's pretty cool and fun to watch."
Aaron Dorksen can be emailed at aarondorksen24@gmail.com. Follow him on Twitter at @AaronDorksen.