WH's Uhl set to join Ashland mat program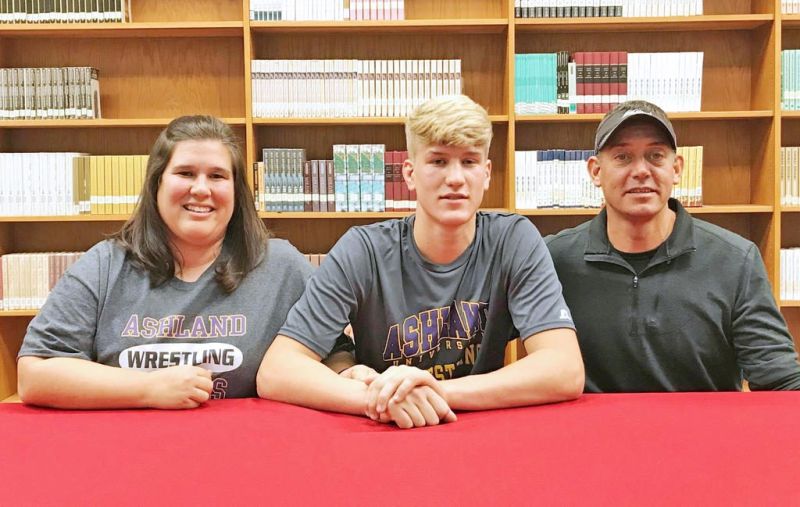 West Holmes senior wrestler Walker Uhl has worked hard to perfect his grappling skills on the mat. It has taken a great deal of time, hard work and dedication, but that has all paid off as he prepares to continue his wrestling career at Ashland University following his senior campaign this winter with the Knights.
Uhl celebrated his signing day on Wednesday, Nov. 13 at West Holmes High School, where family and friends were there to honor a wrestler who has twice earned an alternate designation to the state wrestling tournament.
Uhl said he felt good about the Ashland University program when he visited, noting the program's success and the coaching staff's knowledge and commitment to the wrestlers as big influences in his decision.
Uhl said all of the preparation over more than a decade of wrestling has helped prepare him to make that next step. "I think our coaches, all the way down the line, have helped prepare all of us to take that next step," he said.
Uhl's grandfather, Randy Sponseller, has been a longtime youth wrestling coach, and Uhl said he instilled a great deal of basic wrestling knowledge in his youth wrestlers while also encouraging them to work hard.
Uhl said middle school coach Andy Toye was instrumental in his growth process, and high school coaches Jeff Woods, Greg Woods and now head coach Scott Vaughn have all added something positive to his skill set and his work ethic.
"They have all prepared me the whole way," Uhl said.
Uhl said having some gifted talent like multiple state qualifiers Cael Woods and Tyler Masters as well as others to inspire, encourage and work with one another played a big role in his development.
"We all had guys we looked up to when we were young, who we wanted to be like, and I think wrestling with a bunch of guys who are now those guys kids look up to has helped prepare us even better," Uhl said.
Uhl said he is looking forward to what should be a challenging year in his weight class, which he said is loaded with talent.
As for studies at Ashland University, Uhl said he will pursue a degree in environmental science, where he hopes to eventually find employment with the Ohio Division of Natural Resources.
"I do a lot of thing outdoors, so that would be of great interest to me," Uhl said.