Well-rounded Scots open season Sept. 4 at home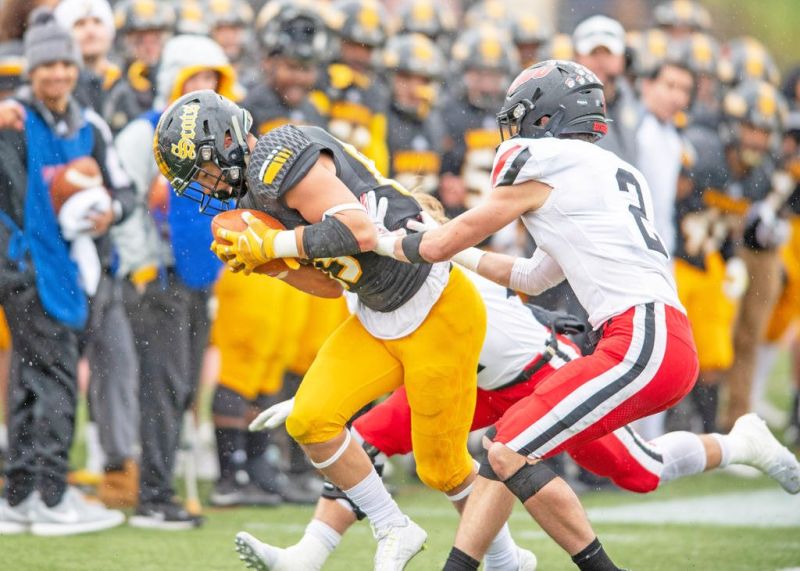 Big statistical improvements and signature wins were two things ninth-year head coach Frank Colaprete preached during the 2019 season. The College of Wooster football team bought in and is eager to pick up where it left off in full action this fall after playing just two exhibition games last year.
The Scots are set to open the season at home against Geneva College on Saturday, Sept. 4 at 6 p.m.
"I think we're going to be a well-rounded team," Colaprete said. "Who we have coming back and who stepped up in the spring points to us being good in all three phases — offense, defense and special teams. We're talented, disciplined and sound from top to bottom."
Wooster's offense appears primed for a breakout year in 2021, and Colaprete is confident the Fighting Scots should have "one of the top offenses in the North Coast Athletic Conference in first downs and points." Key to achieving that could lie with Wooster's veteran core, as the Scots return an all-conference selection at each position group — senior Mateo Renteria at quarterback, senior Troy Baughman at running back, Triway grad and senior Cole Hissong at tight end/receiver, and senior Eli Lohrey on the offensive line.
"It's at all four levels, all different positions," Colaprete said when highlighting how beneficial the spread-out wealth of all-conference honorees back in the fold is. And with Lohrey, returning for a fifth year, Wooster has an anchor on the line.
In fact, the year off may help Wooster's offensive line tremendously, as three new starters — junior Colton Rambur, sophomore Zach Hershberger and sophomore Bryce Kamphues — lined up alongside Lohrey and alumnus AJ Scissum during the spring exhibitions. With that experience Colaprete said Wooster has arguably one of the best groups they've had as far as coming off the spring with size, strength, athletic ability and physical play up front.
Renteria and Hissong were first-team All-NCAC selections in 2019, the last time conference honors were awarded. They'll be working with a receiving core that will be one to keep an eye on this fall, as it's a mix of veterans and an influx of young guys
who haven't been seen in a traditional setting.
Senior Kristian Coleman and junior Charlie Henegar lead the group in terms of experience while sophomore Mitchell Heilman showed a lot of promise with three receptions for 122 yards in his lone exhibition action. Senior Harvey Briscoe and junior EJ Humphries are two other veterans back this fall.
Baughman headlines Wooster's running backs, and he rushed for 781 yards in 2019. Colaprete has plenty of options to support Baughman's efforts, as Renteria has showcased increased abilities to make plays with his feet while now-junior Andrew Yanssens worked his way into the mix in 2019.
Defense is where Wooster made significant gains in 2019, with the Scots holding the opposition to 162 points, the program's best showing since 2008. Senior Beau Greenwood, a two-time all-conference selection, is back for a fifth year to anchor the secondary while classmate Angelo Petracci leads the front six in the program's 4-2-5 scheme.
"The leadership out of Beau and Angelo is exciting, as well as their play-making ability," Colaprete said. "These are two young men who have shown their capabilities and truly lead by example. We have a lot of other hungry, talented guys who have shown they are ready to step up and mold us into an elite defense too."
A stout defensive line that can consistently win battles in the trenches is one of the major parts of an elite defense and an area of focus this fall. Senior Kellen Calhoun has the most experience in the unit, which was hit hard by graduation in 2020, although senior Chris Savaglio, sophomore Domenic DeMuth and sophomore Roman LaBrosse were among the top eight on the team in tackles in limited exhibition action
this spring.
The outlook at linebacker and secondary is "a lot like the receiving core," per Colaprete. "It's a very talented group with a lot of room to grow."
In addition to Greenwood and Petracci, juniors Dorion Talley and Matt Ulishney have starting experience.
A key difference-maker to Wooster's success in 2021 could very well fall to the special teams, an area where Wooster's seen a healthy uptick in improvements in recent years. Juniors Lake Barrett and Matt Pardi return as specialists, which should bode well, given Barrett's record-setting year in 2019 (11 made field goals) and Pardi's ability to flip field position consistently at punter.
Wooster has plenty of depth across the board as 55 letterwinners and 44 newcomers are in camp. With those type of numbers, the Scots have been able to sustain a good size roster in recent years, and the program is right where Colaprete wants to be, which is between 90-100 players.
NCAC action starts Sept. 11 with a 1 p.m. home date against Kenyon. The rest of the slate has a road game at Ohio Wesleyan on Sept. 18 with a visit from DePauw for Black & Gold Weekend Sept. 25. In October, Wooster goes to Oberlin on Oct. 2, and after a week off, it goes to Wabash on Oct. 16 and Denison on Oct. 23 before closing the month with a home game on Oct. 30 against Hiram. Wooster will host Allegheny on Nov. 6 and close the regular season with a trip to Wittenberg on Nov. 13.
"It's a lot of home games early on, and we travel late," Colaprete said. "It's a truly difficult schedule, and we'll see where we are at. The great part about being in our conference the last few years is someone else has stepped up. The conference is in a good place. There's a lot of good teams like us who can win it. You just have to be ready to go every week."