West Holmes quintet wrestles way to state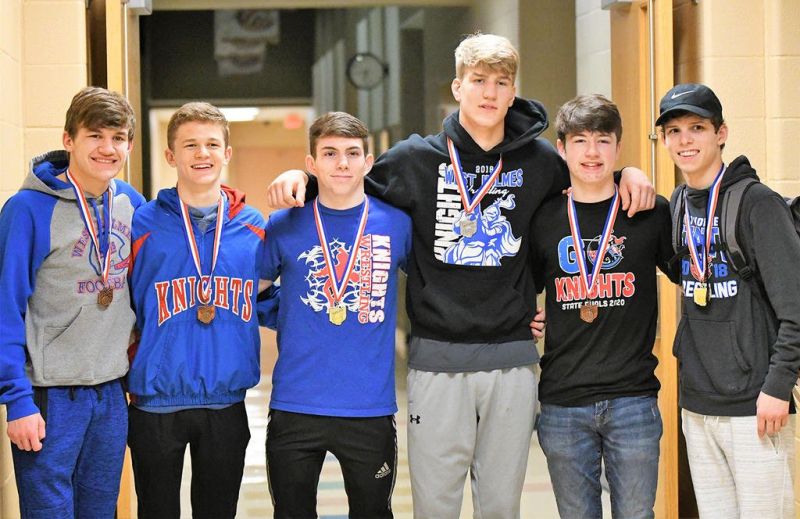 A quintet of West Holmes High School wrestlers including junior 106-pounder Jack Welsh and seniors Cael Woods (113-pounder), Tyler Masters (120-pounder), Kendel Weber (126-pounder) and Walker Uhl (160-pounder) advanced to the Ohio High School Athletic Association Div. II state championship tournament after earning top-four finishes in their respective weight classes at the OHSAA Div. II East-Southeast District Championship Tournament on Friday and Saturday, March 6-7 at Claymont High School.
Woods and Masters pocketed district championships while Uhl garnered a runner-up finish. Welsh nabbed third, and Weber placed fourth. Sophomore Tucker Kaufman (132) scored fifth to earn a state alternate designation.
In the team race, the Knights racked up 149 points and trailed only district champion Lisbon Beaver Local's 181.5 points in the 38-team field. Minerva scored 123, Steubenville totaled 117 and New Lexington recorded 112 to round out the top-five teams. The district team runner-up honor for the Knights was the fifth in school history and first for WHHS since the 2004 squad last laid claim to a district runner-up trophy.
"The district tournament is always the most emotionally wild tournament," Knights third-year head coach Scott Vaughn said following the tournament, "kids getting their career or season ended, kids making it to state. It is so high and low. As a coach I want to see every kid move on to state, but I know that's not always possible. Wrestling is such a tough sport. The kids put so much into it. Personally it's hard on me when I see one of our kids get their season ended. But in the same respect, I get so jacked up to see kids get an opportunity to move on to the state tournament. As a wrestler, that was one of my favorite memories: wrestling at the state tournament. I want that so badly for every one of our wrestlers."
Woods and Masters dominated their classes to earn their fourth and third state trips, respectively, both finishing a perfect 4-0. The district title for Woods was his second consecutive while Masters snared his first district championship.
Woods made a statement on his way to a fourth state tourney trip, pinning all four of his opponents including a quick 42-second flattening of Weston Melvin of Washington Court House Miami Trace in the championship bout. Woods, a three-time state placer (second in 2019, third in 2018 and eighth in 2017), pushed his season mark to 47-2 with his district title.
Opening with two quick fall wins, Masters scored a close 3-2 decision championship semifinal victory to sew up his third state trip (fourth in 2019 and sixth in 2018) before downing Mark Emmerling of Lisbon Beaver Local by a 5-2 decision in the district title match. That gave Masters his first district championship and pushed his season mark to 37-7.
"Cael was impressive this weekend," Vaughn said of his now four-time state qualifier, only the fifth wrestler in WHHS history to accomplish the feat. "He really imposed his will on everyone he wrestled. His draw wasn't the best, seeing a returning state placer in the semis. He ended up going 4-0 with four pins. I don't think he had an offensive point scored on him the entire tournament. He really looks dialed in."
Vaughn also was impressed with his other district champion. "Tyler had a really good tournament for the second weekend in a row. I think his first two matches lasted roughly one minute. He beat a kid in the semifinals that only had one loss all year. In the finals he beat the Beaver kid (Emmerling) that he had in the sectional finals. He looked very confident out there."
Uhl scored three-straight fall wins to reach the championship match, where he faced Logan Krulik of Beaver Local in a rematch of last weekend's sectional title match, won by Krulik by a close 1-0 decision. Again Krulik had the upper hand, posting a 6-4 victory over Uhl in yet another close bout between the two. The runner-up finish for Uhl, now 38-10, gave him his first state trip after being a state alternate the past two seasons.
"Walker finally got over the alternate hump and got his first bid as a state qualifier," Vaughn said. "He looked very dominant all the way through to the finals, pinning his first three opponents. He wrestled well in the finals, just coming up short again to the Beaver kid."
Third-place finisher Welsh had to scratch and claw his way through the consolation bracket after losing his championship quarterfinal match on Friday night. With a pair of major decision wins, plus a fall win that cinched his first state trip, Welsh went 5-1 and capped off his day with a 10-1 major decision victory over Colton Smitley of Zanesville Maysville in the third-place bout. Welsh enters the state tournament with a 28-10 mark.
Weber went 2-0 on Friday to reach the championship semifinals but lost that bout on Saturday by fall. Weber, who went 3-2, rebounded in the consolation semifinals with a fall win of his own, stopping Blake Holzschuh of Logan Elm at the 4:59 mark to punch his first state tournament ticket. Weber then dropped a 7-2 decision loss to Kody Beal of New Lexington in the third-place match, putting his season mark at 40-12.
"Jack had a bit of an up-and-down tournament," Vaughn when talking of his lightweight's performance. "I know he wanted to win the rematch with the Sheridan kid (Alexander Crane, sophomore, district champion) in the second round. That didn't go his way, but I was proud of the way he battled back. He wrestled really well to come back and take third. The best match he wrestled all tournament could've been his consolation finals match. He looked dominant."
And Vaughn was thrilled for Weber making his first state berth.
"I was really happy for Kendel this weekend," Vaughn said. "Last season he finally got into our crowded lower weight line-up but was probably up a weight class. He was also coming off being very sick at sectionals. This season he has been wrestling really well, especially lately. He had to wrestle some pretty good kids all the way through to make it out this weekend. I was proud of how he grinded through this tournament to take fourth."
With a 1-1 mark on Friday, Kaufman, who went 4-2, scored two wins on Saturday to keep himself alive in the consolation bracket but suffered a fall loss in the 'go to state with a win' consolation semifinals. Kaufman came back in the fifth-place match with a fall win at 4:03 over Luke Chaddock of Minerva for the state alternate designation and is now 43-13.
"Tucker has made some big improvements this season," Vaughn said of his promising sophomore. "Going 0-2 as a frosh underweight at 132 last season at districts, this season he grew into 132 and really made strides. He had some tight matches with some really good kids. Taking fifth and being an alternate in that weight class is no slouch of an accomplishment. Big things are coming for Tucker next season."
Senior 170-pounder Cruz Alexander finished his high school career with a 2-2 district mark while fellow seniors 145-pounder Hunter Bowling went 1-2 and 182-pounder Josh Sayers went 0-2 and saw their careers come to a close as well. Also seeing the season end were Knights juniors 152-pounder Gavin Greer, who went 1-2 with one fall; 195-pounder Colt Cox, who went 1-2; and 220-pounder Skylar Anderson, who went 1-2.