West Holmes girls clinch OCC title with perfect 11-0 mark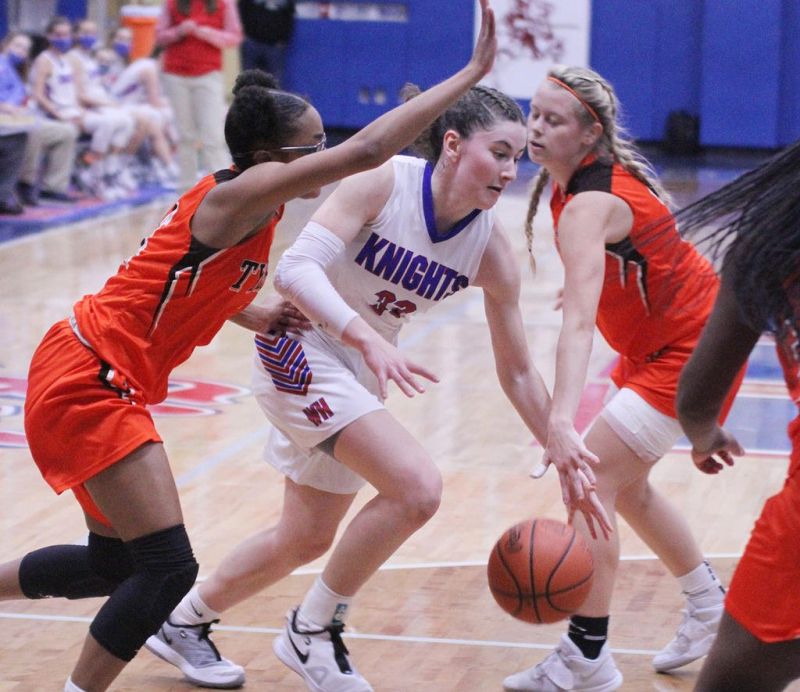 According to head coach Lindsy Snyder, the West Holmes Lady Knights basketball team had earmarked an Ohio Cardinal Conference girls basketball title as part of their to-do list since day one this winter.
West Holmes accomplished that task on their bucket list, but doing so in undefeated fashion was an added bonus they hadn't talked about.
"Winning our conference was something we discussed at length, and I think more important than winning the league is getting back to that winning culture," Snyder said.
Rolling through the OCC undefeated was a big step in doing just that, with West Holmes putting itself up there as a team that can challenge for the district championship. Snyder said the confidence this season has built has gone a long way in moving her team beyond the "let's hope to win the next game" mentality.
"We're at the point now where we believe that if we do things right and play the way we are capable of playing, we can find ourselves competing at regionals a couple of weeks from now," Snyder said.
Much of that confidence has stemmed from the play of Katie Sprang. The talented senior has been incredibly consistent this season, and Snyder said when Sprang plays her game, they have every chance to emerge victorious.
"Last year Katie would have a big game here or there, but this year she has made huge strides and she has been incredibly consistent," Snyder said. "Her leadership and play on both ends of the floor have been big for us."
However, anyone who focuses on stopping Sprang may be in for a rude awakening. Snyder said she has six players averaging around five points, two steals and three rebounds a game. Plus, Snyder goes 10-deep and more, so she can run plenty of fresh legs at teams. That makes guarding the Lady Knights difficult.
"That depth and balance presents some real problems for teams that don't have depth," Snyder said. "We've got a lot of talented players who understand their roles and are unselfish. They have bought in to what we are asking them to do. The individual awards would be nice, but these girls would prefer to win together and be successful as a team."
In their most recent action, after getting dealt a 42-28 loss by Waynedale in a game that saw Kinsey Patterson lead WHHS with 12 points, four assists and three steals while Alicia Alexander pitched in with five points, five assists and three steals, the Lady Knights came back with a vengeance, recording a 62-32 win over Mansfield Madison that sewed up the Ohio Cardinal Conference crown with a perfect 11-0 record.
In the win Sprang led the way with 15 points and four rebounds while Hannah Rohr added 11 points that included three treys. Melanie Fair added eight points, Katrina Rolince scored six and Ella McMillen added six to go with six rebounds. Claire Reynolds, Allie McMillen and Patterson all added four points with Patterson throwing in four steals, and Alexander scored two points but added five steals to the winning effort.
"At this point in the season, our ability to get after it all over the floor with five quality kids out there at any given time is one of our biggest assets," Snyder said. "We are where we want to be in terms of what we can do. Now at this time of the year, we just need to go out and prove that we can outperform teams with our depth and talent, and we have to go prove that every single night out."