West Holmes honors spring athletes in a banner way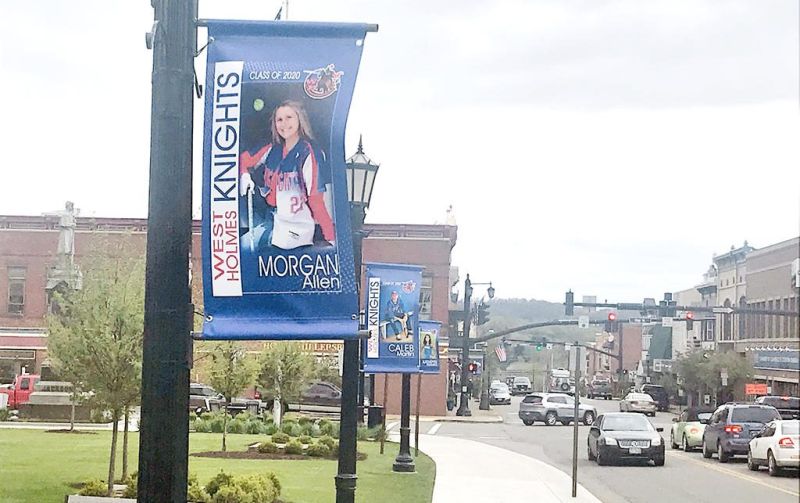 In typical sign language, the gesture for the word love is to cross both of your hands over the middle of your chest where your heart is.
The West Holmes Athletic Booster Club and a committed group of senior parents found a way to show some love to their student-athletes with a very different type of sign language.
Those two groups came together to design vinyl signs that are now hanging in the streets of Historic Downtown Millersburg, each sign representing one of the 17 West Holmes senior student-athletes who were robbed of their season.
Do you remember the time this spring when Jazz Knapp ripped that game-winning home run in the bottom of the seventh inning to send the Lady Knights to victory, the time Nate Ginsburg mowed down 15 batters in a row to lead the Knights to victory on the diamond? How about when Jacob Goudy cleared 6 feet, 6 inches in the high jump at state to become an All-Ohioan?
Those are only a few of the many senior memories that could have become reality this year but were washed away when the Ohio High School Athletic Association was forced to cancel spring sports due to the coronavirus pandemic of 2020.
Gone were a plethora of what could have been outstanding individual accomplishments, team victories and conference championships. The Knights' spring sports teams were geared up to put forth maximum effort to achieve greatness, and many of their hopes and dreams were dashed when the spring season was officially canceled.
There were 17 West Holmes High School student-athlete seniors who have been through the various spring sports programs, which they have invested many hours, years and tears in since they were in grade school.
Coaches see that commitment every day at practice.
Parents live with that commitment every day and night, and seeing their children suffer the undeserving pain of having their commitment washed away was heartbreaking.
However, the parents and the West Holmes Athletic Booster Club were not about to let them leave school without some sort of recognition.
The West Holmes Athletic Booster Club put forth the funds and also received a donation from Weaver Leather, which allowed them to put into action the plan to create 2-by-4-foot vinyl banners for each of the 17 senior athletes, which were then displayed on the lampposts in downtown Millersburg. Thus the two groups found a way to commemorate the student-athletes in the Class of 2020 at West Holmes.
The photo banners were produced by Barry Rawson of Calais Photography, who has been a longtime associate of WHHS, providing photos for the school programs.
Parent Brandi Proper was instrumental in kick-starting the project, the mother of Knights' baseball player Zander Proper. She said she felt the pain and anguish her son was going through and knew all of the other seniors in particular were struggling to make sense of the abrupt ends of their respective athletic careers.
She wanted to do something for the heartbroken kids and reached out to other parents and the athletic boosters for advice and perhaps a helping hand. The booster club wasted no time in getting on board with the project.
With help from members of Millersburg Village, the parent group was able to hang the signs on Monday, May 11. While the athletes were not able to play out their season the way they wanted to, they had a tribute and the knowledge that many people cared deeply about them.
"I saw how much Zander was hurting, and I know all of the other seniors unable to participate in their sports this spring were struggling with it because they have put in so many years preparing for their senior year," Proper said. "We were all so excited for the upcoming season in all of the sports because there were some really great expectations, but when the kids played their last game last spring, they didn't really think about it being their final time they would compete in high school because they knew they had this year coming. Now it is gone, and they missed out. We wanted to do something special for them to recognize them for their commitment and accomplishments over the years."
Proper began to formalize the banner project in mid-April when the OHSAA released the statement that spring sports were going to be canceled.
Initially the parents were going to pay for the banners, but after the booster club was contacted, they took on that responsibility. Then Weaver Leather stepped in with a donation of the brackets to secure the banners on the lampposts. Calais also facilitated things quickly so the project could move along rapidly. Thus it was a community effort to get the banners in place to honor the WHHS student-athletes.
While some of the spring athletes will continue their careers in college, others have seen their final performance come and go without any fanfare, at least until now.
West Holmes seniors included six baseball players, four softball players and seven track athletes, along with another track senior who was going to participate for the first time this year.
"Thanks to a concerted effort by a lot of people, this came together really quickly, and we were excited to get the banners up in Millersburg," Proper said. "We just wanted the kids to realize that we haven't forgotten them and they deserve to be recognized for everything they did during their careers."
All of the banners are located near the main square in Millersburg, printed on front and back, and flying with each athlete donning the red, white and blue of West Holmes High School.
While the senior athletes may have been cursed with a forgotten season on the field, off of it they were certainly honored in a most amazing way.