Wooster Oilers skate to Bantam AA hockey title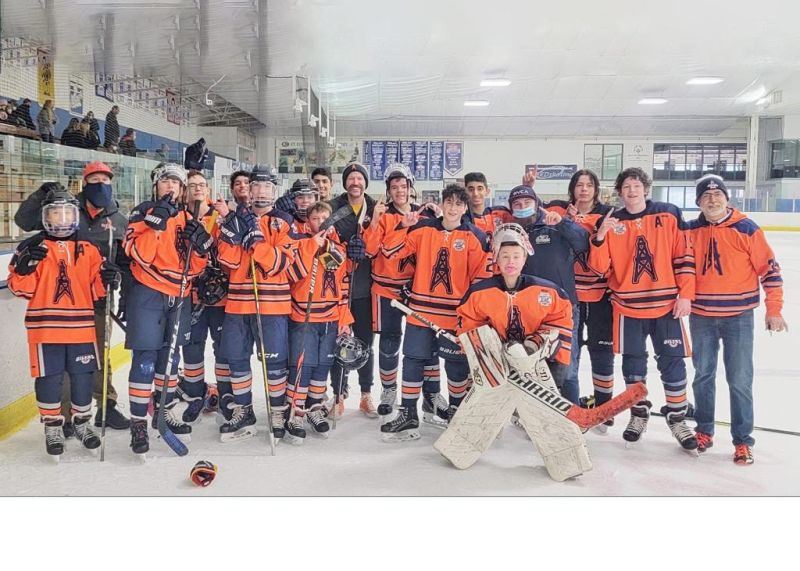 The Wooster Oilers Bantam AA 14U and Peewee A3 12U teams both wrapped up banner seasons on March 21, completing one of the best combined years in program history.
The Wooster 14U team defeated Strongsville 2-1 in overtime at Serpentini Arena in Lakewood to win the Cleveland Suburban Hockey League Bantam AA championship. The Oilers topped Gilmour Academy 4-1 in the semifinals.
"I believe this is the first home-grown Oilers team to win a Bantam championship, and they did it playing at the highest level," coach Jay Robinson said after his team was presented the AA banner to hang in its own Alice Noble Ice Arena. "It was an extremely challenging year in that we didn't even know if we'd be able to complete our season due to COVID-19. To be able to win the championship was the icing on the cake of a great year."
Robinson has coached the core group of players for 10 years, and the Bantam championship came in their final season of youth hockey.
"I've coached some of these boys since they were 4 years old, and the championship game was my last as a youth coach," Robinson said. "Twelve of the 14 boys will be moving on to play high school hockey. It's bittersweet to see this chapter in their careers end, but a triumphant finish."
The 14U Oilers consisted of Wooster residents Josh Stoner (alternate captain), Brody Olsen, LuiG Cañas, Carson Merryweather, Ansh Arora, Avi Arora (captain), Josh Rader, Ben Schantz and Sam Robinson (alternate captain).
Playing from nearby communities were Liam Harwood and Connor Reich (Apple Creek), Max Hummel (West Holmes), Logan Sabol (Litchfield), and Hayden Halverson (Glenmont).
Assistant coaches were James Halverson, Andy Romani, Tony Romani and Mark Merryweather.
The Oilers (22-8) had Sam Robinson lead the way with 104 total points and 54 goals. Cañas dished out a team-high 52 assists.
Halverson excelled as the goalie with a 2.46 goals against average and 89.6 saves percentage.
Rader came back from a broken foot to score the game-winning overtime goal in the championship game.
The 12U Peewee Oilers won the CSHL regular-season banner with a 10-0 mark but lost 6-5 in overtime in the tournament championship game against the Eastside Tigers.
Coach Gary Rader's Oilers also played a challenging nonleague schedule and finished with a 17-15-2 overall record.
"When a player reaches the peewee level, most have played 4-plus years of hockey," Rader said. "We had nearly half our team with less than two years of experience including a new goalie this season. It was great to see all of the kids work hard and develop together, although at many different skill levels. They worked as a team, and that made us almost unbeatable against common opponents."
The Wooster peewee team consisted of Austin Ferguson (Ashland); Cooper and Jack Mull (Medina); Jonah Krupp (Smithville); Zoe Lamp and Joel Twedt (Clear Fork); Colton Lawrence, Nick Rader and Nathaniel Via (Wooster); Luke Lehue (Brunswick); Nathan Lykins (Shelby); Maddon Patterson (Triway); Parker Riech and Raymond Streblow (Waynedale); and Cayden Tucker and Noah Vargo (Norwayne).
Assistant coaches were Nicole Hoekstra and James Twedt.