Hiland's Zoe Miller named Ohio Div. III Player of the Year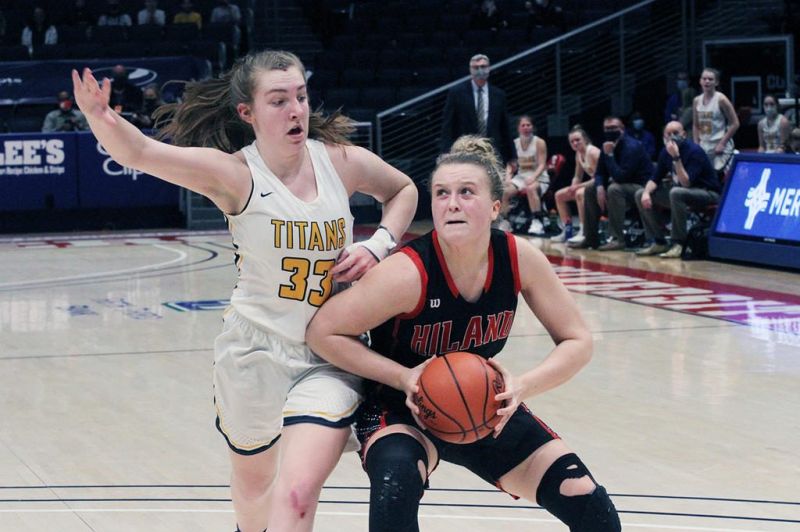 Hiland star Zoe Miller was recently tabbed as the Ohio Prep Sportswriters Association Div. III Girls Player of the Year.
Miller left her name scattered throughout an impressive list of all-time program leaders. Her 1,614 career points ranks her third all-time, and her 944 career rebounds ranks her atop the list. She also tied former teammate Kennedy Schlabach as the player with the most games played in OHSAA history with 114 while she and fellow teammates Brynn Mullet, Kyli Horn and Kelsey Swihart rank second in OHSAA history with 104 wins.
Miller averaged right around 20 points and 10 rebounds per contest and seemed to save her best efforts for the biggest competition, shooting 56.6% from the floor and nailing 78.6% of her free throw attempts. Tack on three assists and two steals per game and Miller's gaudy numbers all add up to being the top pick in Div. III.
Lady Hawks fellow senior point guard Morgan Yoder ended up as a third-team All-Ohio selection, but it wasn't her 10 points per game scoring that got her there, but rather her ball-handling and distribution skills. Yoder ended the season with 154 assists, with her 344 career assists ranking her fourth all-time at Hiland. She also racked up 97 steals this season and often guarded and effectively shut down opposing teams' best players. Her career assist-to-turnover ratio of 3.7:1 stands atop Hiland's record book.
West Holmes senior Katie Sprang wrapped up her stellar career by earning third-team All-Ohio honors, averaging 15.5 points per contest while leading the Lady Knights to a 19-win season. While a big scorer, Sprang proved to be a tenacious rebounder and often showcased intense defensive skills, making her an all-around threat.
Hiland's Kyli Horn also earned honorable mention All-Ohio honors by averaging 13 points per game. After serving in a reserve role most of her career, Horn rose to new heights and thrust herself into the spotlight with a breakout season.
On the boys side of the awards show, Hiland senior Will Schlabach earned third-team All-Ohio honors with a 17.4 point-per-game average. Senior teammate Ryan Miller was tabbed as an honorable mention honoree with a 10.2 scoring average.
In Div. III, Wayndale senior Zach Geiser earned third-team All-Ohio status, boasting a 17.3 average, while Triway sophomore Zach Miller was tabbed as honorable mention with a 16.5 point-per-game average. Loudonville senior Jacob Glessner also was honorable mention, averaging 19.2 points per contest. Hunter Hewitt of Waynedale also was honorable mention, averaging 17.7 points.
In Div. II boys basketball, West Holmes senior Peyton McKinney was tabbed as an honorable mention honoree, boasting a 13.2 average.