Would-be sheep ranchers have start-up options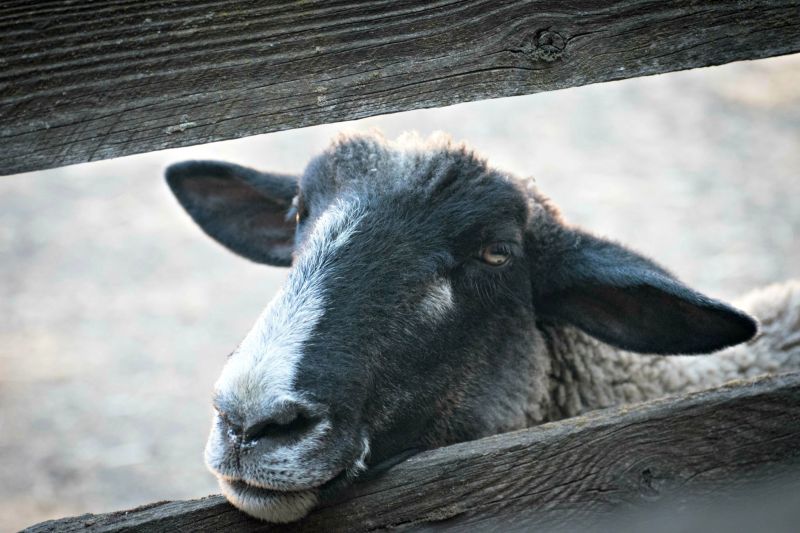 There's been a lot of talk about raising sheep lately, and that's because lamb is the fastest growing agricultural product in the region right now. In addition to that, Mt. Hope is home to one of the largest lamb markets in the Midwest, one that sees the sale of between 1,000 and 2,000 lambs weekly. Demand is high, largely fueled by ethnic populations along the East Coast and in major cities throughout the Midwest.
At the same time more farmers are finding work away from their farms, which leaves them with less time to maintain livestock like dairy cattle. With the lamb industry on an upswing, plenty of people are looking for ways to get in on this business. However, if a would-be sheep rancher doesn't have the barns and facilities ready to go, he or she might be steered away from sheep husbandry simply because the initial investment in a building for the flock is too high.
Raymond Yoder, a farmer near New Bedford, has an innovative solution for those who aren't ready to invest large sums in a barn to house a small flock of sheep. Yoder's plan started with a simple hoop house kit purchased at Tractor Supply: only a couple hundred dollars including the tarps to cover it.
"I put it on skids from Keim so that I can move it with a skid loader," Yoder said. This way he can clean the enclosure easily or move it between pastures as needed.
Over time Yoder decided to replace the tarps that came with the structure with new, sturdier tarps, and he has made some quick modifications to the building including a central divider to make feeding easier.
This building, though inexpensive and easy to put together, serves two purposes. In the spring Yoder uses it for lambing. Ewes are rotated into the building as they lamb, where they can stay for two or more days as the new lambs get their bearings, and then it's back out to pasture as new ewes come in to have their lambs. When lambing time is over, the structure serves as shelter, giving the flock a shady spot in the summer and a place to get in out of the rain.
Yoder's lambing building is not large, about 260 square feet, he estimates. But it's enough to get a new farmer started with a small flock. "We lambed 24 this year, but we have 11 young ones," he said. "We have 35 ewes, and I feel comfortable with that."
As far as the type of sheep Yoder raises, he relies on hair sheep. "The original 20 ewes that I bought were Katahdins," he said. "I got hair sheep because I work and I didn't want to shear. I think that's important: to think about what you have time to do, what you can afford and choose a breed accordingly."
His feeding program relies heavily on rotational grazing with pastures divided into five or six lots. Sheep spend about a week in each lot before moving on to the next one to let the pasture regrow. In the winter they can graze on standing hay, provided there isn't a lot of snow. Otherwise the flock browses on hay, fed in a custom-built hay feeder made of cattle grid that prevents the sheep from climbing on the bales.
"The only time I feed grain is when I lamb," he said. "They'll get grain for a couple of days, and then I turn them out on grass."
Yoder generally sells his lambs at the Mt. Hope sale. Some of those proceeds can be reinvested in the flock: a new ram to produce better lambs for instance. Another investment Yoder has found invaluable is a homemade loading chute and squeeze chute, which makes hoof trimming, parasite treatment and loading lambs on sale day much easier.
But Yoder said these are all investments that can come later on after one has a facility to house a profitable flock of ewes.
This is one way to get into the sheep business for people who don't have the budget for a larger barn. However, there are many other ways to go about sheep ranching, and there are a lot of things about animal husbandry and sheep in general a new producer should learn.
Right now a series of roundtable meetings about the sheep industry in Holmes, Wayne and surrounding counties is being held the third Tuesday of each month at the Mt. Hope Event Center. This is an opportunity to discuss ideas and meet other people who are interested in the industry. The next meeting will be Tuesday, June 20 at 7 p.m., open to anyone who is interested.