Local royalty: Perone and Kandel named queen and king of the 2018 Holmes County Fair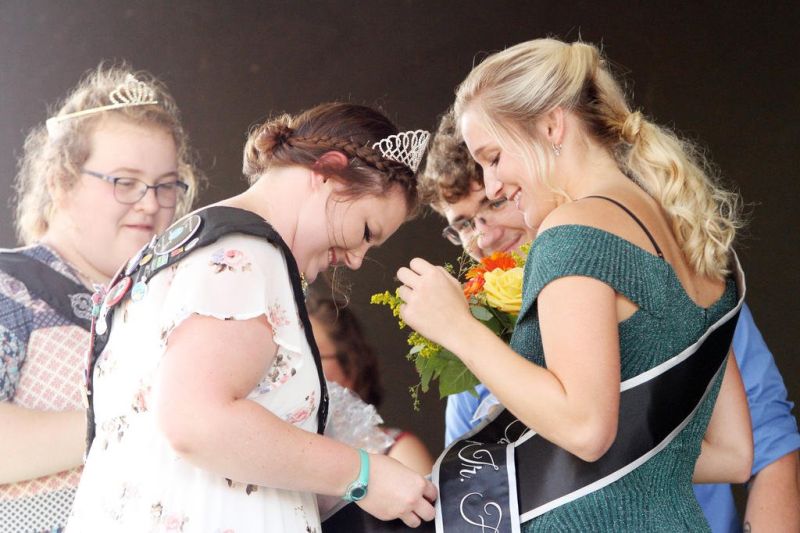 Another year and another set of quality Holmes County teenagers have taken on the role of representing the Holmes County Fair and Holmes County as Junior Fair royalty.
West Holmes High School graduate Kaylor Perone and West Holmes High School senior Josiah Kandel were named queen and king of the 2018 Holmes County Fair, and they will lead a group of five young adults who will now travel the state of Ohio to promote the Holmes County Fair and everything Holmes County has to offer.
While the experience of getting dressed to the nines and being the focus of everyone's attention can be heart-pounding, each of the contestants said they were glad they did it because the experience helped them grow.
"That is so nerve-racking," Perone said of the time between the contestants' answers and the awarding of the Holmes County Commissioners' Awards. "It's important to them, and they are all very deserving of their awards, but we are all sitting up here thinking, 'Come on, get to the queen part of it.'"
Gabriella Sherman, who became one of Perone's attendants, couldn't have agreed more. "The nerves always play a part, but especially when we are sitting here waiting," she said.
"We're all up here just about shaking in our shoes waiting for them to announce the winners," said Alyx Morris, who also was named an attendant.
Perone said she is excited for the opportunity her new royalty designation will provide for her, both in the fair and beyond. She talked glowingly about getting to meet new people, experience other fairs and to represent her fair and county.
A first-time participant in the royalty contest, Perone said 4-H has been a part of her family's tradition for generations, and because her mother was a past fair queen, she thought it would be fun to run for queen as well.
"4-H has been a part of my life forever, and my family has been involved with it forever, so it has come to mean a great deal to me, and to be able to represent the fair and Holmes County this coming year is something that I take very seriously," Perone said. "It is an honor for me to go out and to share about Homes County and to create some excitement about our county and the fair."
As part of the Rim Rock Riders 4-H club, Perone has been working with horses for about as long as she can remember. She said that passion for the equine world is what has become such a huge part of her life.
Sherman said she wanted a chance to represent the Holmes County Fair and noted this was an experience she wanted to have under her belt.
"I've been to a few fairs but not a lot," Sherman said. "I am looking forward to a chance to meet new people and to talk about our county and fair. We are very fortunate to live where our community is so supportive of our youth and our 4-H programs."
Sherman's week was filled with much more than being regal. She had a busy week announcing the swine shows and showing beef cattle, a market goat and pygmy goats.
"I love stating busy," said Sherman, a senior at West Holmes High School who is planning on attending a branch of the military to receive her degree in medical education. She then plans on going to medical school to study dermatology, where she hopes to own her own business.
Morris said she is excited for both Perone and for the opportunity to continue to serve her fair and community. She also was an attendant last year, so her experience will be a good place for the newcomers to turn to. She said the court attended around 10 different county fairs as well as numerous festivals, and she hopes to up that number even more this year.
"It's a great chance to experience new fairs and new places and to encourage other people to attend our Holmes County Fair," Morris said.
As for growing closer to the rest of the court, Morris said those who are new to the experience will quickly understand the relationships they are about to build will be exciting.
"We have group chats, we hang out on the weekends and we do so much together," Morris said.
As for her tenure in 4-H, Morris has been one of those young people who seem to be involved with everything. She said pouring yourself into 4-H is the best way to receive a fulfilling experience.
"4-H has changed my life, and it may seem cliché, but if I wouldn't have joined 4-H, I would not be majoring in animal science at ATI," said Morris, who will add to her busy week as royalty by showing a dairy steer and a dairy feeder. "4-H is a big part of who I am, and I am very proud of that."
Kandel has poured himself into the world of photography over the years and has become a true historian for his Nashville Jolly Ranchers 4-H club.
"I enjoy doing group projects because it brings people together, and my favorite part of that has been taking photos for our club that kind of tell the story of what we have done," Kandel said.
Attendant Brandon Raber said he is looking forward to enjoying the coming year with the entire court. Attending the Buckeye Career Center, the senior has set his sights on becoming a diesel mechanic. Like Kandel, he too was nervous about being on stage but overcame those fears.
"It's a little bit out of my comfort zone, but I am glad I took on the challenge and did it," Raber said.
"Every year we continue to see quality youth coming up here and representing our community and the Holmes County Fair," contest emcee Mark Lonsinger said.
The queen contestants included Anna Irwin, Morris, Sherman, Perone and Claire Farquhar.