Surprise major improvement keeps fair board busy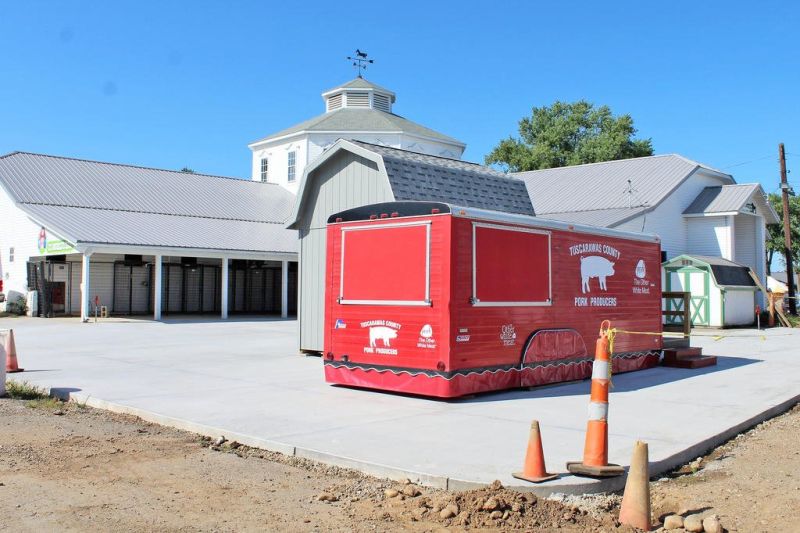 Last November the Tuscarawas County Fair board received an unwelcome telephone call from the City of Dover.
"We had a major electrical issue, and we were tripping transformers and shutting down a fourth of Dover," said Steve Cronebaugh, vice president of the Senior Fair board. "What we found was a broken wire. The City of Dover came and helped us find that in a lower transformer. We traced the problem back to the 4-Way Barn when it was struck by lightning eight years ago. Over time it decayed, and it finally shorted out."
Cronebaugh approached the Tuscarawas County commissioners for help at the end of 2018; they allotted $50,000 to the upgrade. "They made the project possible. Because when we ran into it, we could just see dollars signs. We're working toward some infrastructure that we've patched long enough," he said.
There are a few other areas they will have to do later, but Cronebaugh said they just had to call it quits this year because of the fair.
The total of the electrical project when completed will cost between $60,000-$70,000. The fair board members do as much of the work themselves as they can to save money, but donations are appreciated. For more information on how to donate, contact the fair board office.
"We strung well over 1,500 feet of primary electric line, and we probably dug closer to 2,500-3,000 feet of new conduit that has been placed," Cronebaugh said.
Extra conduits were laid for future growth for communications. "We are redoing our electrical shanty; there will be a new building installed before the fair. So it's typical Tuscarawas County Fair. We will be building a building the week before the fair and wiring the place, but we'll have it ready to go," Cronebaugh said.
The project was a major undertaking but one that is all underground. "The problem is nobody can see it," Senior Fair board member Doug Wills said.
In another project Cronebaugh thanked the Tuscarawas County Pork Producers and the Tuscarawas County Cattle Association for funding the new cement that was put in near the 4-Way Barn. Other upgrades were done during that project including moving overhead wires underground, running new water lines and new drain lines.
The fair board members are proud of one new project fairgoers will be able to see.
"We put three new lights up on each end of the grandstand, and now we can pretty well light the fairgrounds up," Cronebaugh said.
The new lights are LED, and other LED lights were installed outside of the arena. "There may be a couple more put in or swapped out. We've actually found some better ones we will be utilizing, and those are all little things that are going to help save energy in the future," Cronebaugh said.
The grandstand lighting can be operated by remote control.
Utilities are the main cost to the board outside of fair week because of the demand for electricity. LED lights can be powered at a fraction of the cost of the old lighting.
The next big project the board would like to complete is a new water system.
"We are going to have to start addressing this because the number-one thing that costs us money is water leaks," Cronebaugh said. "The ground is so porous that sometimes it can leak for days before it comes to the surface, and days can turn into thousands of dollars real quick."
A suspected prank where someone turned on spigots in one of the barns, which ran for about 20 hours before being discovered, cost the board a significant amount of money estimated at about $14,000.
"We are setting things up and securing things so we don't have problems with that," Cronebaugh said. "We are trying to look to the future, but a water main can break, and water lines leak. We try to keep an eye on it, but something can happen."