Artist Koch to teach lessons at Zoar school house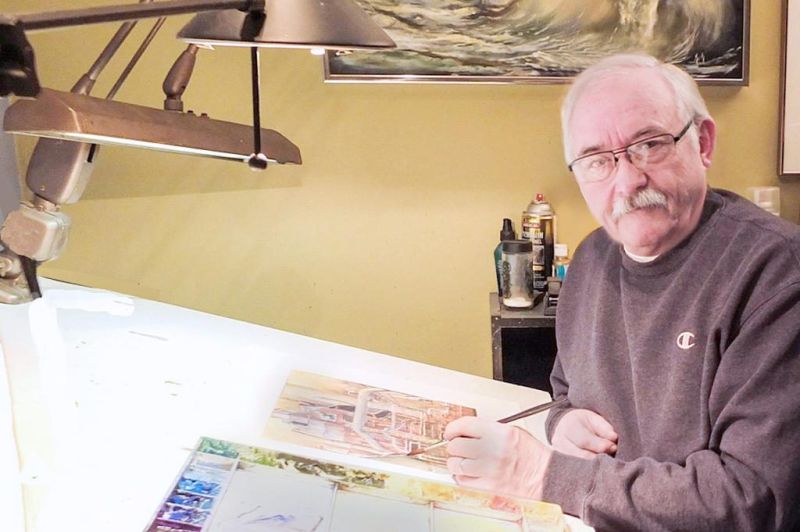 Local artist Bill Koch will lead a six-week art course every Wednesday beginning June 9 at the Zoar school house from 2:30-4:30 p.m. The course will cover the elements and principles of design and art theories, and students will create art in their chosen medium.
"Bill is accepting students at all skill levels including beginners," said Tammi Shrum, site director for Historic Zoar Village. "He is also accepting all mediums, so if you want to try watercolors, oils, chalk, anything you've always wanted to try, that's what these art classes are all about."
According to Shrum, students work at their own pace on a project assigned by Koch.
"This isn't like a sip and paint class," Koch said. "I will lecture a bit about what I think is important about art and what will help artists create better art by using the elements and principles of design such as color, line, mass, proportion and weight."
Koch's art background is varied. He has worked as a window dresser for the Hub department store in his hometown, spent 25 years as a commercial designer in the advertising department of Diebold Inc., had his own art gallery in Walnut Creek for eight years, and has taught art to students and adults for years.
"I had been teaching adult art classes for a while when I got a call from the Mid-East Career and Technology Centers," Koch said.
The vocational school told Koch they had an opening for an art instructor and asked him to apply. "I didn't think I'd get it, but I did," said Koch, who taught there for 12 years before retiring.
Koch's pieces can be found in many private and corporate collections. He is a member and past president of the Tuscarawas County Art Guild and a member of the Steuben Art Association and the Pittsburgh Watercolor Society.
Koch also teaches at the Tuscarawas County Center for the Arts. His work has been displayed at the Hoyt Museum, the Stiffel Foundation, the Butler Museum of American Art, the Bimeler House in Zoar and many other venues. His work can be seen at his website at www.galleryofkoch.com.
Call the Zoar Community Association at 330-874-3011 Wednesday through Sunday from 9 a.m. to 5 p.m. to register for the course. The class fee is $60 for six weeks of instruction, with proceeds to benefit the Zoar Community Association. Prepayment is required. Once registered, students will be contacted by Koch with a list of supplies to bring to class.