Arts and Crafts Guild annual spring show March 10-11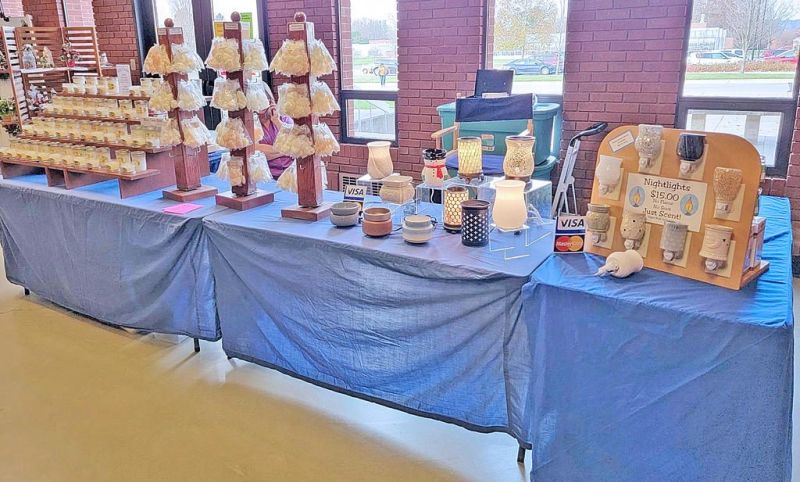 If the best food is home-made, the best things are hand-made. And those who love the best things needn't look far.
The handiwork of top crafters near and far will be on display next weekend in an annual tradition that brings them all to one place to be seen.
The Wayne County Arts and Crafts Guild will hold its annual spring arts and crafts show on Friday and Saturday, March 10 and 11 from 5-9 p.m. on Friday and 9 a.m. to 4 p.m. on Saturday at Fisher Auditorium and Shisler Conference Center, 1680 Madison Ave., Wooster.
Admission is free to the event, which will feature more than 90 booths of artists selling their various creations.
"The spring show will highlight seasonal décor and the arts and crafts of local and regional artisans," said Cyndy Willett, president of the guild.
Willett said crafters will come from parts of Ohio and Pennsylvania, if not other states. High-quality items are a guarantee because it is a juried show, meaning everything must be judged good enough to be in the show.
Willett said only about 10 vendors come from Wayne County. The guild is not large, but its show is and depends on people to come from distances to hawk their wares.
More than 90 booths had been sold with nearly two weeks left until show times. They will display juried arts and crafts including jewelry, sewn bunnies and decorative dolls, wind chimes, candles, pet beds, silk flower arrangements, button bouquets, hand-woven rugs, stained glass, primitive art, fiber art, stone items, woodworking, water color and acrylic paintings, and metal works. There also will be specialty food items including candies, popcorn and baked goods.
This is one of two shows put on each year by the guild. The other is the Season's Splendor Arts and Crafts Show, most recently held in early November. At that one, also a juried vendor show, visitors can see and buy all sorts of holiday-related goodies.
While the fall show is probably bigger in scope and interest, there will be something for everyone at the spring version. St. Patrick's Day and Easter items will be among the featured goods available.
Everything will be unique in some way or another because nothing is mass-produced.
"The lady that makes the wind chimes, there are no two of those alike, but she may have 20 on display," Willett said. "If you see an acrylic painting, you're not going to see the same painting. They're all hand-made, all original. We strive very hard for that."
And if you see something you like now, you won't necessarily see that — or its maker — again. Willett said there is a large amount of vendor turnover from show to show.
"We get new people all the time," she said. "I would say we have at least a 50% turnover (from show to show). It's not because they aren't happy. They're just stretching themselves thin over many shows. We'll have vendors who do a show every weekend."
To be a vendor, you need to have hand-made items and a vendor's license.
According to Grantmakers in the Arts, a national association of public and private arts funders, the number of Americans spending close to three hours per day on arts and crafts approaches 3 million. Of that number, only 20% or so are children.
Willett was not certain how many attend the guild's shows but believes it ranges from about 1,000 at the spring show to more than 3,000 and as many as 4,000 in the fall.
"It's a bigger show," Willett said, comparing the Wooster event to others around the region. "It's a bigger craft show than an awful lot of them. Many of them have maybe 25-35 vendors. Our fall one will probably have at least 100 vendors."
Those interested in the guild are free to attend meetings, which take place the second Thursday of each month at 6 p.m. in the Buehler's Milltown community room. The guild, organized in 1970 to promote area arts and crafts, welcomes new members.
Willett, who has been a member of the guild since 2007, said one charter member was still in the guild two years ago before passing away at 101 years old.
The Fisher Auditorium is handicapped accessible, and there will be a food counter available both days. Vendors take cash and credit cards in most cases.
Parking and admission to the show are free. Some spaces are still available. Interested vendors should call Faye Blough at 330-345-5962.