Dalton High staging musical comedy, 'The Pajama Game'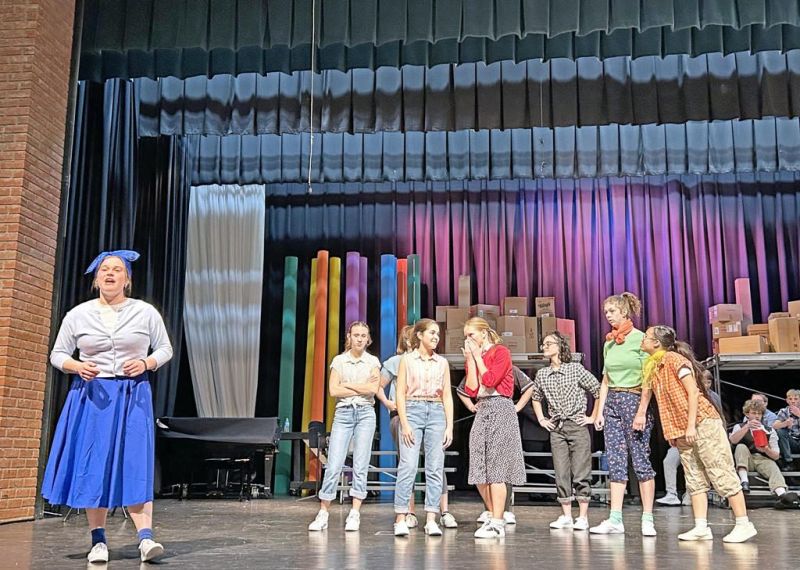 Anyone who likes to tap along with fun music and be transported away from their daily lives will enjoy the Dalton High Drama Club's upcoming performance of "The Pajama Game."
The musical comedy that won the Tony for the Best Musical in 1955 and claimed the award for Best Revival of a Musical over half a century later will be performed March 24 and 25 at 7 p.m. and March 26 at 2 p.m. at Dalton High School.
Tickets are $10 and can be purchased at the door. To reserve tickets, visit the Dalton Local Schools website and follow the link on the front page or call the high school office at 330-828-2261. Money can be brought to the office or be paid at the door.
Set in the Sleep-Tite pajama factory, "The Pajama Game" is anything but sleepy. "Brimming with songs and dances that have become musical theater standards including 'Steam Heat' and 'Hernando's Hideaway,' this perennial favorite is a surefire crowd-pleaser and a glowing example of solid, classic musical comedy," the Music Theatre International website says.
Director Robin Evans-DelCiappo said she chose this musical with many different roles because so many students had excellent auditions.
"One challenge has been the love interest between characters. Since COVID we have had to produce plays whose stories did not contain contact between characters," Evans-DelCiappo said. "This group of students has not experienced using acting skills required for a love story. They are adapting. Also, COVID kept all players in distancing mode. This play will involve more off-stage and onstage cues."
But she said the biggest challenge is scheduling rehearsals to accommodate participation in other activities. This is always a challenge, but the teachers and coaches at Dalton split time if necessary.
"I am looking forward to performing for our community," said senior Callie Jones, who will play the dynamic and witty Mabel. "Everyone has been so supportive over the last four years, and I'm excited to put on a good show for them.
"Everyone has worked so hard, and the play has really come together, even though we have had a very short time to rehearse the play this year. It has meant the world to me that people are willing to come and see all of our hard work, and it's also a lot of fun to perform. I am so thankful to have a supportive community, and I can't wait for everyone to see it."
"I find it fun to see how the cast improves throughout the production up until the show," said Hallie Starkey, another senior. "I enjoy being backstage as well because I still get to see the show but from a very different perspective while still helping with props, set changes and anything else that needs to happen throughout the show."
"This is a fun story with fun characters," Evans-DelCiappo said. "The community usually receives a comedy well. Dalton did perform this show once before in 1997. Those performers then are now the parents of today's performers. That's fun."
"Whenever we close a show and sing the finale, I feel a sense of accomplishment, not only by myself, but my castmates as well," cast member Marley Clark said. "That truly is the best feeling, and I am so excited to put on this performance."