Dover High School Thespians to present musical 'Hello, Dolly!'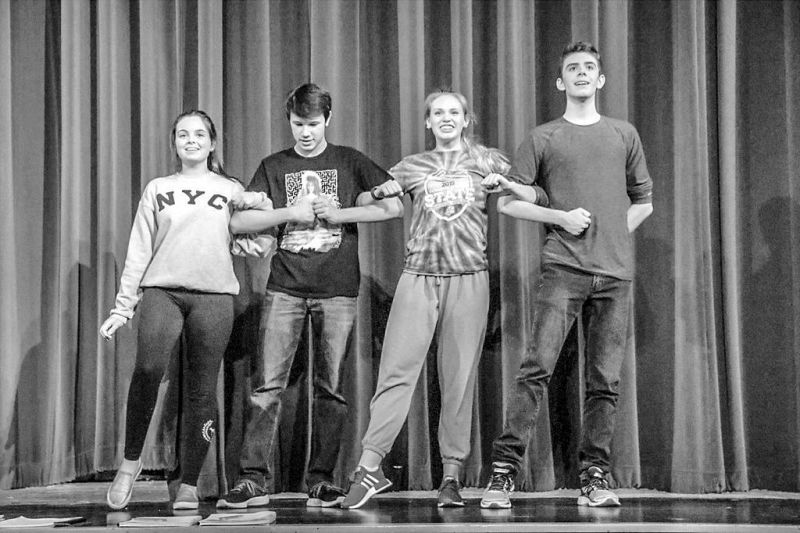 The Dover High School Thespians will present the musical, "Hello, Dolly!," on Thursday, April 11; Friday, April 12; and Saturday, April 13 at 7 p.m. in the Dover High School Auditorium.
Reserved tickets are available by calling the box office at 330-602-1676 during school hours. General admission seats are available an hour before curtain at each of the performances, and all tickets are $10.
"'Hello, Dolly!,' the blockbuster Broadway hit, bursts with humor, romance, high-energy dancing and some of the greatest songs in musical theater history," said Tom Morris, director of the musical. "The romantic and comic exploits of Dolly Gallagher-Levi, turn-of-the-century matchmaker and 'woman who arranges things,' are certain to thrill and entertain audiences again and again."
The show's memorable songs include "Put On Your Sunday Clothes," "Ribbons Down My Back," "Before the Parade Passes By," "Hello, Dolly!," "Elegance" and "It Only Takes a Moment."
With a live orchestra in place to provide music, there are challenges to overcome when putting together the music for a live theatrical production.
"The level of difficulty of the music itself is usually our biggest challenge," said David Rutter, orchestra pit director. "The music my students perform is the same music that lifelong industry professionals perform on Broadway. Many of those pros have been playing for decades and hold advanced degrees in performance. The average high school pit musician has been playing for just four to eight years."
Rutter said it is always a little stressful for the students, and it can feel very daunting at the beginning. "Dover's musicians always rise to the occasion," Rutter said. "This year is no different."
Performing live in the pit orchestra gives students a rare opportunity to work with all three of Dover High School's music programs including band, choir and orchestra. "Being in pit exposes the kids to everything from new notations, rhythms, harmonies, styles of playing and so much more," Rutter said. "After every production I always have students comment on how much the experience makes them grow as musicians."
Rutter explained how the experience pushes him as a musician and as educator. "Preparing for and then conducting through three productions of a 2 1/2 hour musical is a test of my focus and stamina as well," he said. "The challenge can be very humbling, but it really makes me respect the hard work and dozens of hours the students both off and on stage devote to each production."
Students portraying principal roles are senior Emily Ivory as Dolly Levi, junior Dylan DeMonte as Horace Vandergelder, senior Cameron Johnson as Cornelius Hackl, junior Noah Morris as Barnaby Tucker, senior Chloe Crone as Irene Molloy, sophomore Rachel Ress as Minnie Fay, sophomore Brody Morris as Ambrose Kemper, sophomore Sara Hohman as Ermengarde, senior Claire Bauer as Earnestina Money, senior Carlo Capozella as Rudolf Feisenweber, senior Zoe Korns as Mrs. Rose and sophomore Sam Worst as Judge.
Rounding out the cast in the ensemble are Caden Bantum, Claire Bauer, Aaron Callentine, Carlo Capozella, Austin Cochrun, Calista Coletti, Chloe Contini, Willow Cox, Kylie Eckstein, Elaina Garrett, Kennedy Hale, Rylie Hanenkrat, Sophie Hanenkrat, Will Haverfield, Sara Hohman, Zoe Korns, Chloe Lindsay, Tyson Lurie, Gwen McCoury, Brody Morris, Zoe Mulheman, Isabella Palkowitsh, Ryder Paris, Olivia Patton, Alexis Ross, Makayla Royer, Chase Sanda, Corinthia Sanders, Cole Senter, Blake Sexton, Laura Sexton, Brooke Sommers, Calli Symons, John Telle, Olivia Telle, Absidy Watson, Grace Williams and Sam Worst.
Caden Goodwin and Chloe Howard are stage managers, and Chloe Contini is dance captain. Allison Morris is choreographer, Megan Sams is music director and accompanist, David Rutter is pit conductor, Larry Sams is technical director, Debi Devore is hair and make-up, and Pat Potter and Pam Douglas are production assistants.
Dover High School is located at 520 N. Walnut St. in Dover.