Grand opening planned for new art marketplace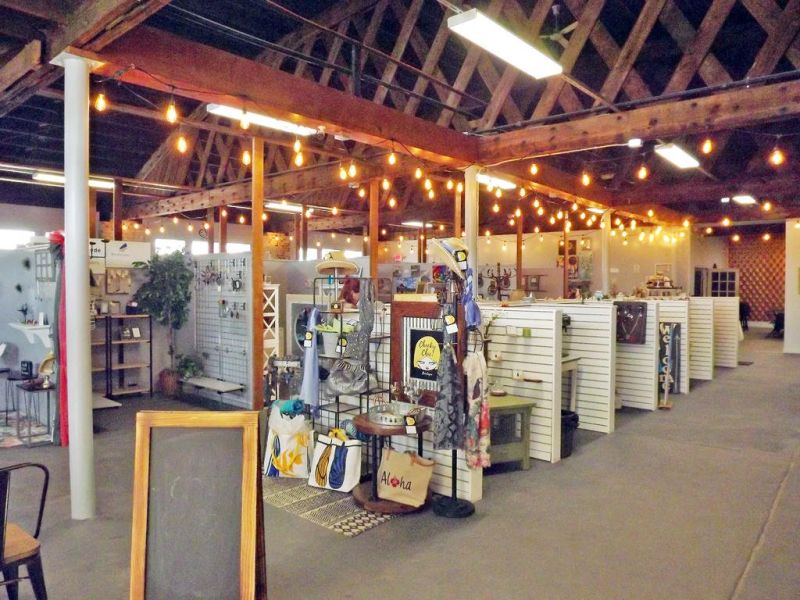 New owners have transformed the building at 115 Allen Lane SW in New Philadelphia from a second-hand shop to a store for anyone looking to buy locally made arts, crafts or other eccentric goods. The former location of Hospice's Browse and Buy has become Alley Cats Marketplace.
The store is the brainchild of Debbie Aubihl-Knisely, who recently bought the building. "That night when I had those 90-some people here, there was an electric buzz," she said of a recent vendor mixer. "The excitement was unbelievable."
The grand opening will be May 4 and 5 to coincide with the community art festival, Art in the Alley. Aubihl-Knisely has a few demonstrations planned for the opening.
Vinyl Go Round will show how they turn old LPs into clocks, bowls and other items. Perfumes with a Purpose and Chalk Couture also will offer demonstrations of how they create their products. Many of the artists will be on hand to discuss their work.
A soft opening is planned for April 19 and 20 to help work out any bugs that may arise as a result of having 59 different vendors in the 5,000-square-foot building.
There also are plans for the social room to be used for monthly events. Aubihl-Knisely is hoping to do some make-and-take events, and the section is open to nonprofit organizations for use. Tuscarawas County Library is planning to hold the Makerspace Festival there in the future.
The store will be open Wednesday through Saturday and also when there are conventions or events that could bring tourists to the area so they have a chance to explore the artist community.
One of the goals of the project is to have a wide variety of products available in an easy-to-navigate environment. There is no predominant type of art, and the store features many different styles to explore.
Aubihl-Knisely said she tried to stay away from Amish-style crafts because there are so many other places for visitors to find these products.
While the set-up of boutiques gives the building a flea market feel, there are several differences. For one, all transactions are done at the front counter so vendors don't have to be on site to make sales.
"A lot of artists, like [myself], we don't think we're good enough," Aubihl-Knisely said. "You bring your product in; you walk away. You don't have to hear anybody talk about it."
It also is a boon for artists who may not be able to pay for their own storefront downtown or afford the rent at another retail outlet.
Artists from Tuscarawas County and as far away as Cleveland and everywhere in between have set up shop to sell their products.
Redbudsuds, Moose Creek Laser Engraving, Empty Bin Zero Waste, The Barkery, Stonehouse925, Zoar Metal Works, Deb Penland Photography, The Hippie Tree, Thee Etching Glass, The Late Emerging Artist, Bizzy Beads Boutique, Etcetera Shop, Straw Dogs Cafe and Condiments, Daisy and Sage Designs, Jarzartglass, Bessie Hyde Leather, Dirty Wheel Pottery, and Lasting Impressions Art are some of the vendors that can be seen while browsing the booths.
Some local businesses including Starlight Industries and the Daily Grind are renting space to offer their goods to people who might not make it into their flagship store.
McDonald Niklaus Framing has helped to decorate the area with fresh flowers and live plants and brought in a few vintage pictures from around Tuscarawas County. The owner has watercolors for sale as well.
The name comes from Aubihl-Knisely's childhood in Chicago, where she and friends would roam the streets in a time before computers, cell phones or Netflix. She and her gang were known as the "Alley Cats."
"The alleys inspired me with their artistic flair, invoking creative ideas and providing a
variety of colors and architecture," Aubihl-Knisely said. "This stuck with me through the years, and I often entertained thoughts of opening a market featuring artisans."
Aubihl-Knisely said the Alley Cat logo was designed by Ian Strimbu, a student at Buckeye Career Center. The cats remain unnamed. She is taking suggestions and hopes to have something to call them before the grand opening.
For more information visit www.alleycatsmarketplace.com. Emails may be sent to alleycatsmarketplace@gmail.com.