Improv 841 debuts at Orrville Community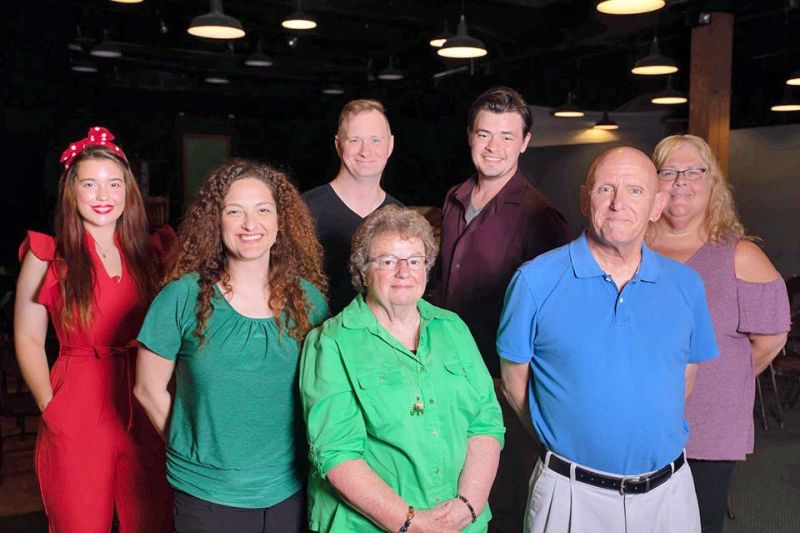 Eight people got together at the beginning of 2019 and began a new comedy improv group based from Orrville Community Theater. The group, Improv 841, has been rehearsing since the beginning of the year and will offer its first public performance on Friday, Aug. 23 at 7 p.m.
"We like to say it took eight of us to put it all together, and the group is actually made up of seven people right now," said Samuel Gonzalez, a member of Improv 841. "Most of us have done community theater, and we have a nice age range from people in their 20s through 50s."
Improvisation is a kind of performance art that is unscripted and unplanned. Actors are usually given a prompt or simple scenario to work with, and all dialogue, action and the storyline unfold in the moment as it all plays out. It can be some of the most difficult and intimidating stage work for artists, and play directors often use improvisational games to help cast members discover new ways to approach their own stage performance. This scenario formed the roots of Improv 841, which has many members who are active in local theater productions.
"In doing shows at Orrville Community Theater," Gonzalez said, "we would do improv games during rehearsals to keep things interesting, have a little fun and see what we could learn. We found we really enjoyed doing that, and it was suggested that we might want to put together a group for just that purpose."
Soon after the first of the year, Improv 841 was born with the purpose of bringing comedy improv to Orrville and Wayne County.
"It's not something that has been available to the community before," Gonzalez said.
The group gets together to rehearse, but not in any structured way. "You can't really rehearse, as everything is unscripted," Gonzalez said. "But you can practice."
The group has been getting together weekly to sharpen up its skills in preparation for its debut. "We do some games and try new prompts and suggestions, just running through things and letting it go wherever it will and see what happens. We're working on stage presence and a concentration on comedic value. We get through practicing and then do a little critiquing of each other's work," Gonzalez said.
Gonzalez said the practice sessions are going very well, mainly because of the people themselves. "We're a close-knit group. We all get along really well and have a great time doing this," he said.
Gonzalez would like to see the group eventually expand outside of performing at Orrville Community Theater. "I'm not sure what the future holds, but I know we'd like to look at booking performances outside the base of the theater, maybe some festivals or events. Maybe at some point we can add sketch comedy and a variety element. There are just so many different directions and options for the future. It will be fun to see where it goes," he said.
The Aug. 23 performance will be mostly made up of improvisational comedy with a few minutes of stand-up thrown in by members of the group.
Check the Improv 841 Facebook page for ongoing information. Tickets are $8 at eventbrite.com.
Gonzalez said the show is best suited for audiences age 12 and up.
Orrville Community Theater is at 307 Hostetler Road in Orrville.