Kim hopes to make classical music more accessible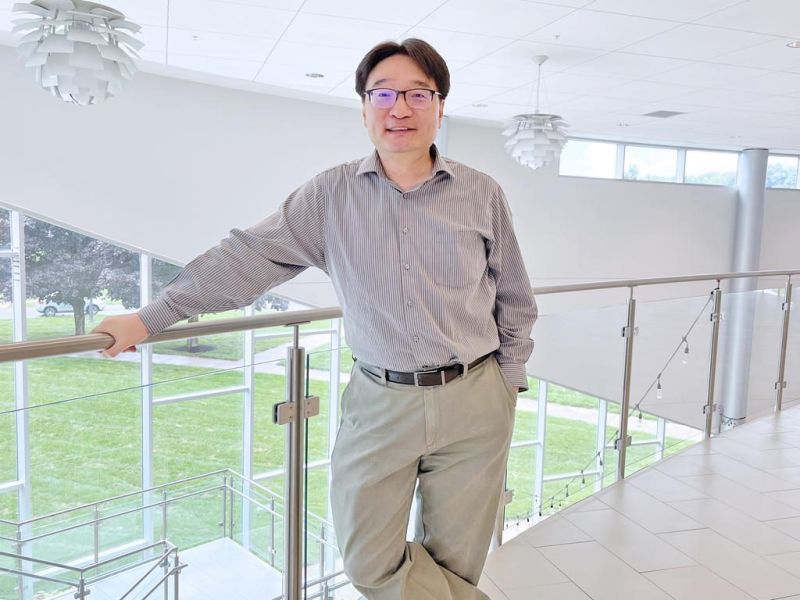 Jhungo Kim, the new music director/conductor of the Tuscarawas Philharmonic, has a mission: to make classical music more accessible and understandable to 21st century inhabitants.
"For many people the word philharmonic can be intimidating," Kim said. "Or they may wonder how the music relates to them today."
Kim wants to reach out to the community and attract people who may rarely or never have listened to orchestral music. "The days of the conductor coming out and taking a bow and people worrying about when they should clap or what they should wear are over," he said.
Kim believes no matter what the genre, all music attempts to answer important questions. "Why are we here? Where are we going? What should we be doing? All of these are fundamental questions people have been asking and artists have been trying to answer for centuries," he said.
Whether it's Beethoven or the Beatles, Kim believes all music also shares a core quality. "It's what we want our younger generations to learn — the simple fact that there are things that are much greater and more important than just the materialistic things that you can grab in your hands," he said. "And that's probably why our human race has the arts, whether it is a piece of drawing on a paper or a poem or a piece of music."
Looking at the coming season for the Tuscarawas Philharmonic, it appears Kim is intent on accomplishing his goal. Concerts will feature everything from orchestral works used in films to more unfamiliar symphonies and even opera arias.
Kim said he appreciates the enthusiasm and support he has felt from the community so far. "I cannot begin to tell you how grateful I am for what I've seen in the last few months," he said. "The enthusiasm, the support from the committee is quite remarkable. It's like nothing I've seen before, really."
If Kim's statements seem a bit esoteric or philosophic, perhaps it is because he was born to two philosophers who also were teachers. Born in Seoul, Korea, Kim said, "From when I was young, I got this message that not everything important has a dollar sign next to it."
Kim began playing piano and violin as a child, but it wasn't until he attended a prominent music school in Seoul that he discovered a life in music was what he wanted.
Kim certainly comes with the qualifications needed for the job. He is currently music director and director of orchestra of the Hugh A. Glauser School of Music at Kent State University. He has conducted the Savaria Symphony Orchestra and Dohnanyi Orchestra Budafok in Hungary, National Arts Centre Orchestra in Canada, Rochester Philharmonic, Buffalo Philharmonic and more.
Kim holds a Doctor of Musical Arts from the Eastman School of Music and served as the assistant conductor of the Rochester Philharmonic. As assistant conductor of the Sioux City Philharmonic, Kim conducted holiday concerts, educational concerts, pops concerts and led the school outreach program.
"Sioux Falls is also where I learned who ABBA was," Kim said. "My wife couldn't believe I didn't know who ABBA was, and then I was an ABBA tribute band and now I love ABBA."
Kim said his knowledge of pop music is limited, but he is learning. "I think because I didn't grow up in the American pop culture in my young adulthood, I have holds in that knowledge. But yes, I know the Beatles, Simon and Garfunkel, Queen, the classics that everyone knows."
The coming season
Kim said the 2022-23 philharmonic season encompasses a range of musical styles. "We begin with the free outdoor concert at Tuscora Park Sept. 4, where you will hear music from Broadway, classical music and jazz. If you happen to like one of those, great, but also you will be exposed to things you may or may not like or understand, and I think it's important that you take that step to have a deeper understanding of life and art in general," he said.
The philharmonic and chorus also will give a free performance of selections from Handel's "The Messiah" in the Dover High School auditorium on Dec. 4. Clare Canizzarro, the philharmonic's executive director, said the chorus is looking for new members to join in the celebration this year.
"You don't have to be a professional singer," Kim said. "And while there are no auditions for the chorus, there will be auditions for soloists. I want to find soloists from our community instead of hiring people because I think an important part of what we do is being an integral part of the community. So when you come to a concert, while they're playing something on stage, you feel like 'I know these people. They live where I live. They eat what I eat.' And you make a connection."
Kim has even issued a promise. "If you come to a concert, you will not regret it. I can't grab you and bring you here, but we really do want to be part of the community."
Kim lives in Kent with his wife Eunho, also a violin instructor, and his sons Teo, starting his first year at Kent State, and Juno, a sophomore in high school.
The entire 2022-23 season can be found online at www.tuscarawasphilharmonic.org.