'Mamma Mia' to open at the Little Theatre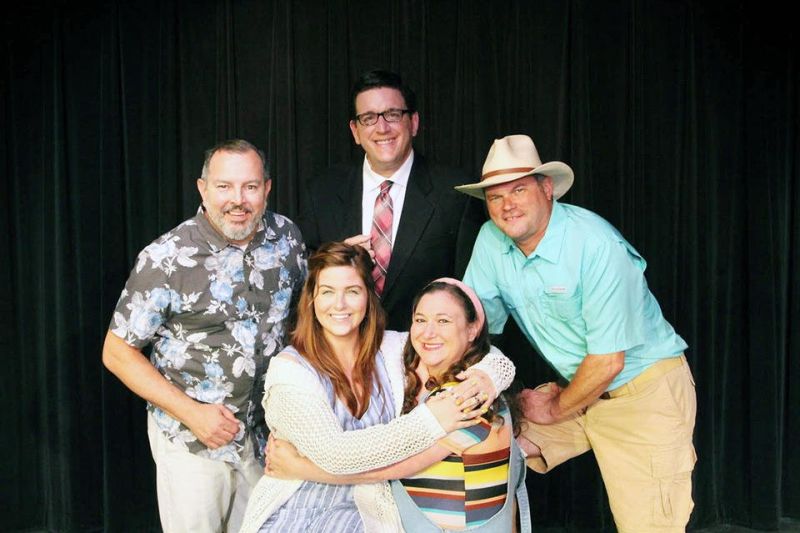 "Mamma Mia" will begin its nine-day, 10-performance run on Friday, June 28 at The Little Theatre of Tuscarawas County in New Philadelphia.
Publisher, Music Theatre International, said over 50 million people worldwide have fallen in love with the characters, the story and the music that make "Mamma Mia" the ultimate feel-good show.
ABBA's hits tell the story of a young woman's search for her birth father. This sunny and funny tale unfolds on a Greek island paradise. On the eve of her wedding, a daughter's quest to discover the identity of her father brings three men from her mother's past back to the island they last visited 20 years ago.
"Mamma Mia's" libretto said, "'Mamma Mia' is a romantic comedy, contrasting the dreams and aspirations of a '70s girl and a '90s girl. Through the storytelling magic of the songs of ABBA, we meet Donna, a feisty, independent single parent who doesn't need a man to make her life complete and her 20-year-old daughter Sophie, who wants romance, babies and a big, white wedding. If only her father could give her away. If only her mother could tell her who her father is. Sun, sea, sex and subterfuge are the backdrop to this tale of the women who wanted to have it all and the girls who want happily ever after. And has anyone asked what the men want?"
The cast includes Shannon Mitchell as Donna, Chloe Hanenkrat as Sophie, Maddie Dummermuth as Alli, Carolyn Connors as Lisa, Megan Sams as Tanya, Missy Zickel as Rosie, Nathan Bond as Sky, Conner Limbaugh as Pepper, Noah Morris as Eddie, Ty Simmelink as Harry, Tom Morris as Bill, Larry Sams as Sam and Michael Antonelli as Father.
Ensemble members are Natalie Bond, Garrett Davis, Dylan DeMonte, Dylan Dunn, Shay Gautier, Emily Ivory, Kayleigh McCutcheon, Abby Miller, Lane Moore, Brody Morris, Luke Morris, Sydney Mowrer, Logan Oreto, Ryder Paris, Olivia Patton, Madison Rehard, Rachel Ress, Blake Sexton, Sarah Jane Spies, Cozette Torrence, Ireland Thurston, Grace Williams and Palmer Witt.
Dawn Brogan, Nancy DeFlippo, Patty Limbaugh, Jane Mannweiler, Jennifer Simmelink and Sheila Samson-Witt comprise the Greek Women Ensemble.
Pat Potter and Tom Morris are directing the production, aided by Noah Carpenter, music director; Michael Antonelli, assistant director; Sarah Spies and Chloe Pidilla, costumers; Trish Green, stage manager; Larry Sams, set; Nathan Bond, light design; Andrew Gibb, Logan Page, Gavin Mitchell and Will Hammerstrom, light crew; Debi DeVore, makeup; Trish Green and Elaine Margo, props; Mark Limbaugh, Tanner Amos, Matt Spies, Zander Milburn, Mary Maxwell and David Maxwell, stage crew; and Missy Zickel, Tom Morris and Allison Morris, dance choreographers.
Mamma Mia is sponsored by Dr.and Mrs. Phil Dixon.
Production dates for "Mamma Mia" are Fridays through Sundays, June 28, 29 and 30 and July 5, 6, 7, 12, 13 and 14 with performances at 7:30 p.m. on Fridays and Saturdays and matinees at 2:30 p.m. on Sundays. A special extra matinee has been planned for Saturday, July 6.
Tickets will go on sale one week before opening and are $15 for adults and $10 for students and military personnel. Theater members receive $1 off of the ticket price on opening night. They may be purchased through the Performing Arts Center at Kent State Tuscarawas in person, by calling 330-308-6400, online at www.thelittletheatreonline.org or at the door during performances.
The Little Theatre is located at 466 Carrie Ave. NW in New Philadelphia.