Marlowe reminds us 'It's a Wonderful Life'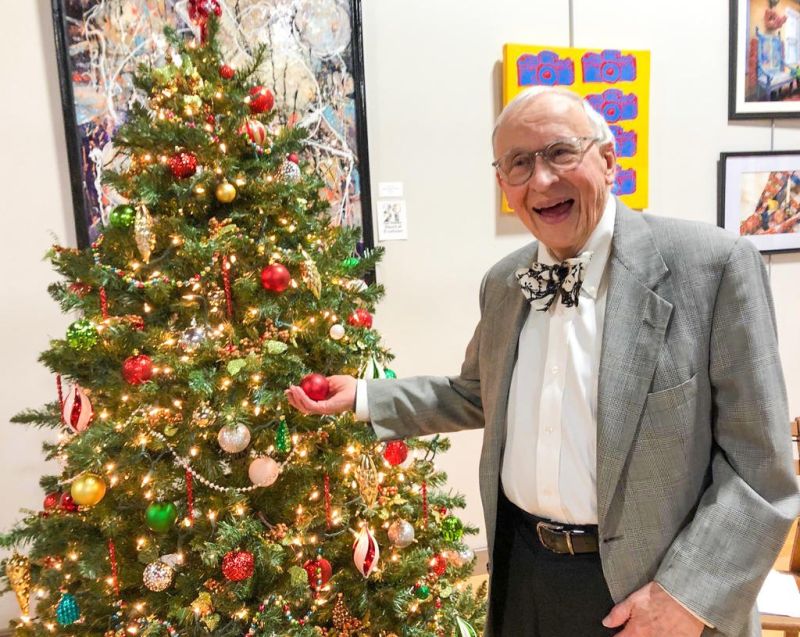 Jerry Marlowe will play Clarence, the guardian angel, in "It's a Wonderful Life: A Live Radio Play."
In a new twist on a time-honored holiday favorite, the Black Box Ensemble Theatre production directed by Don Irving is a stage adaptation of the Frank Capra film set as a live radio broadcast in the late-1940s.
A cast of eight will portray the many characters who populate the town of Bedford Falls while sound effects, period commercials and an applause sign take audiences back in time.
Theater-goers have only this weekend remaining to see the production — and a local legend at work — at the Tuscarawas County Center for the Arts.
The 86-year-old Marlowe could arguably be called a "renaissance man." He's a gourmet chef, having attended three famed cooking schools: The Culinary Institute of America in New York, the La Varenne Cooking School in Paris and Le Cordon Bleu London.
Marlowe also made a bit of a reputation for himself by successfully crashing the gate at Ohio State-Michigan games for decades by wearing costumes and using his acting talents.
"It was quite a challenge to get in that gate. And it was never about cheating them out of money," Marlowe said, as he always made a generous donation to the university.
Known locally as the co-owner of Marlowe's pharmacies for many years, it took Marlowe a little longer than his older brother Dave to graduate from the Ohio State University School of Pharmacy. Marlowe explained in an interview with the Dover Historical Society, where he is a 2016 Hall of Distinction inductee, that for several years he really majored in fraternities.
Marlowe credited his interest and enthusiasm for acting to his Dover High School drama coach, Dana Savage.
"He encouraged me to progress in theater," Marlowe said. "Bob Heller was also instrumental. They were both a lot of fun to work with."
While he developed his early aptitude and enthusiasm for the theater in high school, it was at the American Academy of Dramatic Arts in New York City where Marlowe honed his acting chops. "They really taught you how to perform there," Marlowe said.
When asked what he loves most about performing, Marlowe said, "Audiences, of course. I just love playing to a live audience. The key to it all is to get them to laugh and clap and enjoy it. That's when you get the depth of acting, when you can get a response from people. And my favorite thing is entertaining."
A veteran of The Little Theatre, Marlowe has graced the stage in countless productions there. "I just love getting up on stage," he said.
Marlowe said he relished the challenge of playing the angel in this show. "Because I'm no angel, I'll tell you that," he said.
There is yet another talent Marlowe possesses — that of making friends wherever he goes. And as his character says toward the end of the play, "No man is a failure who has friends."
In addition to Marlowe, the ensemble cast includes Bart Herman, Elizabeth Thomakos, Dave Cleveland, Kate Lynne Miller, Halle Holmes and Alex Walker.
Show dates and times for this weekend are Friday, Dec. 10 and Saturday, Dec. 11 at 7:30 p.m. with a Sunday matinee at 2:30 p.m. Tickets are $15 for adults and $10 for children or groups of three or more. Tickets are available at the door, but seating is very limited, so arrive early.
All proceeds benefit the Tuscarawas County Center for the Arts, located at 461 Robinson Drive SE, New Philadelphia.