'Nutcracker' performance returns to the KSU PAC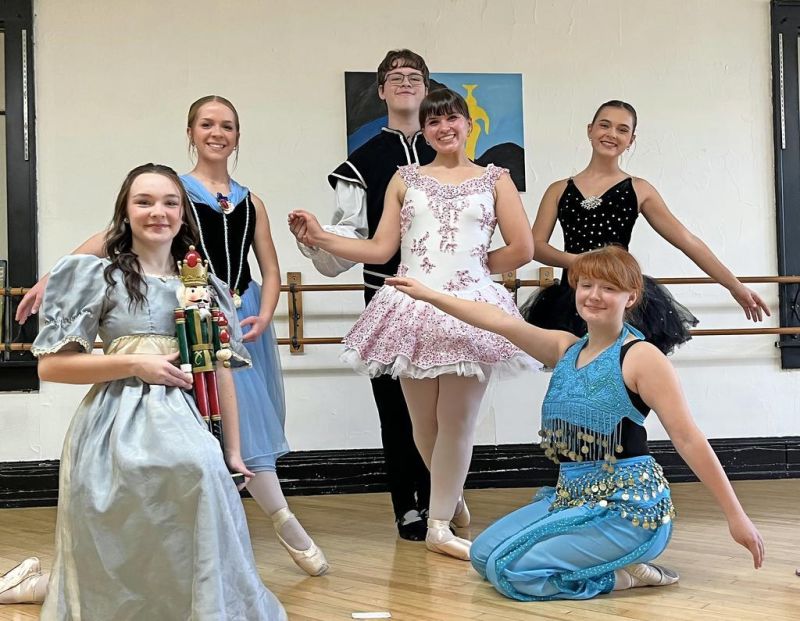 Dancers from the Tuscarawas Dance Arts Center will perform "The Nutcracker Ballet" for the 31st time Dec. 1-3 at the Performing Arts Center at the Kent State Tuscarawas campus in New Philadelphia.
Shelly Beitzel has been directing the show since 1992. "This will be our 13th year at the PAC. It's hard to believe," she said.
Students at the dance studio have been rehearsing, with some of the major roles being danced by those who have been in the production before. In order to include all students in the performance, Beitzel uses a double cast, which also gives more students the opportunity to be featured in prominent roles.
The Sugar Plum Fairy will be danced by both Kiley McIntosh and Zoe Devecka, both seniors at Dover High School. It will be McIntosh's seventh time in the production and Devecka's 12th.
"I'm thinking about doing dance at college," said Devecka, who plans to attend the University of Toledo.
Sharing the role of Clara are Sydney Hilton and Ellie Baughman, both Dover High School students. "It's my first time playing Clara," said Hilton, who has appeared in the production before. "I'm really excited and also kind of nervous, but I know it's going to be really fun."
Dover senior Allie Bonvechio and Dover junior Laney Lanzer will share the role of Dew Drop.
"I think this is my 17th year at the studio," Bonvechio said. "I started here in the Mommy & Me class."
The role of the Arabian will be shared by Dover junior Lyv McGraw and Garaway senior Alexandria Sica, who has been a student at the dance studio for more than 15 years.
Additional dancers include Lydia Dummermuth and Sierra Minard as the Snow Queen, Lydia Warfield and Ella Engstrom as the Mouse Queen, Rylan Pettay as the Prince, and Jacob Flood, who has been a dancer in the production since second grade, as the Cavalier. The Flute Dance will be shared by Parker Morris, Kwynn Tristan, Ellen Smith and Aubree Jenkins.
A focus on performance
Beitzel said the studio does not participate in competitions, instead focusing on performances. In addition to "The Nutcracker," TDAC also performs "Peter Pan" and participates in the All Ohio Dance Festival each year.
Beitzel fell in love with dance after winning a twist contest at the age of 2. "I didn't take dance lessons though until my junior year in high school, but someone told me I was good and should audition at Ohio State University. My dad drove me to the audition, and dance just took over my life from there."
Beitzel believes participation in dance benefits students in a number of ways. "There is a discipline to it, and it's a commitment, but there is a passion for dance that's just in you. Dance gives them confidence — being on stage brings them out of their shells a bit."
Many of the student dancers are involved in multiple extracurricular activities and hold part-time jobs, necessitating a skillful balance in their lives, which they say helps them develop important life skills like time management, communication and the ability to prioritize.
Performance times and tickets
Performances will be Friday, Dec. 1 at 7 p.m.; Saturday, Dec. 2 at 1 and 7 p.m.; and Sunday, Dec. 3 at 2 p.m. There will be live music in the lobby of the PAC before each performance. Tickets are $18 and can be purchased at the PAC box office or online at www.tuscarawasdanceartscenter.com.