'Trumpet in the Land' to open July 2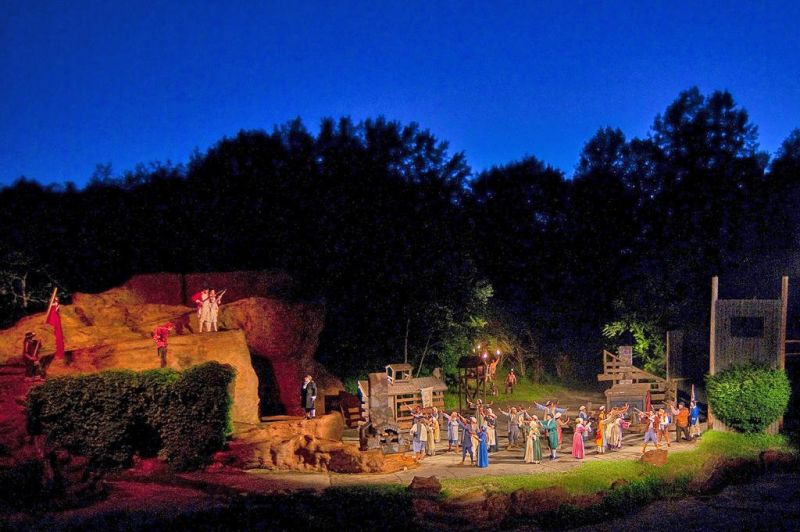 After a year off, "Trumpet in the Land," Ohio's longest-running outdoor historical drama, will return this summer on July 2 for an abbreviated season. It is the 52nd season for the show and will feature a variety of entertainment in addition to the historical drama at the New Philadelphia amphitheater.
"Like most other performing arts venues and events, we were forced to take a hiatus last summer due to an abundance of caution surrounding the pandemic," said Margaret Bonamico, general manager for Trumpet in the Land. "We are glad to be back, and our cast and crew are looking forward to presenting a summer schedule designed to appeal to anyone looking for a wide variety of entertainment options."
The show normally opens the middle of June. The late start date will give the organization and everyone involved more time to prepare.
Bonamico reported they already have some reservations from bus-trip companies scheduled.
"I'm hoping that continues," she said. "We hope people are anxious to get back out. We're the perfect facility for that because it's outdoors and it's large and we have an easy way that we can monitor the distance between people."
Their priority is to keep their audience and cast members safe.
A special show, "The Music of Mancini-Jukebox Saturday Night," will kick off the summer entertainment on Friday, June 11. The show celebrates the music of the famed composer Henry Mancini from his early work with the Glenn Miller Orchestra. The show will feature such notable tunes as "Moon River," "The Pink Panther Theme," "The Days of Wine and Roses," "Peter Gunn," "The Baby Elephant Walk" and more. Tickets are $35, and only 360 tickets will be sold due to current distancing requirements.
On July 2 Trumpet in the Land will perform its first show of the season featuring song, dance, comedy, drama and pyrotechnics to tell the story of the founding of Schoenbrunn, Ohio's first settlement during the Revolutionary War. The play was written by Pulitzer Prize-winning playwright Paul Green.
On July 9 the cast will perform Rodgers & Hammerstein's "A Grand Night for Singing," a musical revue featuring arrangements from many of the duo's classic Broadway creations including "I'm Gonna Wash That Man Right Outa My Hair," "Honeybun" and "Kansas City."
"A Grand Night for Singing" also will be performed on July 15.
The musical, "The Sound of Music," will be performed July 23 and 31 and Aug. 7 and 13. "The Sound of Music" was the final collaboration between Richard Rodgers and Oscar Hammerstein. The score includes such musical classics as "Climb Ev'ry Mountain," "My Favorite Things," "Do Re Mi" and the title number.
Trumpet in the Land cast members will honor the many Broadway musicals that have been performed on their stage over the past 25 years with a special show, "25 Years of Broadway," on July 29. The show will include songs from shows such as "Oklahoma," "Fiddler on the Roof," "Les Misérables," "Footloose," "Hairspray," "The Wizard of Oz," "The Music Man" and more.
In addition, a night of family entertainment is planned for Aug. 5 with the performance of "Greased Lightning." The show is a 1950s malt shop revue performed by the Trumpet Singers, a classic car show and a drive-in movie presentation.
Other dates include Trumpet's annual golf outing on Aug. 18 at Wilkshire Golf Course and "Dracula" with four performances Oct. 1, 2, 8 and 9.
With the year off, Bonamico said they used the time to get done a few things they normally don't have time to do on projects that are mostly cosmetic. They replaced doors on the pavilion, among other projects.
"We never have time to really get stuff like that done since we are mostly dealing with the safety issues for the show itself," Bonamico said. "We did get a Payroll Protection Program loan, so we were able to hire some of our technicians to come in and do some of that work."
The organization received a Small Business Administration grant that helped keep them afloat too.
Preparations at the theater were much the same this year.
"We still have to go through the process of checking out all the set pieces, but some of them we haven't seen them work for a year, so we have to be a little bit more diligent on those, like the church," Bonamico said.
The biggest difference is the audition process.
"Normally, we travel to about three or four different states, and we watch people audition live," Bonamico said.
This year the organizations that planned the live auditions all compiled hundreds of video auditions to send for their clients to watch on the computer.
"Now instead of being able to talk to that person face to face when we go to auditions, we have to talk to them by phone," Bonamico said.
That makes the hiring process more difficult.
"Sometimes when you're talking to a person, you can tell by their body language or expressions where they're coming from; whereas when you're doing it by phone, you don't get that same input that you would get from a face-to-face audition," Bonamico said.
There will be health and safety protocols for the people in attendance and the theater to follow. The theater normally holds 1,200 people.
"We're only allowed to have 30% of that, so we can only have 360 people in the theater," Bonamico said.
The show plans to be creative to keep within their budget.
"When you cut down on your attendance, that's going to cut down on your income, so we just have to be smart. We have to do what we have to do to make the show work to be a good-quality show like it normally is with a little less money," Bonamico said.
The only change the audience might notice is a few less people in crowd scenes.
Volunteers are needed each season to help in the concession stand, parking lot and as ushers. Anyone interested in volunteering can call the Trumpet office at 330-364-5111.
They also are still accepting video auditions from actors and have a need for technicians to work the show.
Though good weather is at the top of the wish list this year with the shortened season, there is never a shortage of maintenance projects the organization needs to address. Grant funding sometimes helps to fill the need but is not always available. Anyone wishing to support Trumpet in the Land with a donation may send it to P.O. Box 450, New Philadelphia, OH 44663.
Tickets for all main-stage productions are $20 for adults, $18 for seniors age 60 and over or students age 13-17, and $10 for children age 12 and under. Prices for special events may vary.
Monday and Tuesday night performance specials include the following:
Mondays Are For Children: Children age 12 and under are admitted for just $5 for any Monday night performance.
Two for One Tuesdays: Purchase one $20 adult ticket for any Tuesday night performance and receive a second ticket of equal or lesser value free.
Monday and Tuesday night promotions cannot be combined with any other offers.
New this summer is the incorporation of rain insurance for those who wish to purchase it. Usually, rain checks are issued if a performance is canceled for any reason beyond the organization's control. For those preferring a refund, rain insurance can be purchased for an additional $3 per ticket. The ticket price will be refunded, and the cost of the rain insurance is nonrefundable.
All patrons will be required to wear face masks and social distance at all times after exiting their vehicles, but they may remove PPE when they are in their seats and/or eating or drinking. Patrons will be required to wear face masks when not in their seats. This includes visiting the concession stand, gift shop and restrooms. Face masks will be required at all times for any show performed on the pavilion stage.
In addition, only prepackaged items and coffee will be served at the concession stand, and the meet and greet with the actors at the end of the performance will be eliminated this year.
Due to limited seating, reservations are highly encouraged. For ticket information call the Trumpet in the Land box office after June 1 at 330-339-1132 or the administrative office at 330-364-5111 any Monday, Tuesday or Thursday from 10 a.m. to 5 p.m. or Fridays from 10 a.m. to 1 p.m.
Additional information is available at www.trumpetintheland.com.