Walton exhibit opens Oct. 25 at Center for the Arts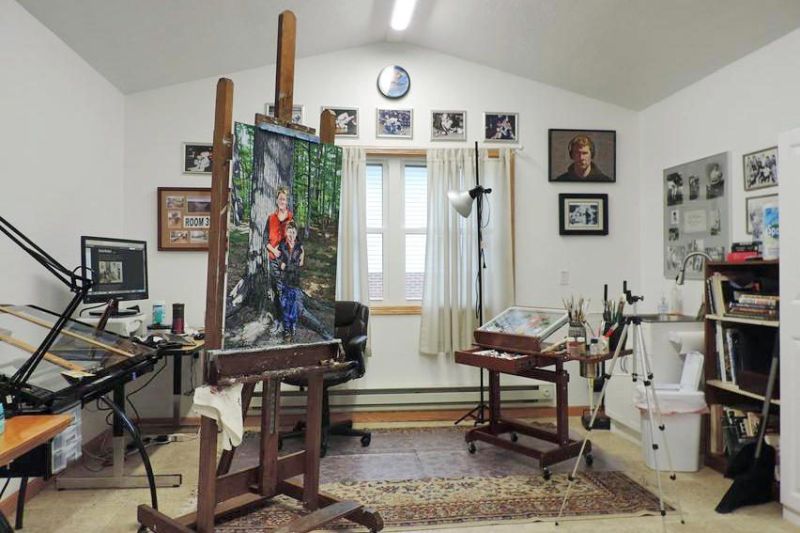 Wayne Center for the Arts announced an exhibition with local artist Kevin Walton, known for his colorful landscapes and large-scale murals, will open Friday, Oct. 25 and be on display in the Wayne Center for the Arts galleries through Dec. 14.
From his Smithville studio, Walton creates large-scale oil paintings that have recently won recognition from the Ohio Arts Council and the Canton Museum of Art. This exhibition will feature 22 works, mostly in oil, with everything from rural Ohio landscapes to fanciful depictions of fictional characters.
If the name Kevin Walton sounds familiar, it may be from Walton's 35-year career as a history teacher and wrestling coach in the Dalton School District. Walton always had a strong interest in art. His formal training includes an art minor from the College of Wooster and classes from a multitude of celebrated Northeast Ohio artists, but his family and career kept him busy until his retirement in 2014.
"Retirement has renewed my interest in art," Walton said, "and granted me the luxury of time to paint."
That investment of time brought a Special Purchase Award from the Ohio Arts Council in 2016 and recognition from the Canton Museum of Art during the 2019 Canton Artists' League show. Walton's work also has been spotted in Wooster during the 2019 Wayne/Holmes Artists' Exhibition at WCA and in Fredericksburg on the walls of the Fredericksburg Presbyterian Church, where he created an 8-by-3-foot panel work on oil.
The exhibition at Wayne Center for the Arts will feature mostly smaller works, celebrating Walton's images of rural Ohio life.
"​We are absolutely thrilled to present the work of Wayne County's own Kevin Walton," WCA executive director James Fox said. "Mr. Walton's vibrant landscapes reflect his love, appreciation and connection to our amazing rural county. This is an amazing opportunity to view the work of true local talent."
Visitors can meet the artist and get a first look at the show during an opening reception on Friday, Oct. 25 from 6-8 p.m. at the Wayne Center for the Arts. The reception and the exhibit are free and open to the public.
For more information call 330-264-2787 or visit www.wayneartscenter.org/visit/exhibitions​.
WCA is located at 237 S. Walnut St. in Wooster.