WCA artists exhibition opens Jan. 10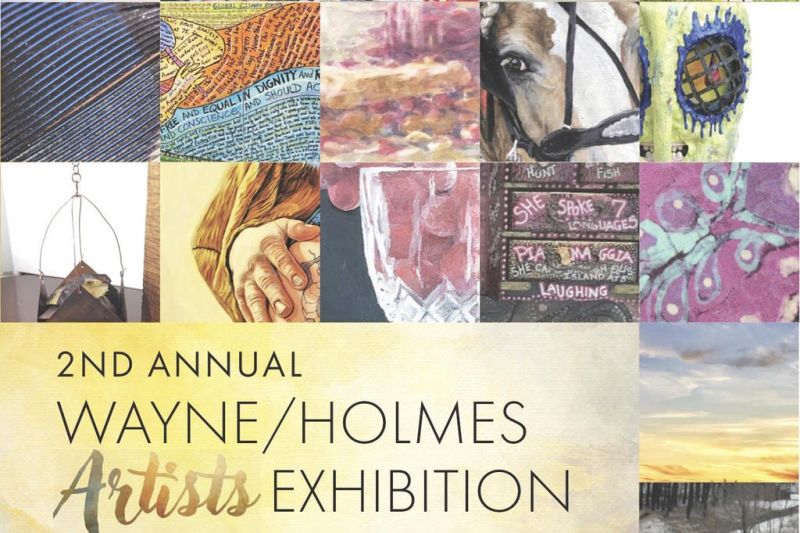 Wayne Center for the Arts is presenting the second annual Wayne/Holmes Artists' Exhibition from Jan. 10-Feb. 7. This juried exhibition features the work of artists who either currently or formerly reside in Wayne or Holmes Counties and includes entries in photography, oil, watercolor, sculpture, and various other mediums, with a wide variety of both new and returning artists at this year's show.
The Wayne/Holmes Artists Exhibition is an initiative by WCA to feature the growing community of artists in the two-county region by providing opportunities for these artists to showcase their work. With the recent addition of the Holiday Artisan Market, Wayne Center for the Arts now offers three major annual artist opportunities: this juried exhibition, the Wooster Arts & Music Festival in September, and the Artisan Market in the winter.
"We are so excited to once again host some of the most outstanding artists residing and working in Wayne County," said WCA Executive Director James Fox. "This community is very fortunate to have such a broad range of talent. We are incredibly proud to provide opportunities such as the Wayne /Holmes exhibit, ongoing emerging artists exhibits at Keller Williams Real Estate office, and various other exhibit and artisan market opportunities throughout the entire year."
This year's artists include: Kelly Aboulkacem, Patricia Anderson, Ashley Bevington, Lisa di Giacomo, Margaret Freed, Janice Mori Gallagher, Sydney Grier, Susan Grimm, Marilyn Hyde, Mike Jackson, Philip Kline, Stephen Kitchen, Noah Klenovich, Barbara Lang, Dennis Lipp, Lorene Meier, Vicki Prunty, Jason Rakich, Amy Schlabach, Susan Shie, Emily Speelman, Zach Taylor, Sonja Tugend, Ben-Christo van der Westhuizen, Robert VanNatta, Cynthia Vaughn, and Myron Weber. This year's judges were: Shannon Waller, Incoming Executive Director of Main Street Wooster; Emily Negro, Artist and Arts Educator, Mansfield Art Center; and Kate Plows, Artist and Arts Educator, Strath Haven High School, PA.
The show will open with a celebratory reception to which the public is invited on Jan. 10, from 5-7 p.m. in the Gault and Looney Galleries at WCA. It will be open to the public during the regular hours of WCA until Feb.7. As always, the show is free and open to all.