Wooster Chorus begins its spring tour on March 18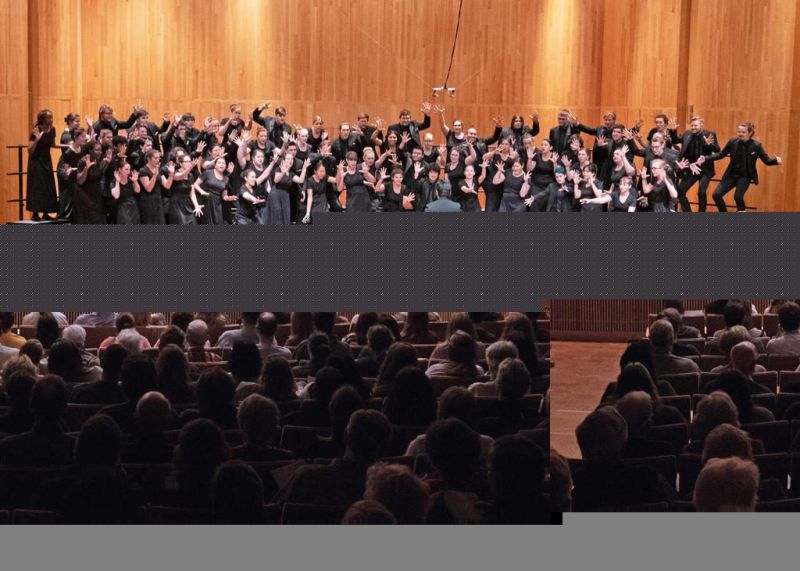 The Wooster Chorus, an ensemble of 50 student musicians from The College of Wooster, will perform at the First Presbyterian Church of Wooster, 621 College Ave., on March 18 at 7:30 p.m., the first concert of the group's 57th annual spring tour.
The Wooster Chorus spring tour will continue through March 22 with performances in Fairlawn, two stops in Michigan and one in Indiana.
Directed by Lisa Wong and assisted by pianist Toni Arnold-Shreve and violinist Andrew Sords, the Wooster Chorus will present Hearts All Whole. The program highlights mental health and well-being, featuring choral works. True to their mission of performing music of living composers, underscoring works of historically marginalized populations, the program includes works by Joel Thompson, Gale Jones Murphy, Marques L.A. Garrett and Elaine Hagenberg, among others.
Wong is in her 14th year at The College of Wooster, where she is the Olive Williams Kettering Professor of Music, teaching classes in conducting, choral literature and music education. In addition to her duties at Wooster, she is the director of choruses for The Cleveland Orchestra. She holds a bachelor's degree in music education from West Chester University and a master's and doctoral degree in choral conducting from Indiana University.
Founded in 1964, the Wooster Chorus is comprised of students representing all academic areas within The College of Wooster's liberal arts program. The chorus collaborates annually with The Cleveland Orchestra and Cleveland Orchestra Chorus and has premiered works by American composers including Eric Whitacre, Jocelyn Hagen and Jake Runestad. The ensemble has performed at the Central Division conference of the American Choral Directors Association and several times at the state conference of the Ohio Music Education Association.
There is no admission fee for the performance, but a freewill offering will be taken to help support the group's touring cost. More information can be found by emailing jharbaugh@wooster.edu or calling 330-263-2419.