Wooster Symphony Orchestra to perform Feb. 10 and 11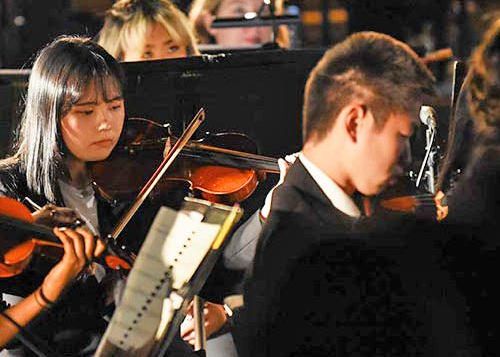 The Wooster Symphony Orchestra will perform a concert Feb. 10 at 8:15 p.m. and Feb. 11 at 7:30 p.m. in the Gault Recital Hall of Scheide Music Center (525 E. University Street) at The College of Wooster. Sponsored by the Women's Committee for the Wooster Symphony Orchestra, this performance will feature student pianist Adeline Hennebury '23, and guest musician, bass trombonist Michael Becker.
Conducted by Jeff Lindberg, professor of music at the College, the concert features music from a variety of artists, including a piece commissioned specifically for the event. The Women's Committee for the Wooster Symphony Orchestra commissioned a piece by Anna-Louise Walton, titled The Arrival, to commemorate the committee's 50th anniversary. The WSO will also perform Shostakovich's Piano Concerto No. 2 in F Major, Mahler's Rückert-Lieder for Bass Trombone and Orchestra and Berlioz's Hungarian March 'Rákóczy' from The Damnation of Faust.
Adeline Hennebury is a senior at the College, majoring in global and international studies and French and minoring in music. A native of Ann Arbor, Michigan, Hennebury attended Pioneer High School and studied piano through the University of Michigan's Piano Pedagogy Program where she achieved level 10 in the Royal Conservatory of Music Certificate Program. Hennebury also plays violin in the Wooster Symphony Orchestra.
Michael Becker is currently principal trombonist with the Tucson Symphony Orchestra, second trombonist of the Arizona Opera, and bass trombonist of the Britt Festival Orchestra in Jacksonville, Oregon. Prior to his appointment in the Tucson Symphony, he held positions in the orchestras of Savannah, Georgia and Honolulu, Hawaii. He has performed on tenor and bass trombone with many orchestras throughout the United States and abroad, including the Detroit Symphony Orchestra, the London Symphony Orchestra, the St. Louis Symphony Orchestra, Lyric Opera Orchestra of Chicago, Bergen Philharmonic, New York Philharmonic, Atlanta Symphony, and with Sir Georg Solti's World Orchestra. Becker also performs extensively with the Chicago Symphony Orchestra, including tours and recordings. He has also performed with Yo Yo Ma's Silk Road Ensemble. Becker has been a member of the Grand Teton Music Festival in Jackson, Wyoming, the Cabrillo Festival of Contemporary Music in Santa Cruz, California, and the Colorado Music Festival in Boulder.
Anna-Louise Walton, who composed a piece for the concert titled The Arrival, is an American composer of chamber and electronic music. In her music, she explores concepts of limited development, the notation of improvisatory rhythms, and utilization of found objects. She draws inspiration from natural spaces as well as the sounds and rhythms of everyday life. Her works have been performed by ensembles such as Hypercube Ensemble, Ekmeles, TAK Ensemble, the Bergamot Quartet, Talea Ensemble, Trio Catch, Fonema Consort, Quatuor Diotima, Mivos Quartet, Surplus Ensemble, Ecce Ensemble, Switch~ Ensemble, and Versipel Collective. Walton began composing formally during her junior year at Scripps College, where she received a bachelor's degree in music. She then went on to study composition at Kunstuniversität Graz and received a master's degree in music composition from Tulane University in 2018. Walton is currently a candidate for a doctorate in musical arts at Columbia University.
In addition to directing the Wooster Symphony Orchestra, Lindberg teaches courses in jazz history and improvisation and directs the Wooster Jazz Ensemble. Lindberg also is a co-founder and artistic director of the Chicago Jazz Orchestra, Chicago's oldest professional jazz orchestra in continuous operation.
These events are open to the public. Tickets cost $10 and can be purchased at Buehler's Milltown or Towne Market, Scheide Music Center, or at the door. Admission is free for students at The College of Wooster. For more information, contact Melissa Puster in the Department of Music at mpuster@wooster.edu or 330-263-2419.