A 'dream come true' for Mrs. Yoder's Kitchen as they are honored with award for Large Business of the Year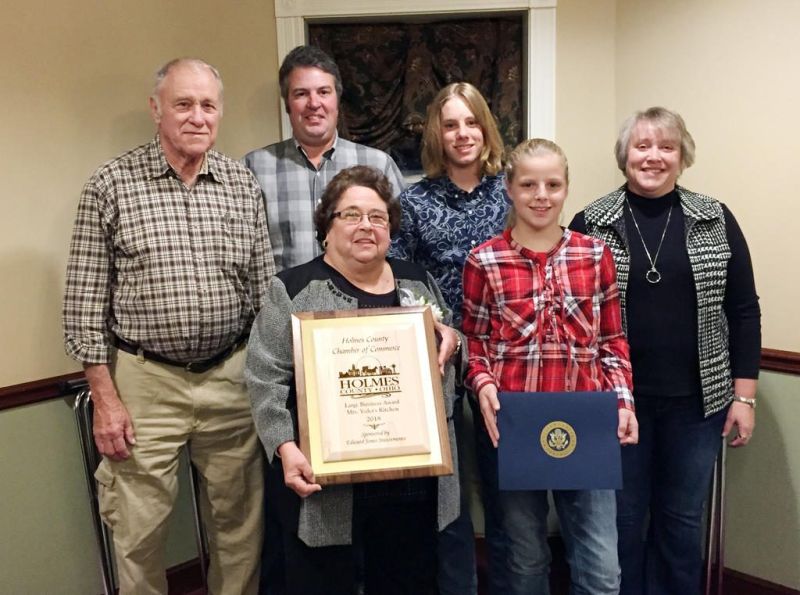 For those who have seen the way Mrs. Yoder's Kitchen has supported so many organizations throughout Holmes County over the decades, such as their commitment to the Holmes County Fair, it would be easy to wonder why this Mt. Hope treasure wasn't awarded the Holmes County Chamber of Commerce Large Business of the Year award sooner.
For anyone who has dined on myriad Amish-cooked cuisine, there is little doubt Mrs. Yoder's Kitchen is deserving of the honor bestowed upon it during the annual Holmes County Chamber of Commerce & Tourism's annual banquet and award ceremony on Thursday, Nov. 8 at Carlisle Inn at Walnut Creek.
"One of the best things about presenting an award like this is that one needs to do research," presenter Rob Hovis said. "That definitely met an onsite visit, and when the winner is an outstanding restaurant, the research can turn out to be delicious."
Owners and founders Eli and Gloria Yoder created Mrs. Yoder's Kitchen in 1993.
The Millers had been farmers near Trail, where their working farm, Yoder's Amish Farm, continues to give tourists insight into how a working farmstead operates in Amish Country. Complete with animals and a house tour, the staff there answers questions about life in Amish Country and the Anabaptist and Amish faith.
But it was a restaurant that was always Gloria Yoder's dream, and when the door opened and an opportunity to delve into that arena presented itself, she jumped at the chance.
"Gloria had a dream in high school of opening a restaurant one day," Hovis said. "She was active in her 4-H club and in the home economics class at her school. Through these organizations she entered into competitions some of her favorite dishes. She had a state winning cherry pie and a state winning rice casserole."
In 1993 while Mt. Hope had not yet become a primary tourist stop, the auction facility was taking off, and the Millers recognized a dearth of a restaurant in the small village. It seemed like a perfect place for Gloria Miller's dream to come true. Two lots became available, and they purchased the lots to put her dream into action.
"Some people told them their venture wouldn't work," Hovis said. "It was pointed out to them that they had no experience in running a restaurant."
That mattered little because it was a dream Gloria Yoder was not going to let fade away. Esther Miller was hired as the head cook, bringing with her tons of experience and recipes.
The Millers invited the entire Mt. Hope community to an opening trial dinner on Sept. 7, 1994. The evening proved to be a success, and the following morning Mrs. Yoder's Kitchen opened its doors and has been serving people's appetites ever since.
In 1998 son Trent Yoder joined the staff and later became a partner. Robert Burkholder came in with an option to become a fourth partner. The restaurant has utilized the best of Amish Country's local produce and has even begun raising its own Angus and Herford beef.
The combination of service to its customers, fantastic food and commitment to the people of Holmes County has made the restaurant the success it is today, and it grew from 30-80 employees over the past quarter-century.
"We have a lot to be thankful for," Gloria Yoder said. "We have truly been blessed as a business and as a family. The community, all of Holmes County have been really good to us. They have been critical sometimes, but we needed it. They have been very, very supportive, and we can't thank you enough."
Mrs. Yoder's now cranks out between 1,500 and 1,800 loaves of homemade bread each week. Each week they serve approximately 1 1/2 tons of mashed potatoes and two tons of chicken, and there are other mind-boggling numbers that are a testament to the success of the restaurant. Each year they serve customers from all around the world who venture to Amish Country.
"Over the past 24 years they have served thousands of tons of the finest foods in the Midwest," Hovis said. "There have been countless buffets served and pay checks for 80 households. There is an increased local demand for meat, poultry, milk, cheese, eggs and vegetables; a reputation for quality; and an earnest commitment to satisfy every customer. There has been charitable giving to support local causes. This is the impact of Gloria's dream."
While it is Gloria Yoder's dream, it is one the ownership team said is only viable because of the backing of the community.
"As much as we focus on tourism in the county and feeding them, Mrs. Yoder's is that plus all of you," Burkholder said. "We have great local support, and we appreciate that very much."