Adjusting to better health and wellness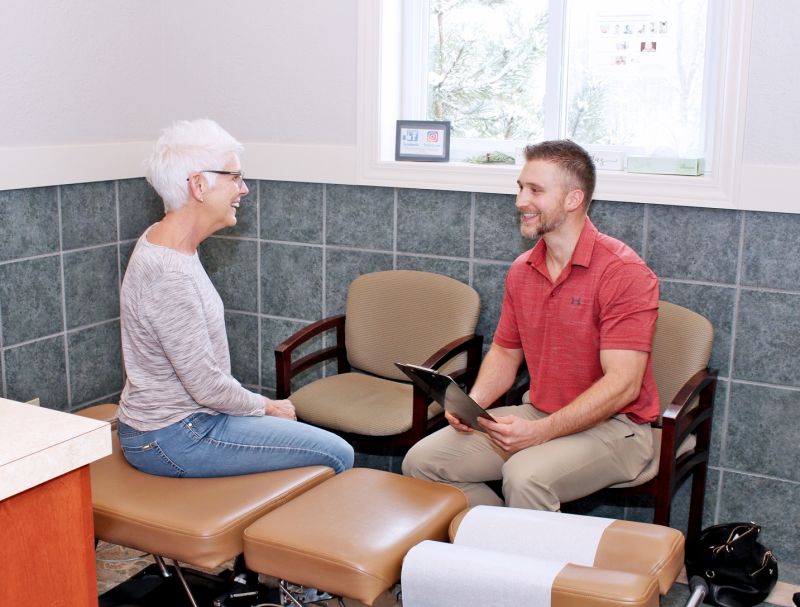 After three years, Dr. Jeremy Flanders' practice — 39 Chiropractic and Rehabilitation — is on a growth spurt with the recent opening of a second clinic in Fredericksburg and the addition of a registered dietitian at its Millersburg office on the campus of the Berlin Resort.
"Our practice is more widely focused than what other chiropractors traditionally provide." Dr. Flanders said, "We pride ourselves on serving patients with a variety of health concerns and across all stages of life. Often, our patients come to us before going to their primary care physician or anywhere else."
39 Chiropractic focuses on making life better for patients who suffer from neck and back pain and sciatica — shooting pain in the leg emanating from the lower back. Dr. Flanders also has a specialty license in sports chiropractic.
"This practice is a little different from many others. We cover all life stages from birth through geriatrics although the number of children I see has been growing significantly. This going back about four years when I was with the Chaffee Chiropractic Clinic. Surprisingly, around 20% of our patients are prenatal, babies, and children."
Dr. Flanders began his chiropractic career with Chaffee in 2008. Ten years later, he acquired the practice and renamed it 39 Chiropractic. The name identifies the clinic's location — at the intersection of County Road 201 and State Route 39 —but also references Proverbs 3:9, which Dr. Flanders quotes as "Honor the Lord with your wealth and the best part of everything you produce."
The Fredericksburg location, with services provided by Dr. Zach Kager, opened in June. Registered Dietician Morgan Yoder joined the Millersburg office in November to offer nutritional counseling.
"'I felt we were providing very good nutrition advice and helping patients with dietary supplements, but I wanted to continue to improve, not just providing good advice, but an amazing overall experience for our patients," Dr. Flanders said. "I brought Morgan on board because she is excellent at working with patients to develop individualized nutrition plans, which is important for everyday health and wellness."
Inflammation, Yoder said, is associated with all major chronic diseases.
"If we can reduce inflammation, we can either prevent or delay the onset of many chronic diseases, which are a huge problem in our society," she said. "When we create a nutrition plan, we consider the patient's overall diet, lifestyle and all of his or her background health conditions as well as their family history. Proper nutrition impacts both physical and mental health."
Having chiropractors in his family, Dr. Kager grew up knowing the benefits of chiropractic.
"I've been adjusted since I was a kid, and I was one of those guys who had to be adjusted before every football game," he said.
After selling his share of another practice, Dr. Kager planned to move to Florida before Dr. Flanders convinced him to stay in the area and open the Fredericksburg clinic.
"I've known Dr. Jeremy for some time and worked with him at a previous clinic," he said. "It was a good fit for both of us."
Like Dr. Flanders, Dr. Kager said he is seeing an increased demand for pediatric services.
"I have adjusted babies as young as four days old," he said. "The younger you can start the habit of a healthy lifestyle the better off you'll be. You're likely to have less colds and better overall function. If you can control how the nervous system is going to function at a young age, you develop a solid foundation for the rest of your life."
Many patients wait until they experience pain before they consider a visit to a chiropractor, Dr. Kager said.
"Regular, preventative treatment can eliminate chronic pain and other conditions from developing in the first place," he said.
39 Chiropractic and Rehabilitation is located at 5336 County Road 201, Suite C, just west of Berlin inside The Club at Berlin Resort, and at 118 S. Mill Street, on the Square, in Fredericksburg. You can schedule an appointment by calling 330-893-0444 in Berlin, or 330-946-1019 in Fredericksburg. You can find more information at 39-chiropractic-and-rehabilitation.business.site or on Facebook @39Chiro.