Award-winning medical care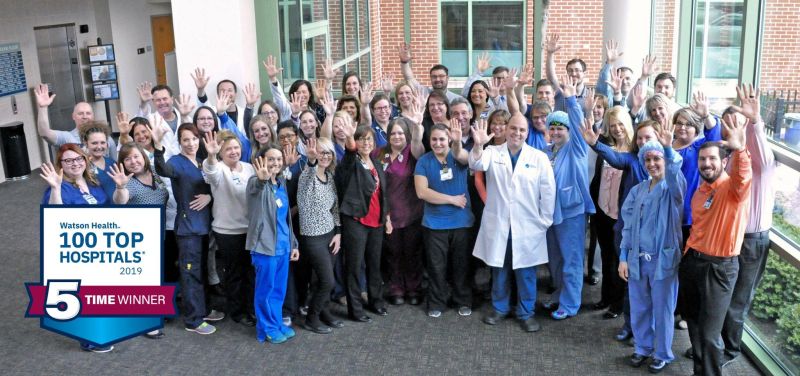 Wooster Community Hospital's culture of excellence was recognized when the hospital earned what Bill Sheron, President and CEO, dubbed the "Academy Award" for hospital excellence for the fifth time in the last 12 years — and the second year in a row.
"Being named again to the IBM Watson Health Top 100 hospitals in the United States is a very big deal for us," Sheron said. "It demonstrates how seriously we take the satisfaction of our patients and the overall wellness of the Wooster community."
Wooster Community is one of only 20 medium-sized (100-250 beds) community hospitals in the U.S. — and one of only two in Ohio — to receive the honor. In all, there are between 3,000 and 4,000 hospitals in the United States, Sheron said.
Since 1993, the IBM Watson Health Top 100 has spotlighted the top-performing hospitals in the country based on a balanced scorecard of publicly available clinical, operational and patient satisfaction metrics and data.
The Watson Health 100 Top Hospitals study uses independent and objective research to analyze hospital and health system performance in 10 clinical and operational areas that address: risk-adjusted inpatient mortality index, risk-adjusted complications index, mean healthcare-associated infection index, mean 30-day risk-adjusted mortality rate, mean 30-day risk-adjusted readmission rate, severity-adjusted length of stay, mean emergency department throughput, case mix and wage-adjusted inpatient expense per discharge, adjusted operating profit margin, and HCAHPS score (patient rating of overall hospital performance).
"There are many hospital ratings out there, but this is the granddaddy of them all and the most prestigious in the hospital industry," Sheron said. "That's because it isn't something that you can apply for or seek. They use public outcome data to look at all of the hospitals across the country, and they rank them independently."
Hospitals in the Top 100, Sheron said, have, on average, 19 percent fewer patient complications, 19 percent fewer patient infections, a shorter length of stay and an average 17-minute lower emergency room wait time than hospitals that fail to make the list.
"Top 100 hospitals have better patient satisfaction, a lower mortality rate and spend an average of $830 per discharge less," he said.
In addition to performance levels, hospitals must demonstrate year-to-year improvement to be considered for the Top 100.
"That's one of the things that makes me the proudest," Sheron said. "Showing improvement when you're already achieving the highest scores is quite an accomplishment, and it demonstrates our commitment to excellence. Having been named to the Top 100 puts us in some very illustrious company. And having made the list five times shows that this isn't a one-year thing. It confirms a true culture of quality that is embedded in our hospital."
Listening to patients, Sheron said, is a big part of the hospital's efforts to achieve the highest satisfaction scores.
"We put a great deal of emphasis on what the patients have to say," he said. "We are very sensitive to waiting time in the emergency room and making sure we have enough staff on hand. We have always had a shorter-than-usual length of stay relative to other hospitals. Most patients want to go home as soon as possible, so we focus on getting that done while also providing the best quality care. We have achieved that."
The Top 100 hospitals, Sheron said, set a national benchmark of excellence for all hospitals to aspire to.
"This is truly a team award and a cause for celebration," he said. "It's a special day for our dedicated employees, medical staff and community."
"At a time when research shows that the U.S. spends nearly twice as much on health care as other high-income countries yet still has poorer population health outcomes, the 100 Top Hospitals are bucking the trend by delivering consistently better care at a lower cost," said Ekta Punwani, 100 Top Hospitals program leader at IBM Watson Health. "The hospitals on this list represent the current vanguard in value-based care, and we applaud their commitment to quality."
You can learn more about Wooster Community Hospital at woosterhospital.org or by calling 330-263-8144. Wooster Community Hospital is located at 1761 Beall Ave. in Wooster.