Baker Florist to participate in Petal It Forward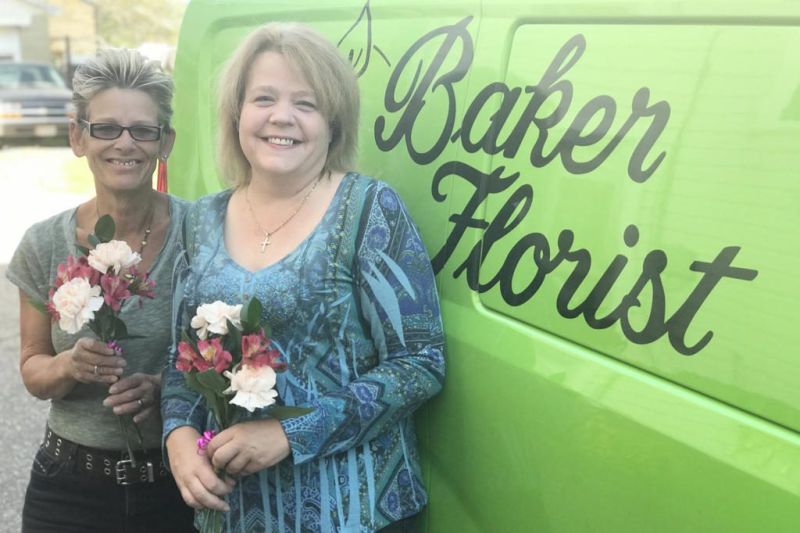 Baker Florist of Dover will participate for the second time in the national Petal It Forward program on Wednesday, Oct. 23 at the shop on Walnut Street and in downtown Dover and New Philadelphia. The promotion is national in scope and sponsored by the Society of American Florists, of which Baker Florist is a part.
"It was so much fun the last time we did this two years ago," Dalene Baker at Baker Florist said.
The shop had to skip last year due to scheduling conflicts, but this year Baker said the florist's nine employees are very much looking forward to sharing smiles. "We didn't have a lot of publicity about doing it last time, so people were really surprised. We went out and randomly handed people flowers, and you could see how happy they were," she said.
The national event, which sees participation in all 50 states and D.C., is designed to raise public awareness of the "power of flowers," according to the Society of American Florists website. Recipients are able to give the second bouquet they receive to anyone they like: family, friend, co-worker or a complete stranger.
Baker said 300 bouquets were distributed to 150 people that year, and they'll do the same this time out. She is helped by distribution channels that are already aware of the Petal It Forward event and ready to lend a hand to make sure she is well supplied and ready.
On Petal It Forward day, two Baker Florist staff members will distribute bouquets, half the day in downtown Dover and half the day in downtown New Philadelphia. Which half is part of the surprise. "We will just walk around and watch for people to give bouquets to," she said.
Why do something like this? "Why not?" Baker said. "It puts big smiles on people's faces and reinforces what we know so well, that the gift of flowers is a powerful thing and people definitely appreciate it."
"We have more than 300 florists signed up in 43 states, and more are coming on board every day," said Kimberly Hay, membership specialist at the Society of American Florists. "They will distribute thousands of bouquets that day. It's a very popular program. This is our fifth year, and it's bigger every year. Florists want to get out in the community and engage with the public. They get to meet potential clients and spread the floral love in their community."
Hay said the experience can be personal. "I spoke with a member a few months ago at our event in Kansas City. She handed two bouquets to a woman in the local library. The woman had grown up there and moved away but was back in town helping with her mom's illness as she was in hospice care. The second bouquet went to Mom, and the first recipient really got a boost with her gift. Just when she is going through one of the worst experiences of her life, here comes a stranger, offering flowers."
Hay said some people might be taken aback at the generosity. "At first some people are thinking that there must be a catch, but soon they realize that this is just a way to let someone know you are thinking of them and want to make their day."
Baker Florist is at 1616 N. Walnut St. in Dover. Visit www.bakerflorist.com.