Couple brings love of sushi to Mako's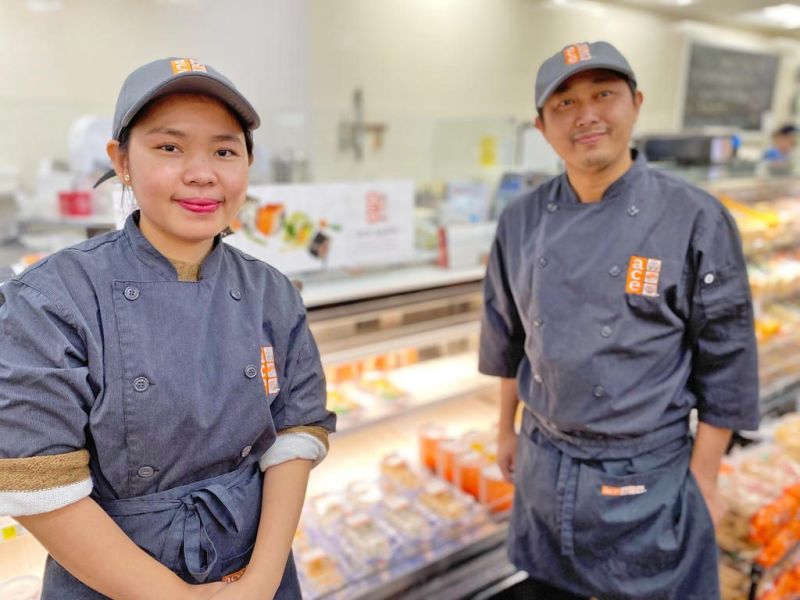 It's as unlikely a scenario as you're likely to find. A young couple from Yangon, Myanmar makes their way to the United States and opens a sushi bar inside a supermarket in Uhrichsville. It's a true tale, and the sushi coming from the knives and seven-day work schedule of the couple is a hit at Mako's Market and Pharmacy on Third Street.
Preferring to be known simply as Aung and Zin, they moved first to Washington, D.C., then to Los Angeles, where each still has family. They then moved to Uhrichsville — but why? The answer is simple.
"There was nowhere to get good sushi in Uhrichsville," Aung said. And good sushi is a passion for the young man, who began making the rolls of sticky rice and raw seafood just three years ago.
Myanmar is an Asian country bordering India, Bangladesh, Thailand, Laos and China. Yangon, where Aung is from, is Myanmar's largest city and was formerly called Rangoon. Surrounded by so many ancient culinary traditions, it is small wonder Aung and Zin are making their mark providing an unusual treat in East Central Ohio.
Then again, it is quite a distance from Uhrichsville to the nearest seaport, and sushi must be made of a very high quality product and absolutely fresh, which Aung said he and his wife Zin have sourced successfully, enabling them to offer the best possible fresh sushi for customers.
"First, we came from Myanmar to Washington, D.C.," Aung said, "then to Los Angeles, then from there to Eastern Ohio. I knew there was no sushi in Uhrichsville, and sushi is a very premium product. I wanted to share our love for sushi. We make everything fresh every day here."
Indeed, Mako's Market manager Wes Aubihl said the couple works full days without a day off, creating and packaging sushi rolls and a specialty drink known as bubble tea.
"They've been doing this for a few weeks, and they never take a break. They're very hard working."
Aubihl said both products are in demand with local customers becoming regular visitors to the corner of the store where the two work each day. "It has been good for them, good for us and good for our customers," Aubihl said.
With so much success in offering sushi in Uhrichsville, local residents might be forgiven for raising hopes of an eventual Asian restaurant headed by Aung and Zin, but Aung is quick to give assurance that the couple has no plans to go anywhere. "People here come and enjoy our sushi at Mako's Market, and we like to make it for people. So we like it here and hope to stay."
Bubble tea, the other Thai specialty now offered at Mako's thanks to Aung and Zin, is a sweet drink made of tea, sweetened milk, various flavorings and pearls of tapioca. Aung said the ingredients used to make the tea each day are the same as those used in his birth country, making the tea something one is unlikely to find anywhere else without a very long drive.
"Since we opened the sushi bar, lots of people have come and have been very happy. They enjoy our sushi, and we are pleased to make it for them," Aung said.
It seems people are pleased to have them as new neighbors as well. "In L.A. we don't know many people very well including my neighbor," Aung said. "In Tuscarawas County, people are very friendly, helpful, and they smile. We were here just one month and already knew a lot of people, and some are already friends."
In their spare time, Aung likes to play soccer, and they enjoy watching movies together.
Aung, whose father passed away recently, said the key things he has learned in this long journey are to "never give up. Just move on."
Mako's Market and Pharmacy is at 240 E. Third St. The store can be called at 740-922-1662.